You Can Try These Three Amazing Titles With Xbox Game Pass for $1
$1 for 1 month of Xbox Game Pass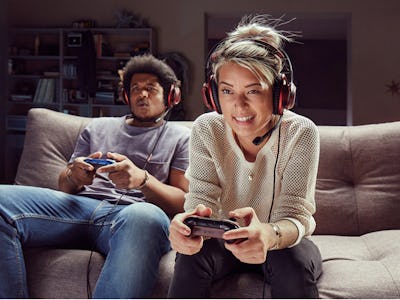 stack commerce
With must-play new releases coming out almost as often as movies, it can get pretty difficult to buy and play it all. The good news is that Xbox is now offering Xbox Game Pass, a solid alternative to blindly buying new games before you try them. Xbox Game Pass offers you unlimited access to an ever-expanding library of games, so you can try out new titles before you decide to buy or just keep the variety alive by constantly playing new games. Best of all, you can get 1 month of Xbox Game Pass for just $1.
Xbox Game Pass gives you unlimited access to its catalog of over 100 games – all you have to do is download the games you want and play them anytime, online or offline. If you start to really hit a groove with a game in the catalog, you can buy it as it leave the catalog for up to 20% off, and any add-on packs or consumables for up to 10% off. Plus, you'll get launch-day access to Xbox exclusives, so it's not like you're getting a bunch of has-been games. Don't forget the best part: you can play for $1 by signing up with this special offer.
$1 for 1 month of Xbox Game Pass
Here are some games we're excited to play on Xbox Game Pass:
Forza Horizon 4
The latest installment of the top-selling racing series drops you into a gorgeous open world with up to 72 other players and 450 different vehicles to master. Tackle drift and speed racing challenges alone, race head-to-head against both human and AI opponents, or form a convoy of up to 12 friends to compete in team adventures for awesome rewards.
PlayerUnknown's Battlegrounds
The godfather of the white-hot battle royale shooter genre, PUBG drops you onto a huge island map with 99 other players and one objective – be the last player standing. Combining the best elements of 3rd-person shooters and survival games with hilariously customizable characters, PUBG delivers a massively multiplayer experience like none other. Kill or be killed, and have a blast while doing it.
Sea of Thieves
Satisfy your inner pirate and take to the seas with a massive open world of players searching for treasure and infamy. Assemble a crew and embark on quests to locate buried treasure or battle undead pirates, but be ready to thwart treachery from rival players seeking to steal your loot and leave you marooned. Sea of Thieves offers a vast charming ocean to explore and plunder as you see fit.
Click here to sign up for 1 month of Xbox Game Pass for just $1 to get unlimited access to these and over 100 other great titles. It's the best thing to happen to gamers since the ability to save your game.