'The Witcher' Devs Are Going All in on a Digital Card Game
CD Projekt RED discusses its ongoing closed beta for the collectible card game spin-off.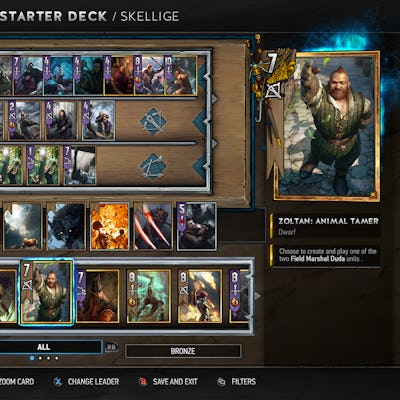 The Witcher III may be over, but that doesn't mean CD Projekt Red is done with the series. Case in point: Wild Hunt's in-world card game, Gwent, proved so popular that the developers are hard at work on an expanded, standalone, free-to-play version of the game that's currently in the midst of a closed beta through Spring 2017.
If you've never played even a hand of Gwent, how it works is relatively simple: Your deck is essentially shorthand for a multifaceted army spread out across three tiers that represent siege, ranged, and infantry (the three types of units available).
At the beginning of each round, 10 random cards are drawn from your deck, after which you can replace up to three with new cards. Then, each player places a unit by placing a card, and, if they so choose, an optional weather card that can boost that unit's status. Whichever player has the highest score —determined by the cumulative point values for their units cards in play — wins the round, and best two out of three rounds wins the game.
Simplicity aside, the very basics of Gwent bely a game where feints and bluffing are often key to winning in CDPR's expanded Gwent: The Witcher Card Game, which has a number of deeper design tweaks, items, modifiers, and other effects that keep the game fresh for Wild Hunt veterans. (It's also worth noting that since you only get one re-draw per game, every card in your hand is valuable, as tricking your opponent to use their most powerful cards right off the bat can leave them powerless in later rounds.)
Gwent is being widely bolstered as a standalone title with, somewhat surprisingly, a number of individual single-player narrative campaigns that CDPR is likening to short stories set in the world of The Witcher. In order to get a better idea of where the game is going, I reached out to the developer to find out a little more about the aim of the closed Xbox and PC beta, and what it means for the game's future.
"It really surprised us just how much players liked Gwent in The Witcher III," CDPR game designer Michał Dobrowolski told me over email. "We received hundreds of emails from fans requesting we make a standalone version they could play with friends — that's what really pushed us to make Gwent, and the reason why the main focus for the closed beta is the competitive side, so you can take the battle to others.
Like any beta in the modern era, what that means is taking advantage of player feedback to get the design balance right. Dobrowolski gives an example of Eredin, a character card you can play who represents the leader of the game's Monsters faction, one of several deck types reflecting the cultures and regions of The Witcher's world.
As Dobrowolski describes it, Monsters are notable in that they can keep a random card in play after a round ends, which could result in some somewhat unfair play with Eredin.
"Initially [the effect] worked with all [Monster] units, and a lot of people started taking advantage of that by opening the game with Eredin and Geralt — both are very strong cards, and Gold at that, meaning they're immune to damage and any form of weakening," Dobrowolski says. "Win or lose, your opponent gets to keep one of those two cards for the next round and you can't do anything about it."
Based on community feedback so far in the beta, Eredin's status has been tweaked slightly, becoming a Silver card.
"Eredin is still very powerful, but no longer immune to card damage or removal," Dobrowolski says. "So while opening the game with [him] is still a very strong play, you now have means of countering it."
Interestingly, since the original author of The Witcher novels, Andrzej Sapkowski, only described Gwent as a card game played by dwarves, the team at CDPR had free rein to initially create it in whatever form they saw best; Dobrowolski credits the card game War and tabletop hybrid board and card game Condottiere, which sees armies fighting over control of Renaissance Italy as the primary inspirations.
Compared to its origins as a mini-game in Wild Hunt, Gwent has also been completely rebalanced to better suit an experience independent of The Witcher proper. That also means beta players can get a taste of just how much CDPR has added.
"The standalone version is like a brand new game, so we needed a new balance system that would reward player skill," Dobrowolski says, offering up a few examples of new wrinkles to the design.
"Monsters can use nest cards to create copies of all breedable units on the board, there's potions you can use to strengthen your units, or play an Igni variation of Geralt that burns away the strongest enemy units, just to name a few," he says.
While the beta is strictly multiplayer — probably best for a game that's competitive by nature — the full game will feature a number of fully-voiced narrative campaigns to explore (of about 10 hours each), complete with The Witcher's player choice design and even a world map. But as narrative designer Mateusz Tomaszkiewicz puts it, the real fun of Gwent is that CDPR has made it stand apart from Geralt of Rivia's own adventures.
"It's sort of the relation the Star Wars trilogy and Rogue One have — they're set in the same universe, but where the trilogies tell a story about the Force, the Jedi and Sith, Rogue One spins a tale from an entirely different perspective," Tomaszkiewicz says. "The single player is not about a famous Witcher, it's about other people living in that universe, people sometimes equally powerful. Though that's not to say you won't meet some old friends during your adventure."
For now, you can register for Gwent's closed beta online. The full game is expected to release next year on Xbox One, PC, and PS4.