Zazie Beetz Wants to Escape From This Reality
The Black Mirror star talks Atlanta, surrealism, and her dream superhero role.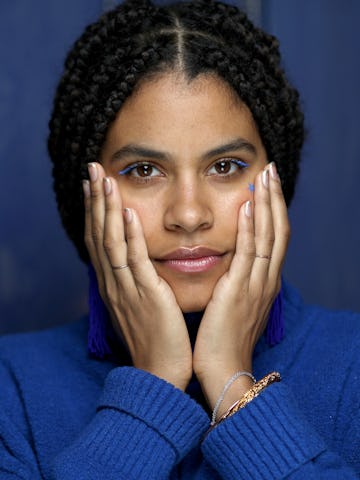 Rich Polk/Getty Images Entertainment/Getty Images
It's a man's world, and Zazie Beetz is, more often than not, the only woman in it.
"I feel like I often play a woman in a male-dominated world," she tells Inverse. "Maybe because I come across as strong, or I don't know if I have a masculine energy. Maybe it is an element of being an other, which I think we probably all feel."
A quick scan of her career confirms as much. Audiences first met Beetz in Atlanta, her breakout role as the female lead of Donald Glover's surreal FX comedy. In Deadpool 2, she plays the lone female team member of Deadpool's hastily assembled Task Force X — and its lone survivor apart from the Merc with a Mouth. And in a new Black Mirror episode, "Mazey Day," she plays a struggling female paparazzo who has to fend off cutthroat male rivals for a million-dollar scoop.
"I chase a world that is askew in tone."
Being an other is just a fact of life for Beetz, a German American actor born in Berlin and raised in New York. Her father is white and German, while her mother is a Black American social worker from New York who wanted Beetz to grow up surrounded by her Black culture. Growing up, she found herself the odd one out by virtue of her mixed-race identity. And in a male-dominated industry like Hollywood, she's often one of the few women on set.
But fiction reflecting reality doesn't really interest Beetz. "The characters that I'm interested in just happen to be in those situations," she says.
Maybe that's why Beetz looks for stories that reflect reality in a way that's a little… off. She got her start in Atlanta, after all, a surreal dramedy about invisible cars and Teddy Perkins. And in her latest project, Black Mirror's "Mazey Day," the typically sci-fi series gets downright supernatural. It's these kinds of "step left from reality" twists that appeal to Beetz.
"I just love the absurd and the surreal," she says. "I chase a world that is askew in tone."
Atlanta was the perfect training ground for Beetz, who played Van, a character so grounded and level-headed that the actor once referred to her as "the Earth." Van would get tested by strange happenings — Black children in whiteface stare eerily at her; Juneteenth cocktail parties go horrendously wrong. Then, in the show's acclaimed Season 3 episode "Tarrare," Van goes off the rails herself in a whimsical break from reality that saw Beetz traipse through Paris with an Amélie haircut and beat a man with a baguette.
Absurd worlds and situations just make for a better acting challenge — "Tarrare" earned her an Emmy nomination. For Beetz, those heightened worlds lead to heightened emotions.
"It's very easy to get very stiff in acting," she says. "There's a lot of pressure, a lot of expectation to succeed with all these eyes watching you, and I think the hardest thing to do is just to let go and let be. So it's much easier to do that if you have a situation presented in front of you in a scene that is otherworldly and is larger than life, and you can really just play," Beetz says.
In Black Mirror Season 6, Beetz plays Bo, a struggling paparazzi journalist who takes one last gig for a million-dollar shot of the elusive actor Mazey Day. Things start off relatively normal… only to take a turn for the bizarre at the last minute. But for Beetz, it was also an episode that made her a "little bit nervous" as a Black Mirror fan, as "Mazey Day" doesn't actually deal with technology at all.
"I know a huge draw to the show is the tech element and the future fear element," Beetz says. "And this one is a jump backwards."
Instead of taking place in the near future, as many Black Mirror episodes do, "Mazey Day" takes place in the recent past — 2006, to be exact. It's the year iPod shuffles were all the rage, the Iraq War was still raging, and paparazzi were at their most ruthless. After her work leads to the suicide of a famous actor, Beetz's Bo starts to feel pangs of guilt over her job and quits, but she can't resist the promise of a huge payday and joins the chase for a shot of Mazey Day, an actor who disappears off the set of a movie after troubling, likely drug-induced behavior. (Spoiler alert: It's not just drugs.) The twist of the episode is pretty out there, but the season's shift away from technology and toward horror tinged with social satire appealed to Beetz.
"I admire the bravery of [showrunner] Charlie [Brooker] to take a chance and to not just go along with what had been working for the show up until this point," she says.
For what it's worth, Beetz isn't interested in being pigeonholed as the "weird arthouse actress." Since Atlanta ended, she's starred in westerns, assassin action movies, and two very different superhero movies. She's crossed swords with Brad Pitt in Bullet Train and been the girl of Joaquin Phoenix's (delusional) dreams in Joker. It's only with her latest role in Black Mirror that she seems to be dipping back into the Atlanta pool of slightly off-kilter weirdness. But, like the commonality of being the lone woman in a man's world, the surreal elements that have found their way into her roles are just a coincidence.
"I want to be able to be seen in different lights and as different people," Beetz says, "so I don't get stuck into one kind of character. I'm ultimately just drawn to: 'Is this story intriguing to me? Does it pique me?' I'm not necessarily trying to plan exactly the direction that I want my career to go."
If she were to choose what genre she could try out next? She pauses. "I guess fairy tale. Again, the whimsical, heightened nature. I love the idea of building a world and existing in that built space."
But Beetz's next role is far from a fairy tale. While she's confirmed to not be returning for Deadpool 3 ("I would love to play Domino again, but somebody would have to write it!" she says), she will be appearing in Joker: Folie à Deux… in some capacity. "I was just told that I cannot speak on Joker, so unfortunately I can't give you any tidbits," Beetz says apologetically, "but I think there's a lot of talent on that set."
With two superhero movies under her belt, Beetz is reluctant to take on any more similar roles. "I can't be playing too many superhero types of movies!" she tries to explain. But she does have one dream superhero role: Catwoman.
"She's just so iconic, and it's already been done so many times," Beetz says, somewhat defeatedly. "I don't know, she's just cool, and I feel like I am a cat at heart myself."
Black Mirror Season 6 is streaming on Netflix now.