Yellowjackets Season 3 Needs to Fix the Show's Biggest Ongoing Flaw
The hit show still really needs to work on its timing.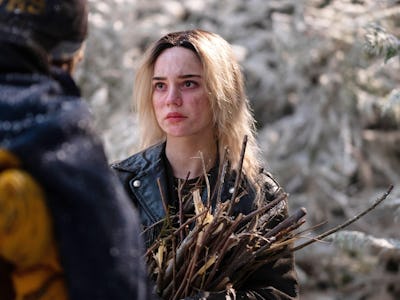 Showtime
In many ways, Yellowjackets Season 2 delivered everything its fans wanted. Its sophomore season went to even darker and more gruesome places than its first, providing more than its fair share of bloody surprises. In doing so, Yellowjackets answered several lingering questions about its story, like how its seemingly friendly teenage soccer players were driven to the point of cannibalism.
But for as many memorable moments as it had to offer, Yellowjackets' second season also proved far messier and unfocused than its debut. Right from the start, the season struggled to balance all of its plotlines and characters, and that problem came to a head in the divisive Season 2 finale.
In true Yellowjackets fashion, the episode took several bold, shocking, and tragic turns, but it also failed to bring the show's latest season to a dramatically satisfying conclusion. The hit Showtime series has, however, revealed the problem it needs to fix in Season 3.
A Tale of Two Timelines
Beyond its practically flawless pilot, Yellowjackets has never been great at balancing its late '90s and present-day timelines. The interpersonal drama of the former has always progressed faster than any of the subplots in the latter, but in Season 2, the imbalance became obvious and distracting. Storylines like Taissa's (Tawny Cypress) struggle with her alternate self and Shauna's (Melanie Lynskey) ongoing cover-up of Adam Martin's murder felt stretched out to the point of genuine frustration.
Meanwhile, characters like Natalie (Juliette Lewis) and Misty (Christina Ricci) were sidelined for much of the season. While Misty's scenes with Walter (Elijah Wood) were among Season 2's best (and funniest), her relationships with her fellow Yellowjackets didn't evolve until the very end of the season. And as shocking and sad as it was, Yellowjackets didn't earn Natalie's untimely death in its Season 2 finale.
The season wasted Juliette Lewis, trapping her in Lottie's (Simone Kessell) compound and relegating her to a subplot involving Lisa (Nicole Maines), a member of Lottie's cult-like group of followers that never really felt compelling. The fact that adult Natalie's lackluster death was timed with her teenage self's crowning as the new Antler Queen, an event that Yellowjackets had been building to for several episodes, proves that Season 2 failed to find the right balance between its two timelines.
The Inverse Analysis — It will always be easier to find drama in a cabin with starving teenage survivors than in the disparate lives of traumatized adults. However, Yellowjackets' first season did a better job of keeping its present-day scenes intriguing. It did so by pairing some of the show's adults up for multiple episodes and giving them active, ongoing concerns to deal with, an approach Season 2 mostly abandoned.
Instead, Season 2 kept most of its adult characters separated for the majority of its story. It also saddled several of them with investigations that viewers either already knew the answers to (like Misty and Walter's search for Natalie) or were never given a reason to be invested in (the fallout of Adam Martin's murder). As a result, most of Yellowjackets' adult characters felt like they'd been left hanging in the wind.
If Yellowjackets wants viewers to stick around for Season 3, it must avoid making that mistake again. And with actors like Melanie Lynskey, Christina Ricci, Tawny Cypress, and Lauren Ambrose at its disposal, it shouldn't be that difficult to come up with interesting things for them to do.
Yellowjackets Seasons 1 and 2 are streaming now on Paramount+ with Showtime.