A Guide to The Nintendo Easter Eggs in The Super Mario Bros. Movie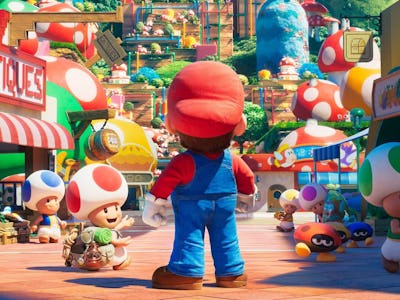 Illumination
Illumination's The Super Mario Bros. Movie finally makes its superstar leap onto the big screen. With a property as massive as Mario, a treasure trove of Easter Eggs is to be expected from a Mario flick from the first frame to the last. They can't make the same mistake as the 1991 live-action movie all over again, right?
Kids and adult gamers alike will be drifting their eyes faster than a Mario Kart driver, as the entire film is riddled with references to Mario, DK, and Nintendo lore as plentiful as the cards on Charlie Kelly's Pepe Silva evidence board. To be concise with this Easter Egg breakdown, we will address background eggs, deep cuts to Mario history kids today won't know about, and references to other Nintendo iconography thrown across the board.
The Mario Rap
Nothing makes a Brooklyn-based independent business more authentic than a cringe commercial with a rap song. No other rap song does the Mario brothers justice than "The Mario Rap '' from the 1989 Super Mario Bros. Super Show Saturday Morning cartoon. The ad, which played during this most recent Super Bowl, and featured Mario Bros. Super Show's voice actress Jeannie Elias (Princess Toadstool) as a Brooklyn resident, is in the final film.
The commercial is set as the brothers' big on screen introduction. Kids may wince, but adults most likely will tear up thinking about their childhood, and missing the late Lou Albano and Danny Wells.
Punch-Out Pizzeria
Mario (Chris Pratt) and Luigi (Charlie Day) watch their commercial on TV at a local pizza shop called Punch-Out!! Pizzeria is a reference to the classic 1987 NES game Punch-Out!! As the commercial zooms out and shows a widescreen TV, you can see framed photos of notable Punch-Out fighters, including Little Mac, Glass Joe, and Don Flamenco, to name a few, on a decorated wall.
Jumpman/Donkey Kong Arcade Game
In the pizzeria, a Guiseppe (voiced by Mario's in-game voice actor Charles Martinet) plays an arcade cabinet titled Jump-Man, which resembles Donkey Kong (1981) but with an Arctic-themed reskin. Mario made his first debut in Donkey Kong and was alternatively known as Jump Man before he was named Mario.
Luigi's Phone Ringtone
Gamers who grew up during the sixth generation of consoles will be delighted to hear Luigi's phone ringtone as the GameCube startup jingle. The green mustachioed man should have that Nintendo console jingle as his own since his first solo title Luigi's Mansion was the GameCube's launch title.
Chasse au Canard
Mario and Luigi's Brooklyn neighborhood (possibly Bay Ridge) is on full display as they leave the shop. The background lies a French restaurant called "Chasse au Canard" with a duck from Duck Hunt as the logo. For those who don't parle François, Chasse au Canard is the French translation of Duck Hunt.
NES + Arwing toy
Mario plays the original Kid Icarus on a North American NES console. How meta is it for Mario to be playing an NES? I wonder if the Japanese version of the movie features him playing the Famicom. A toy-sized figure of Star Fox's Arwing hangs above his TV set.
Pauline
A news broadcast interrupts Mario's gameplay, reporting a water main break in their neighborhood. One of the residents interviewed is Pauline, donning her New York Girlboss design from Super Mario Odyssey.
Foreman Spike
Another deep cut comes in the form of Foreman Spike (voiced by Sebastian Maniscalco), who's a bully to the brothers, ridiculing them for their commercial, and quitting their job under his construction crew. Spike originated from the 1985 NES title Wrecking Crew which featured Mario & Luigi.
Peach's Castle
There are far too many in-your-face references that every kid of all ages will know but for Nintendo 64 fans, Peach's Castle is in the same copy-and-paste design as the Super Mario 64 castle. Mario heads to the entrance but is blocked by speared Toad guards. They joke saying that "the princess is in another castle," one of the most dreadful sentences that have given Mario fans grief since 1985.
DK Rap + Diddy, Dixie, and Chunky
At the Gladiator-inspired battle sequence between Mario and Donkey Kong (Seth Rogen), several Kong members from the DK Crew are in the audience, including Diddy, Dixie, and Chunky Kong. Speaking of the DK crew comes out with the chorus of Grant Kirkhope DK Rap blaring in the speakers as his wrestler theme.
Super Smash Bros. Movesets
Peach, Mario, and Donkey Kong do familiar attack moves from the Smash Bros. Games, respective to their move sets, throughout fight or training sequences.
Blue Shell Koopa-Troopa Titan Go!
During the Mad Max: Rainbow Road action sequence, a Koopa General (Scott Menville) transforms into the infamous blue shell to wreck Mario and Donkey Kong out of commission and into the ocean. Scott Menville is best known as the voice of Robin in Teen Titans Go!, which filmmakers Aaron Horvath and Michael Jelvnic created. Oh, and the blue shell, well every Mario Kart player doesn't need to be reminded of the casualties and lives ruined by that tragic item. Now, it's in the form of an onscreen kamikaze. In a family movie. Peak cinema.
Maw-Ray
After getting bombed by the kamikaze Koopa, Donkey Kong, and Mario fall into an ocean and are eaten by the Maw-Ray. The gigantic eel has given multiple generations of Mario fans nightmares since Super Mario 64 when he made his first appearance in the Jolly Roger Bay course.
DK Rocket Barrel
To escape out of the eel, Donkey Kong and Mario ride a rocket barrel straight out of Donkey Kong Country Returns, but with Mario riding DK's back instead of Diddy. Someday Diddy, you will get your time in the sun.
Balloon Fighter Car Wash
Mario is transported back to Brooklyn during the climax, landing at a construction site. In an establishing wide shot, you see a Car Wash sign with the Balloon Fighter from the 1984 NES game Balloon Fight as its mascot.
Ludwig Von Koopa Piano
Bowser plays a piano manufactured by Ludwig von Koopa. Ludwig von Koopa is the eldest of the Bowser minion sibling squad, the Koopalings. While the oldest Koopaling sibling isn't present to aid Bowser, he makes one shell of a living owning a piano company.
The Super Mario Bros. Movie is playing in theaters now.