Stephen King's Most Polarizing Horror Movie is Getting a Big Update
Now you can rewatch the most devastating horror movie ending in glorious 4K.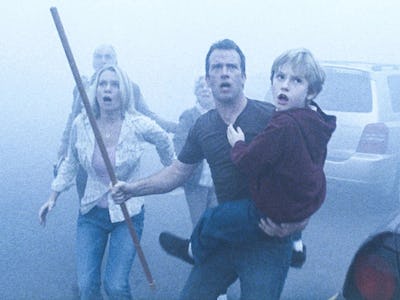 Lionsgate
Stephen King is inarguably one of the greatest horror minds of our time. Naturally, the writer behind such classics as The Shining, Carrie, and It would be defensive of his works. He even famously dislikes Stanley Kubrick's The Shining for deviating from the original ending. But one adaptation made such a bold departure from the original that even King had to accept it as a superior version.
That movie is Frank Darabont's The Mist, which follows a group of people trapped inside a local supermarket as a mist containing unseen monsters descends around them. The Mist has a reputation as one of Stephen King's darkest movies thanks to an ending that King didn't write himself. The chilling final five minutes see [spoiler alert!] Thomas Jane's character commit an act of mercy with a pistol that only had enough bullets for his young son and their friends. Moments later, the mist clears up, revealing that his act of deadly mercy was totally unnecessary. King praised the film's ending as "nihilistic," telling Darabont, who co-wrote the script, "I read it. I love your ending. I'm sorry I didn't think of it, because I would've written that instead."
So how could one possibly top an ending like that, which still feels just as devastating more than 15 years later? With a 4K remaster, of course.
Lionsgate is releasing a special SteelBook of The Mist in a National 4K HD™ (+ Blu-ray™ + Digital), along with a Best Buy exclusive release, in October. Both releases include the color version and the alternate black & white version of the film.
However, only the Blu-ray version contains over two hours of bonus material, including deleted scenes with commentary from Darabont and a "conversation with Stephen King and Frank Darabont," presumably about that infamous ending.
Both versions of The Mist releases will be available to buy on October 3. The Blu-ray will be available for a retail price of $34.99 with the Best Buy exclusive costing $37.99.