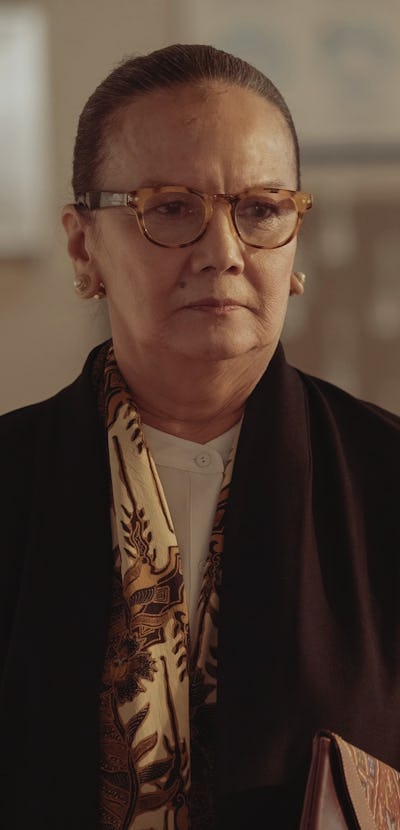 'The Last of Us' Episode 2 Star Christine Hakim on that Bombshell of an Opening Scene
In 'The Last of Us' Episode 2, Indonesian actress Christine Hakim made a shattering impact, setting the HBO show apart from other video game adaptations.
by Natasha Ishak
In Episode 2 of The Last of Us, Professor Ratna Pertiwi foresees the end of the world.
The bone-chilling opening scene of the second episode of HBO's post-apocalyptic zombie show follows the Indonesian mycology researcher as she examines a strange outbreak at the world's largest flour mill, and makes a shocking proposal: the immediate bombing of the entire capital city. She follows it up by tearfully pleading to be taken home to her family, in a scene that shook viewers and set the stage for the show's apocalyptic future.
The brilliant opener is executed by award-winning Indonesian actress Christine Hakim, whose ominous scene opposite Lt. Gen. Agus Hidayat (played by fellow Indonesian film veteran Yayu A.W. Unru) has turned her into a fan favorite among the show's global audience.
When Inverse caught up with Hakim during her recent visit to the States, she was in disbelief over the outpour of support. Some fans online have even called for the actress to receive an Emmy for her eight-minute on-screen performance.
"I'm thankful that, while it is a small part, Ratna is the key to it all," said Hakim, who also starred opposite Julia Roberts in the 2010 film adaptation of the best-selling book Eat, Pray, Love.
The Last of Us episode, while backdropped by Jakarta, was shot in Calgary, a city in the Canadian province of Alberta in November 2021. "It didn't really cross my mind how fans would react. I was just focused on overcoming the hurdles to be able to film on set," she said, referring to the logistical challenges of an international shoot amid a real-world pandemic.
Hakim, who celebrates her 50th year in showbiz this year, spoke with Inverse about her experience working with Neil Druckmann in his directorial debut for the Last of Us TV adaptation, what went into creating her now-infamous "bomb" scene, and why she nearly turned down the role.
This interview has been edited for clarity and brevity.
"When I said my line that I wanted to be with my husband and family and children, because of the pandemic I really felt that."
You initially had doubts about getting involved with the show. Why was that?
Because it was during the pandemic. So, I couldn't bring my manager, who is my husband and has comorbidities that make him vulnerable, and I couldn't bring my assistant. I had to travel alone, at this age [Editor's note: Hakim is 66 years old]. It also meant I had to leave my mother, who is 87. I thought, what would I do if something were to happen to them while I was away? This wasn't a shoot in Yogyakarta that's an hour's flight away. I had to think about my responsibilities as a daughter and as a wife, I couldn't just leave. I thought about just saying no.
About a week before I was supposed to fly to Canada, right before bed my husband suddenly said to me, "Chris, I think you have to go. Don't worry, I will be okay and I will take care of [your mother]. This won't just be good for you, it will also be good for Indonesia." It was like a weight lifted off my shoulders. The next morning, I told my management team that I was for sure going to do it and they were ecstatic.
I still felt anxious each night I was away. But I was lucky because — God really takes care of everything — I had just made a new friend who coincidentally lives in Calgary, where we were shooting. A fellow Indonesian. Of course, it's easier now to communicate with family in Indonesia because of advances in technology but still, they felt very far away and the time zones made things difficult. But my friend and I talked on the phone for an hour every day and she sent me home-cooked Indonesian meals like rendang and jambal balado when I was undergoing quarantine in Vancouver. I'm grateful the production team also treated us very well, putting us up in a comfortable hotel with balcony rooms so we could still get fresh air during quarantine.
What did you think of the script when you first read it?
When my family heard they had asked me to be part of the series, my nephew told me I shouldn't say no because he and his kids were big fans of the video game by Neil [Druckmann]. All the younger members of my family were excited for me to take on the role so, from a narrative perspective, I had no qualms about the quality of the script. I also knew Craig [Mazin]'s work on Chernobyl, which was hugely successful.
Were there any changes to how the scene turned out from the original script?
Not much. I may have adjusted some of the Indonesian translations in the dialogue to make the conversation flow more naturally, especially since this wasn't a casual conversation. It was between a scientist and a military officer so it still needed to be somewhat formal.
I was happy to learn that Neil has a very detail-oriented style of directing. That episode was Neil's first directing episode for the television series, so it was an honor for me to do it with him.
How did you bring your own influence to the character?
When I tell the military to bomb the city — can you imagine? [Professor Ratna is] not a military officer. I was unsure about how to translate that line in a way that made the most sense. Giving guidance that we should bomb an entire city would be such a burden for a scientist. So I said it the way I did, with fear. [The showrunners] had expected I would deliver the line more like [gestures aggressively] "bomb it!" They were very happy with my work. When they screened the episode, they told me they exchanged looks because the reaction [to the scene] really exceeded their expectations.
When I said my line that I wanted to be with my husband and family and children, because of the pandemic I really felt that. I realized later my tears in that scene weren't just from me being in the moment as my character, they came from my true feelings of missing my family. As for my hands shaking while holding the tea cup, that was Neil's idea. I was so focused on my emotional cues and I mean, honestly, I've never been so frightened that I physically shake. But as a visual cue, it was important to have. That kind of thing is where our collaborations happened.
What about that scene was it that you think made it resonate so much with fans?
Who wasn't terrified during the pandemic? I had wanted to cancel my involvement with the show because I was scared of the virus getting to me or my family. That's real. That's why people felt that [scene]. My job as an actor is to translate and convey how people in the world are feeling.
Will we see Professor Ratna again?
Not in Season 1. But who knows if they continue with a second season [laughs].
The Last of Us is streaming now on HBO and HBO Max.