The Curse Pushes Past the Limits of Reality
The Showtime and A24 co-production is a genre-bending must-see.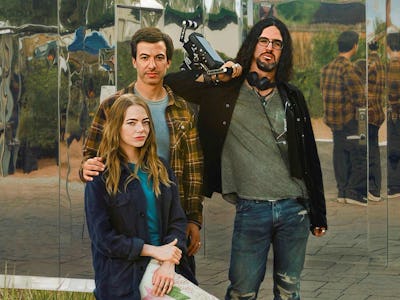 Showtime
I won't try to describe to you The Curse. It's not that the Nathan Fielder and Benny Safdie created A24 and Showtime series defies description, nor that it's too complex to try to summarize in words. In fact, narratively, it's quite simple. The black comedy series stars Emma Stone and Fielder as a married couple trying to get their HGTV show off the ground while an awkward, possibly supernatural, incident picks at a thread that quickly unravels their marriage. But this simple premise does not beget an equally simple story, which — like many a Nathan Fielder project — goes in directions you could possibly never predict.
In the broadest plot beats, this is what The Curse is about: Whitney Siegel (Stone) and her hapless husband, Asher (Fielder), have teamed up with Asher's childhood friend and TV producer Dougie Schecter (Safdie) to try to sell the pilot of Flipanthropy to HGTV. Flipanthropy is Whitney's attempt to sell her trademark "Passive Homes," eco-friendly, self-sustaining microhomes that she and Asher are building in the low-income neighborhood of Española. But Whitney, who believes herself an artist, an activist, and, most importantly, an "ally," wants Flipanthropy to be as much about helping the community as it is about selling homes — a pipe dream that ends up clashing with Dougie's more commercially accessible vision of the show.
This conflict comes to a head when Asher is encouraged by Dougie to give money to a poor Black girl for some B-roll footage, only for the interaction to end in Asher getting "cursed" by the child. But that's just the beginning of an increasingly bizarre story that deconstructs the knotty intersection of race, gentrification, and show business.
Instead of trying to describe The Curse, let me describe to you the feeling of watching The Curse. For most of the 10-episode series, something feels slightly off. Perfectly mundane mishaps play as overwhelmingly ominous, while social hangups become the ticking time bombs by which relationships will shatter into a thousand bloody pieces. It was smart that Showtime's first teaser for The Curse was simply a scene of Whitney and Asher doing several takes of standup for their show, their faces frozen in TV-ready smiles for long enough that it starts to feel uncomfortable… and maybe even a little sinister. It's exactly this kind of scene, which dances on the razor's edge between comedy and horror, that embodies The Curse's uniquely unsettling tone.
It feels like a given that The Curse is an uncomfortable watch. Fielder and Safdie write every episode (with Carrie Kemper contributing for two), and the combination of their separate talents — Fielder with awkward situational comedy, Safdie with anxiety-inducing thrills that he and brother Josh perfected on films like Uncut Gems — make for a unique cringe comedy that's shot like a thriller.
The Curse, with its candid digs at the exploitative nature of show business, seems like a natural follow-up to Fielder's The Rehearsal, a strange, introspective TV experiment that blended the lines between fiction and reality. But The Curse has bigger ideas on its mind, tackling the great thorny issues of race and performative white allyship. The series peels back the hypocrisy of Whitney's activism and Asher's passivity with a sharp, cynical self-awareness, albeit with less of an elegant hand than Fielder had in The Rehearsal. The Curse's ambitions might be a little too big for it at times, causing the series to meander somewhat in the middle section, but the show's consistently eerie tone keeps it from descending into too much of a slog.
The Curse also marks Fielder's first starring role in a scripted series. And if you were worried that the Nathan for You creator would fail in a (slightly) more conventional role, well, don't be. He's a natural fit, slipping easily into the awkward, desperate-to-please Asher — a character who feels like an extension of Fielder himself.
Safdie, who has proven to be a reliable character actor in films like Oppenheimer and Licorice Pizza, is a deliciously unlikable dirtbag with a tragic backstory. But it's Stone who is the MVP of The Curse, thanks to her exquisitely self-aware performance as a woman who lacks any bit of self-awareness. The core dynamic between Stone, Fielder, and Safdie provides much of the tension in the show, though it's Stone's scenes with most of the supporting cast — particularly Whitney's excruciatingly patronizing interactions with minority characters played by Barkhad Abdi and Nizhonniya Austin — that offer the most piercing takedowns of white privilege.
It's all part of the deeply cynical social satire that The Curse is telling about the gleeful exploitation of reality TV and the dark side of one's good intentions. But what's most incredible about this knotty, tangled, patently absurd series is that — like any good Nathan Fielder show — it pushes the joke beyond any reasonable endpoint, until we're left in wholly new territory.
The Curse premieres Nov. 10 on Paramount+ (with a Showtime subscription) before making its on-air debut at 10 p.m. ET Nov. 12 on Showtime.