From YouTube to Street Fighter: How DIY Directors Made 2023's Scariest Movie
Inverse catches up with the directors of A24's Talk to Me. (Spoilers ahead!)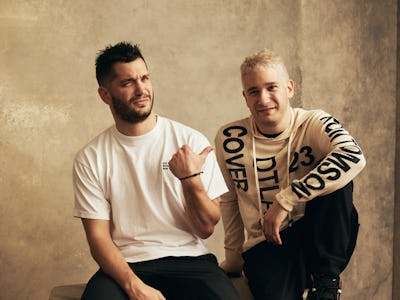 Robby Klein/Getty Images
Danny and Michael Philippou saved the best for last. But watching their new film, you'd never know it.
When filming their feature debut, A24's buzzy new horror Talk to Me, the Australian twin brothers knew they needed something big to immediately hook viewers in. The solution was an impressive oner (a long scene shot in a single, unbroken take) that follows an unnamed character down a quiet street and through a raucous house part before ending abruptly with a violent suicide.
"That first scene is integral to let the audience know whether or not they should trust you on this journey of telling your film," Michael Philippou tells Inverse.
For Danny and Michael, best known for their YouTube channel RackaRacka (a showcase for impressive DIY'd special effects and stunts), it was also a chance to prove they could go from viral videos to A24 filmmakers, which is why they filmed that oner last even though it's the very first scene in Talk to Me.
It wasn't an easy shot, either. The scene involves breaking down a door, but they had 10 prop doors, meaning 10 chances to get the entire thing right. And although it's set in the summer, with kids jumping on the pool and having fun, it was freezing cold on the day of filming. On the tenth attempt, they finally got it right. Then, they celebrated.
"After that, the fake party turned into a very real one," Danny said.
Making a New Horror Classic
In theaters now, Talk to Me tells the story of a group of Australian teenagers who come into contact magic ceramic hand capable of contacting the dead. Inspired by classic ghost stories like Bloody Mary and movies like Candy Man, the rules of Talk to Me are simple:
Light a candle
Hold the hand
Say the words, "Talk to me"
Once the ghost presents itself, say "I let you in" and let the fun begin
Oh, and one more rule. Never, ever let a ghost inhabit your body for more than 90 seconds or they won't "want" to leave. Of course, this being a horror movie, that last rule is quickly broken, which is when things go from fun and spooky to downright terrifying.
But before that can happen, Talk to Me delivers some very fun scenes in which this haunted hand serves as the focal point for a series of parties. Picture an early Judd Apatow movie but with the bong swapped out for a creepy ceramic hand, and you'll get the idea. But for Danny and Michael Philippou, even these laid-back scenes required an incredible amount of preparation.
The brothers mapped out the first party scene in advance, using their iPhones to test different camera lenses and shoot previz footage, first using themselves as actors, then with the crew, and finally with the cast. "Having a game plan and knowing particular things that you want is always great to have," says Michael.
Obsessive planning aside, what really sells Talk to Me is the characters. Everyone in the movie feels fully fleshed out (even the ghosts get backstories, but more on that later), which elevates the entire experience above your usual gory thriller.
"The strongest horror films for me are ones where you do really connect to the characters," Danny says. "That makes the stakes feel real and it makes the horror feel more impactful.
"You're rooting for them."
From YouTube to Street Fighter
Born and raised in the suburbs of Adelaide (the biggest city in South Australia), Danny and Michael Philippou, now age 30, first picked up a camera when they were 11 years old to film WWE-inspired backyard wrestling videos. By 2013, they'd graduated to YouTube, launching their channel, RackaRacka. Looking back, they see that time as an informal sort of film school. Every video gave them the experience they'd need on Talk to Me.
"We tried to set up a different filmmaking challenge just so we could grow as filmmakers," Danny says.
RackaRacka quickly amassed a large audience thanks to action-packed videos that borrowed heavily from pop culture while showing off their impressive talent for special effects and stunt work. The channel's biggest hit is a video called Harry Potter vs Star Wars. It was viewed 7 million times in its first week and somehow manages to defy every expectation you might have.
Coming off the buzz of Talk to Me, the Philippous have already landed their next high-profile project: a live-action adaptation of Street Fighter for Legendary Pictures. It's a long way from the duo's DIY roots, but they don't seem worried.
"We've never really had a budget available at all," Danny says. "The idea of doing that on a bigger film set and design sequences that we know we can pull off is thrilling"
Just as their YouTube stunt videos acted as a sort of film school for them, Talk to Me provided a stepping stone to big-budget IP-driven blockbusters. The Philippous are excited to take their abilities to the next level and play with bigger tools. The real question is whether they can keep that DIY energy while helming a Hollywood production.
"The more money you have, and the bigger the crew is, the slower it works," Michael says. "The people at Legendary seem very open to letting us work our way and not lose that essence on set."
Talk to Me 2?
Returning to Talk to Me, Danny and Michael Philippou reveal a surprising detail. While most of the ghosts appear onscreen for less than a second and don't have any speaking lines, the brothers mapped out every single spirit's backstory in a "maybe too detailed" 300-page document.
"We wanted to have a sense of history even though it's never properly said," Michael says.
It's that kind of attention to detail that sets the Philippous apart as filmmakers and gives us hope that they can shape Street Fighter into something as special as their indie horror movie.
And, at the very least, perhaps all that unrevealed backstory can be put to good use down the line.
"Maybe we can expand on that lore in a sequel," Danny teases.