23 Years Later, Strange New Worlds Brings Back a Shocking Star Trek Trick
Showrunners Akiva Goldsman and Henry Alonso Myers explain that cliffhanger ending.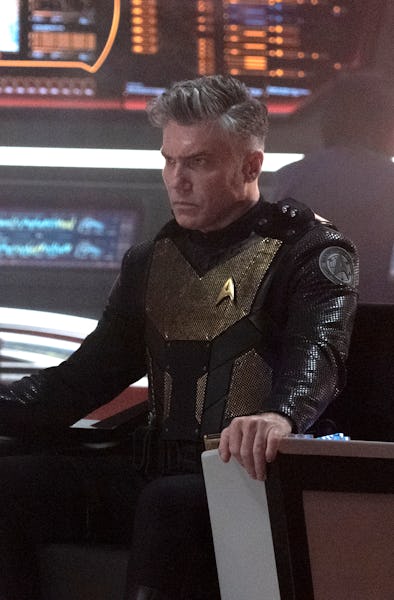 Paramount+
We may receive a portion of sales if you purchase a product through a link in this article.
For the first time since the Star Trek franchise relaunched on TV in 2017, a new live-action Trek series has used three words that we haven't seen appear on the screen in a long time: "To Be Continued..."
While it's true that in the age of serialized TV, the notion that a season finale will drop plot twists to be continued in the next season is basically a given. But, with the Season 2 finale, "Hegemony," Strange New Worlds has brought back the vibe of a classic TV cliffhanger that feels impossible to resolve and shocks fans because the story seems to suddenly stop in the middle.
"We really love 'The Best of Both Worlds,' from The Next Generation," Strange New Worlds co-showrunner Henry Alonso Myers tells Inverse, referring to that Trek show's most famous 1990 cliffhanger. "And that's what we were going for here. We felt we owed the audience a great moment like that."
If you're reeling from the cliffhanger of "Hegemony," Inverse caught up with both Myers, and co-showrunner Akiva Goldsman to get the scoop on this episode, how SNW is expanding canon from The Original Series, hints for Season 3, and why they're steadfast that this version of the Gorn is the one they're sticking with. Spoilers ahead.
Strange New Worlds Season 2 cliffhanger, explained
Although the Gorn were only briefly mentioned at the start of Season 2, the first season of Strange New Worlds firmly established this infamous reptilian alien species as the dominant villain of the years 2259 and 2260. And while some of SNW Season 1 retcons a lot of what we know about the Gorn from that classic episode "Arena" (the one where Kirk fights a guy in a rubber lizard suit) on paper, SNW is still in relatively safe canon territory. In "Arena" Kirk is told that he's fighting a Gorn by the Metrons, a fact which SNW writers like Davy Perez have interpreted as canon "wiggle room." In 2022, Perez told Inverse that "Kirk's idea of the Gorn is different from what he is being told by the Metrons." And now, with "Hegemony," Trek canon is revealing that several members of Starfleet (including Scotty!) were involved in huge skirmishes with the Gorn, well before Kirk's five-year-mission in The Original Series.
In "Hegemony," the Gorn claim a non-affiliated human colony as part of their territory, which puts Pike and the Enterprise in a sticky situation, because their sister ship, the USS Cayuga — including Captain Batel and Nurse Chapel — is caught right in the middle. By the end of the episode, after a daring rescue, in which Spock crashes the wrecked hull of the Cayuga into the planet below, and a newly minted Scotty (Martin Quinn) helps Pike and Batel hide from the Gorn, everything gets even more complicated at the last minute. Instead of getting beamed up by the Enterprise, all the colonists and crew members Dr. M'Benga, La'an, Ortegas, and Sam Kirk are captured by the Gorn. Meanwhile, Captain Batel has been infected with Gorn eggs, which proved to be fatal for Hemmer in Season 1. On top of all of this, Pike has been ordered to take the Enterprise out of the area to avoid making the Gorn territory dispute any worse.
And so, the cliffhanger rests on Pike's impossible choice: What can he do next? We know the Enterprise won't be destroyed, but what makes this cliffhanger so smart is that the stakes aren't about Pike, Spock, Number One, or the ship. Instead, it's about everything else. We know M'Benga and Sam will likely escape because both exist in TOS. But, to be clear, canon can't protect La'an, Batel, and Ortegas, because they're all 100 percent unique to this show.
Is SNW Season 3 planned already?
"We knew the broad shape of this finale going into Season 2," Myers explains. "And we knew the broad shape of what the follow-up would be. Now, there obviously have been some slight changes because it's gonna be hard to work on things for a little while."
Myers is, of course, referring to the WGA and SAG-AFTRA strikes, both of which are still ongoing as of this writing. And when directly asked, Akiva Goldsman confirms, "We haven't filmed anything for Season 3, yet."
So, yes, a lot of Season 3 is planned, including the resolution to the cliffhanger created by "Hegemony." But, unlike this time last year in 2022, the next season of SNW is not already filming while the new season is airing. This time, there is bound to be a slightly longer gap.
SNW canon versus TOS canon
Ever since the prequel series Star Trek: Enterprise revealed a more agile Gorn with a tail in the Mirror Universe, various quasi-canon sources have speculated that there are, in fact, several subspecies of Gorn. If true, this would mean that the Gorn we see in SNW don't contradict TOS. So, could fans hope for one day in which the new, monstrous Gorn are seen side-by-side with the classic rubber-suited Gorn? Goldsman says that's not how the visual canon of SNW works.
"You will never see the Gorn like that," he says. "This is the Gorn as we perceive them."
That said, Akiva Goldsman has been a longtime advocate of bringing the Gorn (and various TOS elements) into the larger shows. And when pressed about his well-documented Gorn fandom, he relents, slightly.
"Yes, it's true, I've been an agitator for the Gorn," he says with a laugh. "I mean, this goes all the way back to the Gorn skeleton in Lorca's lab on Discovery. Much less the Gorn neon velvet painting in the Artifact in Picard Season 1, which was painted out [in post-production.] So yes, I've always wanted to sell a version of the Gorn. But, our Gorn are real monsters. Compassion and empathy, are the driving themes and intent for our show. But, we also wanted to say that those things don't preclude the existence of monsters. So, that's the role the Gorn have currently on our show. I'm a believer in kindness, connection, and understanding. I also believe there are monsters out there. And it's our job to show both."
But, on a nitty-gritty non-thematic level, Goldsman makes it clear that the visual depiction of the Gorn — as well as the overall exact production design of The Orignal Series — will never be recreated for the purposes of visual canon alignment. "This is our version of the Gorn. It's an interpretation. In the same way, the transporter room on the Enterprise is never gonna look like the transporter room looked in TOS, right? It's our interpretation of it. The bridge is never going to either. We're not gonna wake up one day and say, oh, it's the other bridge."
And, with that notion — a hypothetical Strange New Worlds episode that features the classic 1960s TOS sets, Goldsman stops himself with a laugh. "Actually, that would be an awesome episode. We should do that."