Shatter Belt is a Mind-Bending Anthology Series That Will Puzzle and Excite You
James Ward Byrkit's follow-up to his breakout sci-fi Coherence is a heartfelt headscratcher.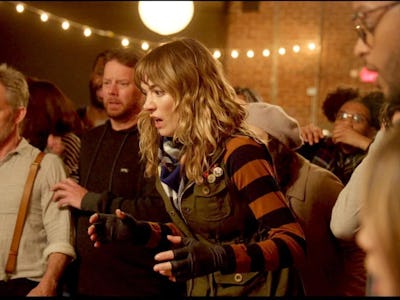 SXSW
There are so many mysteries of the universe that have yet to be explored. One of the most incredible, and frightening, things about life is that humans do not hold all the answers. This human condition and its many manifestations is the groundwork of James Ward Byrkit's follow-up to his underrated breakout Coherence, Shatter Belt.
A mind-bending anthology series that will puzzle, excite, and gut you in equal measure, the anthology series is made up of several Twilight Zone-adjacent interconnected stories that explore the unanswered questions about consciousness, free will, and the cyclical nature of the universe. And if we know anything about Byrkit, he's damn good at prodding and poking those notions until they burst open in front of him with a narrative in hand.
Each story in this new anthology series has a different look, feel, and style, though the differences are somewhat subtle. The way each episode is shot mimics the kind of story its telling: a darker yet frantic feel in the second episode titled "Immotus;" beautifully bright and sweeping shots that highlight a stunning desert in the third episode titled "The Specimen;" disorienting and dizzying cuts in the fourth episode titled "Pearls." DPs Mitchell Orcino and Chris Cuthbert shape the visual language of the show by focusing on the things that make each story stand out, things like the various locales, frantic visual pacing, and pointed character introspection.
The episodes feature some actors that recur across stories, and the ones that do get a chance to show their range with characters that feel different than the ones they've stepped into prior. There is a ton of excellent ensemble acting in this series, from the frantic group of employees featured in Episode 2, to the quartet embarking on a bizarre omakase dinner together (featuring a particularly spirited performance from Abigail Spencer) in Episode 4. Each of the cast members throughout the series has their own charismatic pull, and having such a solid group to tell these stories aids in their strength.
But the acting MVP of Shatter Belt is undoubtedly Patton Oswalt, who helms "The Specimen." He rips himself wide open in the story of a man struggling to right the wrongs of his life and make something of himself at the same time. His story is both depressing and triumphant, and his desperation to make each and every convoluted scenario in his mess of a life work out. His performance is almost certain to make you cry, especially when you finally start to put the pieces of the episode together. It's not that the comedian has never dipped his toes in a drama, it's that this particular role is steeped so full of emotional resonance and heart that it's instantly the most memorable role Oswalt has ever played. In fact, it will most likely cast him in a complete new light for those who are only familiar with his comedy work.
To be completely fair, some of the filmmaker's stories in this second outing are stronger than others in their ability to sustain your interest, but none of them shy away from the kind of existential crisis Byrkit is so skilled at writing and directing. If "The Specimen" is the best episode of the series — and it is — then it's only right to admit that the stories surrounding it simply don't hit as hard. Oswalt's performance paired with a smart juxtaposition in story and awe-inspiring shots and editing elevate the episode several pegs above the rest of the offerings. That being said, the other episodes lean into comedy and absurdism, so thematically, they approach the existentialism of the series in a different way. But still, they aren't quite as effective as "The Specimen." While those episodes are asking big questions and taking almost zany big swings with their concepts, "The Specimen" keeps you locked in emotionally — and a lot can be said for a piece that can do that well.
Shatter Belt as a whole probably won't resonate with viewers in the same unexpected way Coherence did, but it will certainly open up more folks to Byrkit's existential eye. No matter which way you swing it, that's a case of exposure more people should come down with. There's something so special about the way Byrkit thinks, and further still, the way he brings those worlds to life on a smaller budget — after all, Coherence was made on a tiny $50,000 budget.
Though the less-is-more filmmaking approach has served Byrkit well over the years, this new series shows he can take a larger, possibly even more involved premise with "The Specimen," and turn it into a succinct and gratifying personal exploration that packs the same punch as his feature-length film. Plus, the show cements his skill with stories that have a simple yet striking story, the ones that focus on something small that, really, is huge in the scheme of things. Shatter Belt will have you scratching your head, laughing, and crying — probably all at the same time. But dare I say it, that's what makes Byrkit's work so accessible to those of us who continue to find ourselves puzzled and fascinated with the human condition, much like the filmmaker himself.
Shatter Belt premiered March 14 at SXSW.