Martin Scorsese's Epic First Western Is a Hollywood Blockbuster Like No Other
Killers of the Flower Moon is a remarkable step forward for the 80-year-old filmmaker, who reimagines the potential of the big-screen epic to reckon with history.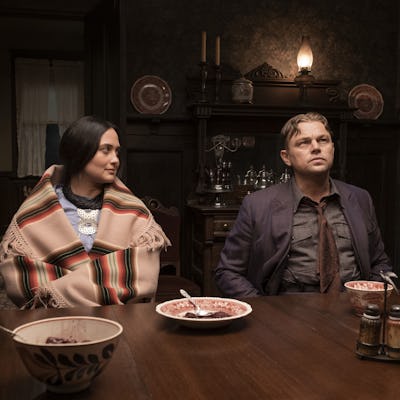 Apple TV+
One of the very first successful films in movie history was a Western.
Released in 1903, The Great Train Robbery launched a genre that dominated Hollywood for almost a century, inspiring massive blockbusters like True Grit and Butch Cassidy and the Sundance Kid more than 50 years later. But its influence extends beyond other Westerns, too. The Great Train Robbery's final shot of an outlaw firing at the camera even inspired a similar moment in Martin Scorsese's 1990 mobster classic, Goodfellas. So it's only natural that Scorsese would eventually get around to making what he's called the first Western of his career.
A great American tragedy of entitlement, greed, and corruption, Martin Scorsese's Killers of the Flower Moon is a saga of astonishing scope and psychological depth that, in many respects, demands the blockbuster treatment. Arriving in theaters later this year as a three-and-a-half-hour, Oscar-primed epic — one that cost Apple and Paramount Pictures more than $200 million to make — this late-career work from one of the finest living filmmakers is already one of the year's biggest "event" films. And yet, Scorsese takes a more subtle, sophisticated approach to the story than one might expect, given the magnitude of its production.
In the process, Killers of the Flower Moon subverts both his own artistic tendencies and the Western genre. It is a remarkable step forward for the 80-year-old filmmaker, who reimagines the potential of the big-screen epic to reckon with history.
Rethinking the Source Material
Based on David Grann's nonfiction book of the same name, Killers of the Flower Moon is a tale of moral rot and criminal enterprise cast in a dramatically different mold from Scorsese's gangster epics. Grann's book, subtitled The Osage Murders and the Birth of the FBI, is framed as a whodunnit set in 1920s Oklahoma, where the Osage Nation became extraordinarily wealthy after abundant oil deposits were discovered on its land.
The story begins as a series of deaths rock the area and devastate the family of Mollie Kyle (Lily Gladstone), a rich Osage woman whose tribal land headrights are of significant interest to wealthy cattle baron William Hale (Robert De Niro) and his slow-witted nephew Ernest Burkhart (Leonardo DiCaprio). As Ernest courts and marries Mollie, the murders continue.
In his adaptation, Scorsese discards Grann's whodunnit structure, disclosing the identities of the killers and making clear the role Hale and Ernest play in perpetuating atrocity against the Osage. Indeed, it's two hours into the film before federal agent Tom White (Jesse Plemons), a key figure in Grann's book, arrives to investigate the murders on orders from J. Edgar Hoover. Scorsese's decision to center the story on malevolent Hale, complicit Ernest, and bitterly anguished Mollie, and on the horrific moral contradictions of Ernest's relationships — between husband and wife, and nephew and uncle — marks a significant departure from the source material, narrowing this vast sweep of history into something more hauntingly intimate.
Subverting the Western
With Killers of the Flower Moon, Scorsese shifts focus from pistol-twirling lawmen and other such iconic Western figures. Aesthetically, too, he steeps the film's scene-setting in foreboding, imploring the audience to look closer. Whether in slow-motion tableaux of the Osage dancing beneath a gushing eruption of oil or silent newsreel footage that depicts the forced relocation of their nation to this area of land, Scorsese reassesses the Osage murders in personal terms. By focusing the film around a most twisted marriage, Scorsese makes Killers of the Flower Moon as emotionally unfathomable as traditional Westerns are geographically unbound. He accounts for the spiritual cost of the crimes.
Scorsese does this by centering the story on Gladstone, an American actor of Blackfeet and Nimíipuu heritage, who acts as the film's searing conscience. As Mollie, her performance of dignified calm and unimaginable suffering conveys the soul and spirit of a woman caught between worlds. Grieving the loss of her people and their way of life, unable to comprehend the motivations of anyone who would enact such violence, Mollie is often seen in quietly agonized contemplation. The film swells in her lengthy silences, as Gladstone's expressive features, her wide eyes ringed with fatigue, bear witness to atrocity.
Gladstone's momentous performance is in direct contrast to Scorsese regulars DiCaprio and De Niro, sharing the screen in one of his pictures for the first time, who minimize their typical movie-star magnetism in favor of creeping moral decay. Through her living monument of a performance — which serves as a repudiation of Native peoples' erasure from their own narratives, especially in a film of this blockbuster scale — Killers accrues a corrective, directly condemnatory power. The result is a bleak, dispassionate portrait of white greed at work and a movie directly in conversation with the classic Western.
A Blockbuster Like No Other
From Stagecoach to High Noon, many classic Westerns reflect the struggles associated with a concept known as "Manifest Destiny," with imposing modern civilization upon the wilderness. Historically, Native American communities have often symbolized that wilderness, with cultures and traditions all their own, and were cast as antagonists in struggles between order and savagery.
Later Westerns wrestled with this framing and its racist implications. Pairing spectacular vistas with a haunting psychological portrait, John Ford's The Searchers follows a Civil War veteran (John Wayne) on a five-year quest to rescue his niece from Comanches who abducted her, committing monstrous acts along the way. Scorsese, who calls The Searchers one of the best films ever made, has referenced it in everything from Taxi Driver to Gangs of New York, calling attention to the dark actions of supposed "lone-wolf heroes" just as he exposes the craven nature of the Osage killers.
As Scorsese's most expensive feature to date, and one of his longest (The Irishman has it beat at 209 minutes, if only just), Killers of the Flower Moon was always going to be associated with a time-honored cinematic tradition of Western grandeur that dates back to the days of Gone With the Wind and Once Upon a Time in the West. But in where he chooses to focus the story, and how he chooses to tell it, Scorsese defies expectations. Armed with the highest budget Apple has approved to date, Scorsese uses his creative control and resources to deliver an intimate story at scale, a deadly slow dance of familial loyalty, exploitation, and betrayal that plays out through the twisted motivations of three complex characters.
Scorsese does this for a specific purpose. While it would not be accurate to describe Killers of the Flower Moon as an archetypal Western, it fits within Scorsese's filmography as a work of genre revisionism. No filmmaker working today is as fascinated by the great and terrible power of American myth-making as Scorsese, nor as adept at deconstructing the foundational beliefs — of masculinity, money, and criminality — that the country and its ideological expanse are predicated upon. Devoid of sensationalism and attuned to the banal venality of its most ill-intentioned characters, this film exposes the plundering of Native American lives, traditions, and resources as organized depravity on the part of white men once cast as Western heroes. And in centering Gladstone's performance, he pulls the film's mainstream audience toward an Indigenous subjectivity. The force of her presence in a Western of this scale is both potent and political.
Scorsese's ultimate achievement is in how Killers of the Flower Moon sets the record straight. Killers may well be remembered alongside such enduring classics of the Western, as an American masterpiece that accounts for all those atrocities through which the West was won. That it does so with all the considerable resources of a streamer like Apple makes the film more significant than a prestige picture — it breathes new life, and hope, into the idea of great, subversive art triumphing on a blockbuster budget.