How John Wick Became a Haven for Direct-to-Video Action Stars
More than a comeback vehicle for Keanu Reeves, John Wick became a launch pad for the greatest DTV stars.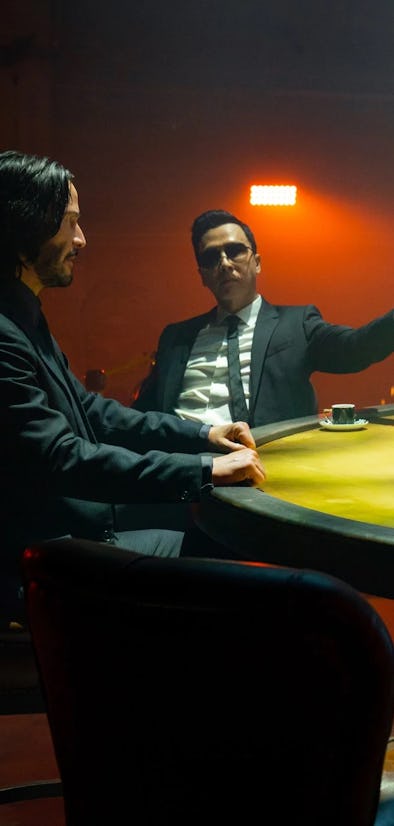 Lionsgate
DTV, or direct-to-video, films don't have the most glowing reputation. Often, they're films you'll find at Walmart or RedBox, where you can see stars of days gone by, like Nicolas Cage or John Travolta, swinging guns for a paycheck. But what many might not realize is that the DTV market is home to some of the finest action around.
Since the late '80s, visionary directors like Albert Pyun were making magic on shoestring budgets. But DTV action's golden period is undoubtedly the mid-2000s to the 2010s, in which the genre became a bastion of sorts for high-quality stunts and choreography in an age where homogenous, muddled action was becoming the norm. This is where some of the most unsung action stars in the genre's history were quietly honing their craft, and where international action stars who blew minds with crossover successes like The Raid or SPL could be found lending their star power.
"Chad is a martial arts expert, so he knows exactly what kind of martial arts characteristics he needs."
To a certain kind of fan, these stars have been the lifeblood of action cinema for the past 20 years. Scott Adkins, Marko Zaror, Mark Dacascos, Daniel Bernhardt, Donnie Yen, Yayan Ruhian, and more have either established themselves as full-on leading men of action or — as is the case with the latter two — have lent these films their already massive overseas star power. The one thing they all have in common? They're all prominent members of the best action franchise the West has ever produced: John Wick.
Whether as a featured henchman, a scene-stealing villain, or a co-lead, the John Wick series has become home to a cavalcade of stars whom action fans spent years telling their friends about through hushed tones and YouTube links. The message always being: "This guy is secretly the best martial artist on the planet." For as incredible a comeback as the series was in cementing Keanu Reeves as one of the all-time greats, the John Wick franchise's quiet power is in how it's secretly laced with DTV DNA.
John Wick's DTV Beginnings
John Wick's DTV roots are easy to understand when you look at its director, Chad Stahelski. Honing his craft as a stuntman and martial artist, Stahelski worked on all kinds of early '90s VHS staples, most notably Albert Pyun classics like Nemesis 2 and Brainsmasher…A Love Story. As he climbed up the ranks of Hollywood and into films like Spider-Man and The Matrix Reloaded, he founded his stunt company with David Leitch, 87Eleven. This company would lead to John Wick and, eventually, the reshaping of Western action entirely. Daniel Bernhardt, an actor, stunt professional and fight choreographer, and frequent collaborator with Stahelski, tells Inverse the duo were pioneers in helping DTV go mainstream.
"They were a couple of second-year directors, stunt coordinators who directed in the past, but they never really broke through," Bernhardt says. "But I think Chad and Dave were the first ones."
The key to Stahelski and Leitch's breakthrough success, Bernhardt says, was that they waited for the optimal project. After nearly three decades of working hard at becoming the "best stunt people in the world," and becoming the go-to stunt doubles for Keanu Reeves and Brad Pitt, they moved up to become fight coordinators, stunt coordinators, and finally second-unit directors. But when they got the chance to direct a feature film, they made sure to choose wisely. "They turned down a lot of movies," Bernhardt says. "Everybody wanted them to direct lower-budget films like sequels to a franchise that would probably go nowhere. But they waited until John Wick came along."
"Hooking Your Actor Up"
From the first film in the series, it's clear that Stahelski hasn't forgotten his roots. The best DTV action films are from former stunt performers, fight choreographers, or people with a clear sensibility for what makes the action look great. Even though his directorial debut, the first John Wick, was a theatrical release, Stahelski followed in the footsteps of DTV luminaries like Jesse V. Johnson, Isaac Florentine, and John Hyams. He took a simple yet effective premise centered around revenge, and imbued it with propulsive gunplay and wild, beautifully choreographed fights that many American action films at the time were sorely missing.
The secret sauce to this was casting actors who had populated lower-budget action and giving them the room to do what they do best. Stahelski's martial arts background was also key here, as he knew just who and what to look for. Actor and martial artist Yayan Ruhian, who appears in John Wick 3 as one of the villains that nearly fells Wick, tells the Inverse, "Chad is a martial arts expert, so he understands all the characteristics of many martial arts schools and knows exactly what kind of martial arts characteristics he needs."
"I watch three crazy kicks, like, OK, I've seen it. So what's next for me? It's still the story in the fight."
As the series expanded, these roles became more integral to the story, but from film one, there's a marked difference in their presentation. For years, fans of DTV action clamored to see their favorite stars given the spotlight in major Hollywood films. There's a general frustration in seeing your favorite world-class talent going up against A-list stars, and within minutes, they're out of the picture. There's a place for those standout goons and henchmen in action films, but the thrill of seeing a guy like Scott Adkins pop up deflates when you realize he won't get to bust out his patented flip kick, let alone speak. John Wick felt like such a turning point in taking these fan favorites and elevating them beyond "Henchman #3."
Bernhardt, in particular, is an actor who embodies the movement between DTV and A-list productions. Instantly recognizable whenever he pops up, whether as an agent in The Matrix Reloaded or fighting Bill Hader in the stand-out episode of Barry, "Ronny/Lily," the martial artist-turned-actor looks like a leading man with the charisma to boot. Getting his start replacing JCVD in the Bloodsport sequels, he has fond memories of working in that arena: "We had so much fun. Nobody would tell us what to do. We made no money but had fun and made great movies." Fast forward to the present, and Bernhardt has become a stalwart of "action acting," as he refers to his particular specialty as a stunt performer. "I do my own fights, and I'm hirable because I'm safe," Bernhardt says. "They can put me opposite anyone, and we do fight scenes together, and we train together, and they know that I'm not here to hurt him, that I will protect him, and he protects me."
In the first Wick, Bernhardt plays a pivotal role as the No. 1 henchman to Michael Nyqvist's villain. On the surface, this role could be forgettable, but Stahelski shoots him in a way that immediately signals that this is a star. Bernhardt wipes the floor with Reeves' Wick in a standout fight in a nightclub. It's a moment that says: "This is a guy you should be paying attention to." In a single scene, Stahelski takes a guy action diehards have been singing the praises of for years and shines the brightest light possible on him. Director Liam O'Donnell, himself a DTV standout with Beyond Skyline and Skylines (also starring Bernhardt), tells Inverse that this is what he refers to as "hooking your actor up." If you shoot a star like a star, people will buy them as such. Bernhardt may not speak in the first Wick, but his brutal impact stretches long after the credits roll, and you remember him not as a henchman or goon but as the guy who kicked John Wick's ass and looked incredible doing it.
A New Era for DTV Stars
After Bernhardt's scene-stealing turn, the Wick series was off to the races with a veritable smorgasbord of DTV legends. Each film keeps the standard debonair, upper-crust (and vaguely European) main antagonist while populating the supporting cast with all kinds of faces.
Chapter 2 features Ruby Rose in a delightful turn as Santino's (Riccardo Scarmarcio) mute enforcer. Chapter 3 ups the ante, casting Mark Dacascos, an elder statesman of the DTV world, having starred in '90s classics Drive and Kickboxer 5, as Reeves' primary foil. Mirroring Reeves in every way, both broke onto the scene around the same time, and now in their 50s, Dascascos had a chance to show the world that, given the opportunity, he could go toe-to-toe with Hollywood's top-tier stars. It doesn't stop there, though, as Yayan Ruhian shows up in John Wick 3 as yet another villain. Yayan is best known for the The Raid series, where he and star Iko Uwais helped create an Indonesian explosion in action cinema. He is one of those global stars whose presence in DTV films like Beyond Skyline gives it an immediate gravitas. It's no different here as he darts around the screen, making life hell for Wick. As with Bernhardt, he doesn't have much screen time but uses every second of it to pump what could've been a tossed-off character full of life.
"Nobody would tell us what to do. We made no money but had fun and made great movies."
For Bernhardt, creating strong characters matters most, whether it's DTV or big budget. "I love action, but the story is still really important. If there's no story in between this, it's nothing," Bernhardt says of the process of making DTV action. "How many crazy moves can you do? I watch three crazy kicks, like, OK, I've seen it. So what's next for me? It's still the story in the fight."
Chapter 4, the series finale, is where Stahelski takes the idea of "the story in the fight" to its fullest potential. He brings Hong Kong martial arts legend Donnie Yen and the King of DTV Scott Adkins to the series, letting them go toe-to-toe with Reeves, and even, at some points, upstaging him.
While Yen, who plays the blind assassin Caine, is a bona fide superstar internationally, Hollywood has never really "hooked him up" the way his home country has. Brief, exciting flourishes in Rogue One or The Return of Xander Cage aside, it's in Chapter 4 where he finally gets to not only mesmerize Western audiences with his physical ability but is inarguably the heart and soul of the entire film. But it's Scott Adkins, action's best-kept secret for years, as German kingpin Killa, who drops and steals the spotlight right out from under Reeves and Yen. Adkins embodies Bernhardt's earlier emphasis on character work as he's cultivated a fanbase around himself. There's nothing like seeing a Scott Adkins kick, and it feels like a dream seeing it in IMAX. Elsewhere, Bill Skarsgard's towering bodyguard is Marko Zaror, another DTV hidden gem who explodes through the screen with matinee looks and the body of a giant. Like Adkins and Bernhardt, he's been out there for years, but it only took John Wick to take advantage of that. It may be Reeves' final outing as John Wick, but it's these three who make the strongest cases as MVP.
As the film series has come to a close, it and 87Eleven's influence is felt all around the action landscape. The "hooking up" of these action staples in big-budget tentpoles is no longer a rarity. Daniel Bernhardt has been everywhere, including crucial scenes in Nobody and Extraction 2. Adkins had another scene-stealer in last year's Jamie Foxx vampire comedy Day Shift. Those two and Marko Zaror are all teaming up for a Dave Bautista actioner helmed by former stuntman JJ Perry (also of Day Shift).
Where John Wick once felt like a haven for the unsung heroes of DTV to showcase their talents to the world, perhaps a seamless integration is taking place. With stuntmen-turned-directors being given the keys to the kingdom, "Henchman #3" can finally be the guy you won't stop raving about long after the screen's gone dark.
The Continental premieres on Peacock on September 22.