The Second Coming of Jena Malone
Jena Malone unpacks the "rewilding" of a Biblical myth in Consecration.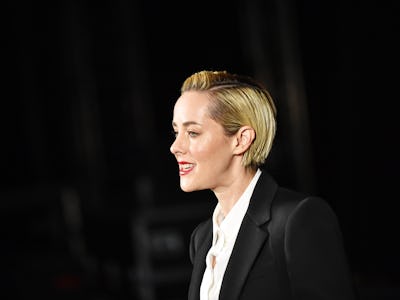 Penske Media/Getty Images
Cultures have built their own identities upon myths. The stories they tell, the lessons they instill … and the horrors they may wreak.
The myths of Christianity are undoubtedly the cornerstone of the religion, but there is none more holy or mysterious than the myth of the Second Coming. Consecration director and co-writer Christopher Smith definitely saw an opportunity within that myth, and he enlisted Jena Malone to help him explore that concept and what forms it could take in his eighth feature film.
Consecration follows Malone's Grace, a secular woman whose priest brother dies of an alleged suicide while serving at a convent. Skeptical of what the stewards of the church tell her about his passing, she decides to visit the convent for herself to put together the pieces of what happened to him. Along the way, she rediscovers a damning past she thought she had forgotten for good — and remembering it changes everything.
The film cracks wide open the confines of rigid religious doctrine, and in turn, the new Shudder movie asks more questions than it can answer. But you know what? Some horror movies, especially those grappling with such heady concepts, are more fun that way.
But perhaps the best part about them is that they ignite a dialogue. With that in mind, Inverse sat down with Malone to dig into her Consecration character, the roles horror and religion play in our consciousness, and her take on the closing credits mystery of The Neon Demon.
What attracted you to this project and to Grace as a character?
I think that I've always felt that it's my, or rather everyone's, intention or purpose in being in the business of storytelling is seeding myths that don't get a lot of attention, or trying to put things into the world enough times that they can enter the collective consciousness. And I think for me, I was ... not indoctrinated, but just given the sort of masculine myth of the Second Coming. There's so much masculinity in it that a little bit of the rewilding of that myth and allowing a feminine heroine to emerge in the position of the Second Coming is really interesting to me. I think the more we allow that myth to permeate, it might lead to really interesting new understandings of who we are, and where the feminine stands and [an] understanding of a lot of the mysteries of the universe.
It's such a great spin on that myth. You have a really great knack of playing strong women with agency in your horror and genre films. Is there any one character that, in a perfect world, you'd be interested in revisiting? Or do you even see a bigger story for Grace down the line, like a potential sequel?
Yeah, absolutely. There's a bunch that I'd like to do. I'd like to have a revisiting of Ruby in The Neon Demon, I'd like to see where she goes. I would like to catch up with her story, like 15 years later. Nick Refn, if you read this, please, let's continue that journey. I also did this film called Angelica, which was a psychological femme film. And we only really got to start exploring. I'd like to rediscover more of [that] queer awakening and a Victorian London setting. I also think that Joanna Mason, there's so much more to that character. There's so many things like The Hunger Games today, just the wealth inequality and the lack of equity. I would like to see her more as a middle aged woman, fostering children that are not her own. I'd like to see her as a teacher figure trying to raise up an army or something. With Consecration, I'm down for the sequel that becomes even more superhero, even more rewilding that feminine myth.
"It's the hunt for the great unknown and any question that doesn't have an easy answer that usually gets pushed into the category of horror."
What I love so much about Grace is that she's intrinsically good. What do you think Grace's complicated and ultimately positive role in this story says about how horror and religion connect?
It's the hunt for the great unknown and any question that doesn't have an easy answer that usually gets pushed into the category of horror. It's previously considered palatable enough for the mainstream. So I think naturally, there's a sort of ice skating dance between all of the unknowns: the unanswerable questions that arise from religion, and the unanswerable questions that land in horror and thriller and genre films. They're very ripe for the undertaking. But also, religion is almost too small of a word sometimes. The further you go with the word, you realize how all encompassing it is, in the sense of where it began, in paganism, and the quest for wanting to understand yourself in the universe. There's a lot of themes that, thousands of years ago, were perfectly OK in the sense of human ritual and sacrifice and following the moon, and now we have different rituals. The more we peel away the layers, it becomes far more interesting.
What was your favorite scene to film in Consecration?
My favorite scene was the consecration scene, when she's covered in blood and being mosh-pit-carried down the altar of the church to be wedded to this sort of doomed burial. That was absolutely a hundred percent so much fun. I mean, I'm being carried. I have never been carried by a group of women before and there we were all having to shuffle together. By the end of every single one, we were all just like, one for all and all for one, trying to move together and breathe together. I felt like I had to trust this group of women and I just felt this extreme, like, football high of forming this team and conquering it when we finally got it the right way. They were always there for me and they really had my back. It was complicated, there [were] a lot of little things that we had to do. It's just always fun, when you're doing something challenging amongst a group of 30, you know, to finally nail it. That was really, really fun.
What was the most challenging scene for you as an actor?
As an actor, I wanted more challenges. I don't know if I ever meet my capacity for challenges. But as a human, I had a hard time doing the scene with the father in prison. Because he really scared me. We did his coverage first. And you can just kind of see my reflection [in the glass in] his coverage. It's probably the best performance I've ever given that no one will ever watch or see, because I was just so scared and moved and terrified and emotional. And just sobbing. It was a little bit of uncontrollable sobbing, and I just remember like, "Wow, I really got put through something." And I didn't want to go back in for my coverage. I was like, no, as a human, I already went through that. I don't want to do it again. But we did. But yeah, that one, it just penetrated Jena more than I allow sometimes.
I have to ask you a question about Neon Demon, because it absolutely just plagues me. Who do you think the woman walking in the end credits of the film is? What do you think about that mystery? It's obviously put there to be something for us to keep thinking about.
I thought it was Abby [Lee], but [Refn] changed [things] so many times that he ended up shooting an ending that wasn't in the script. So I witnessed [the ending] kind of for the first time as an audience member. So I don't have a hard answer for you there. There was so much changing every day. I was like, "OK, [I just want to make sure] I'm making the right choices, so I can get to the end for you." But that's also exciting. I like being kept on my toes.
Consecration will be available to rent on VOD and digital platforms on March 3. It's playing in select theaters now.