How one Los Angeles-based creative turned his love of special effects into a wild career in film
Social media sensation Tyler Roth dishes on his backstory, the tricks of the trade, and the crucial gear he couldn't live without.
by BDG Studios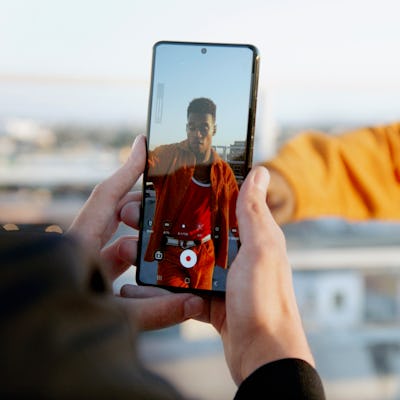 Social media star Tyler Roth knows a thing or two about creating memorable — almost magical-looking — works of photography and video without the special effects or budget of a major film studio. It's a labor of love he never expected to make into a career.
"My introduction to video was in a high school film class in my sophomore year," Roth tells Inverse. "I was instantly hooked! I saved up to buy my first DSLR camera that very same semester." With humble beginnings, Roth would try recreating moments from his favorite movie genres, from horror to comedy, also experimenting with unique film techniques like stop-motion animation.
Eventually, he was able to link up with some like-minded friends; together, they bounced ideas off one another, shot obsessively after school and on weekends, made music videos, and experimented with camera tricks. "This was monumental to keep up my learning momentum and growth," Roth says.
A pivotal moment in Roth's development came when he started experimenting with special effects — specifically, a levitation effect. He provides a quick primer:
"You basically film yourself; then jump and walk forward; and [then] jump again the same way. You do this, like, 50 times and then edit the footage so only the part where you are at the apex of the jump is included in the final version."
The final effect portrays the subject seamlessly "floating" around the room. While his first attempts didn't have the polish and panache of his current offerings, they lit a spark in Roth and showed him how much fun trying out his own special effects could be.
Last year, Roth finally started to see his hobby turn into something resembling a career. Without hesitation, Roth is quick to point out that it definitely aligned with the growth of his social media channels. "My videos started getting hundreds of thousands — then millions — of views," Roth says. "It made me realize that people actually liked the work I was creating." With the validation that comes with going viral, Roth decided to put his full-time energy into his blossoming social media pursuits, to shoot consistently, to optimize for the algorithms, and to see what could happen. "I'm so grateful that I took that leap of faith," Roth says.
Since then, Tyler Roth has zeroed in on his cinematic wizardry, garnering over a million followers for his specific brand mind-bending effects as well as straight to camera banter, teaching followers how they can create their own studio magic at home. One major key to Roth's success has been his adoption of mobile technology, like the new Samsung Galaxy S21 Ultra 5G.
"The technology is revolutionary," he notes.
Roth uses the 8K Video Snap feature to capture high-quality pictures straight from video, noting "it almost guarantees that you get the perfect picture." Without having to worry about people blinking or timing a picture just right, Roth maintains that his craft has been easier and more effective because he gets hundreds of pictures to choose from during every shoot. "You also get the option to choose how to remember the perfect moment," Roth adds. "There are so many times when I had captured a picture but wished I had a video and vice versa."
The phone is also known for its Super Slow Mo feature, which helps to show massive amounts of details during busier shots. "It's very surreal and makes ordinary moments absolutely epic," says Roth. "It's something that you can never see naturally, so it gives you a brand new perspective even from a normal angle." Along with the Super Slow Mo, Roth found himself also aided by the camera's Super Steady. "It's made it almost too easy to get beautiful cinematic footage," he says. "All of my shots are coming out very smooth — even my handheld walking footage."
In addition to the phone's workflow enhancements, it also is just plain powerful, with 8K footage being a newer higher industry standard that far outpaces where cameras were at a couple of years ago. "8K footage wasn't really available to even the biggest Hollywood studios just a few years ago and now anyone can get it in their pocket," Roth says excitedly. "It's wild how fast technology has progressed. To put it in perspective, one frame of 8K is 33 megapixels, which is more detail than a lot of expensive DSLR cameras."
While Roth is still having fun with his craft, he knows the great potential of cinema to ignite a visceral change in the world. "Cinema definitely has the power to change the world. Wars have been fought and empires built on ideas and information, and there is no better medium to communicate these ideas than cinema."
A true cinephile, Roth knows that film can move people to tears or make them erupt in laughter. Maybe that's in the cards for Roth down the line. But before he makes his heartbreaking work of staggering genius, Roth is simply going to keep things looking wild, and we'll definitely be watching to see what he comes up with next.
This post is sponsored by Samsung.