Blood and Honey 2: Everything We Know So Far
We're getting a second grotesque romp in the Hundred Acre Wood, whether you want it or not.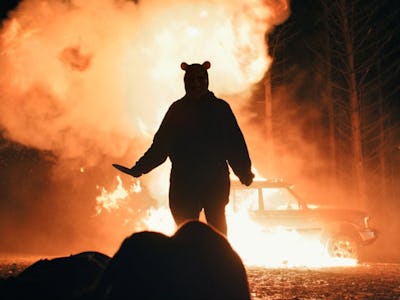 Attitude Film Distribution
Winnie-the-Pooh: Blood and Honey, a slasher film starring twisted versions of the classic childhood characters, pits the beloved fluffballs — now feral and bloodthirsty — against their former human BFF, Christopher Robin.
Disregarding the 5% score it holds on Rotten Tomatoes, Blood and Honey's ludicrous premise alone drew crowds to theaters. Since its opening, the microbudget horror has amassed nearly $2 million.
Blood and Honey's commercial success means director, writer, and co-producer Rhys Frake-Waterfield isn't done terrorizing the Hundred Acre Wood. Here's everything we know about the greenlit sequel.
Do we know the release date for Blood and Honey 2?
Not yet, but it looks like it won't take long. In an interview with Variety, Frake-Waterfield confirmed that he's already in the process of writing the Blood and Honey sequel. While there's no official release date, he's aiming for a February 2024 release.
Who is in the Blood and Honey 2 cast?
Not to spoil Blood and Honey for interested readers, but we can presumably expect the movie's survivors to make it to Round 2. Those would be:
Nikolai Leon as Christopher Robin
Craig David Dowsett as Winnie-the-Pooh
We'll update this page as more information becomes available, and maybe Blood and Honey 2 will throw in a Heffalump or two for good measure.
What is the Blood and Honey 2 plot?
Winnie-the-Pooh: Blood and Honey ends in a standoff between friends-turned-enemies Winnie and Christopher, with each ex-bro losing their respective partners amid the film's gleefully outlandish murders. It seems logical to assume that Blood and Honey 2 will pick up with the two continuing to seek vengeance, but then again, this is Blood and Honey, so it might not make any sense at all.
In his interview with Variety, Frake-Waterfield said, "A lot of people are loving the first one, but I know what we can really do with the second, and how we can make it even more fun and goofy."
Is there a Blood and Honey 2 trailer?
Not yet. We'll update when one is available, but for now, enjoy the trailer that advertised the original grotesque romp.
Will there be a Blood and Honey 3 and other childhood-ruining movies?
As long as people turn up in theaters to watch their childhood favorites get corrupted by Frake-Waterfield and co-producer Scott Jeffrey, the duo will continue producing screwed-up slashers— and they aren't stopping with Winnie-the-Pooh.
Blood and Honey 3 hasn't been greenlit yet, but its creators are already scheming up a childhood-ruining cinematic universe. Projects like Peter Pan's Neverland Nightmare and Bambi: The Reckoning are among their ideas, given that their source material is now in the public domain. Frake-Waterfield hasn't said much regarding the Peter Pan movie, but he did mention to Variety that his proposed take on Bambi will be a twist on Jurassic Park. Steel yourself accordingly.
Winnie-the-Pooh: Blood and Honey is in theaters now.