The Inspiring True Story Behind Good Will Hunting
"Trust me, they wrote the script."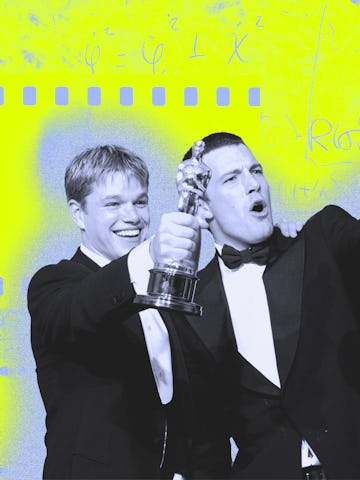 Lais Borges/Inverse; Getty
Just over a quarter of a century after they kicked down Hollywood's door with an anti-authoritarian screenplay about two kids from the wrong side of Boston (one of whom happens to be a mathematical genius), Matt Damon and Ben Affleck have carved out their own illustrious and individual careers. But when the duo reunites, it's always exciting.
This month, Ben and Matt will join forces again in Air, the story of Michael Jordan's iconic sneaker line (Affleck plays Phil Knight, co-founder of Nike; Damon plays Sonny Vaccaro, a shoe salesman working to sign a rookie MJ). So ahead of the film's release, Inverse caught up with the people behind their original team-up, Good Will Hunting, to dig up some fresh details about the Academy Award-winning movie.
For example, did you know that the studio offered the role of Dr. Sean Maguire to Sean Connery before it went to Robin Williams? Or that Major League Baseball had an issue with some of the cursing in the script?
Read on for even more behind-the-scenes stories from the set of Good Will Hunting, and maybe the next time the movie comes up in conversation, all your friends will think you're wicked smart.
"Trust me, they wrote the script"
"There are so many stories wondering if they really did write the script," executive producer Su Armstrong tells Inverse. "Trust me, they wrote the script."
But that doesn't mean there wasn't plenty of drama in those early days.
"There was even a hearts-in-mouth moment when Ben had the script on his computer — we're talking back in the day when if anyone had a laptop, it was a huge clunky machine — but the screen was smashed. Nobody could read the script," Armstrong says. "We were frantically trying to get it off the computer and onto something where we could do revisions."
After years of failed auditions and rejection, the journey of Affleck and Damon's script has become legendary. After a bidding war among studios, Rob Reiner's Castle Rock picked up the script, with Reiner himself making some pivotal changes to the story.
"The original script was more of an action piece and we were talking with a director named Peter Yates to help develop the action," Armstrong says. "At one of the meetings with Castle Rock, Rob Reiner said, 'You guys are brilliant at writing drama but not action, make this a drama.' That's when the focus switched to Will's relationship with Sean."
But the battle to make Good Will Hunting still wasn't over. Castle Rock wasn't convinced that Affleck and Damon could lead the movie. So Reiner gave the duo a short window to find another studio. If that failed, they'd recast the roles.
Enter: Kevin Smith. Ben Affleck turned to his Mallrats and Chasing Amy director for help. The Clerks filmmaker brought the project to Miramax, which gave it the green light.
Finding Gus Van Sant
Mel Gibson, Ben Stiller, and even Michael Mann were linked with the director's chair, but having worked with Casey Affleck on To Die For, auteur Gus Van Sant was the perfect fit.
"The selling point for me was Gus because I loved his work," assistant director Jennifer Deathe tells Inverse. "In prep, we could see he was someone who was thinking outside the box in terms of directing. He would hire people off the street who he just met."
One of these unique casting decisions was John Mighton, who made a significant contribution both on- and off-screen.
"Because I'm a playwright and mathematician, it was suggested that I meet with Gus, Matt, and Ben," Mighton says. "The original thinking was for me to be the film's math consultant, but Gus liked my perspective and gave me a role. The math in the film is really dynamic, but in reality, the level of difficulty might not have challenged someone like Will Hunting!"
Even then, Mighton's original role in the movie was tiny, and it likely would have stayed that way if not for the encouragement of his co-star Stellan Skarsgård.
"My role as Lambeau's assistant was originally one line," Mighton says. "The reason it developed and why I survived the film was because Gus, Matt, and Ben loved my perspective and were open to improvisation. One day, Stellan said to me, 'Do you want some more lines?' and he improvised with me. The lines we practiced made their way into the film."
Mighton's contributions to Good Will Hunting also include one short but memorable scene that he feels corrected a flaw in the original script.
"My only concern about the script was that it seemed like you were either born a genius or not," he says. "Ben and Matt were open to that feedback and added a little monologue in the film where I mention that some people don't find people who believe in them. It's only three lines but it wasn't in the original script."
Van Sant's penchant for unorthodox casting also extended to Francesco Clemente, an Italian painter who plays a small role in the movie as a hypnotherapist.
"Gus has this unique ability to see a person and use their personality to fit the role he's looking for," Armstrong says. "He's so clever at elevating smaller parts."
Robin Williams
"It was pretty late when Robin signed on, but it was such an amazing bonus," casting director Kerry Barden tells Inverse. "We had gone out to Sean Connery for the role but he passed."
Once Williams joined the cast, the entire movie seemingly came together.
"Anytime Robin was on set was memorable," Deathe recalls. "There was one day with Matt when he started to ad-lib that scene about Sean's wife farting in her sleep. That was totally unscripted. The cast, crew, and Matt completely burst out laughing. Everyone was trying to control their laughter and be professional, but we couldn't. The crew would be trying to work but Robin was practicing comedy sketches to see what kind of reaction he would get. You knew you were in the presence of greatness."
But even off the set, Williams also played a pivotal role in making Good Will Hunting happen. Executive producer Su Armstrong recalls how the actor helped pave over an issue regarding some rough language in the film and a baseball reference.
"In the early days of production, we had a bit of a challenge with Major League Baseball because they had certain rules about cursing in films where their logo and footage are used," she says. "Any more than three 'fucks' in a film and it's not PG, so they'd object. We literally went through the script at the beginning trying to cut out every "fuck' but we gave up! I think MLB just gave in, Robin probably won them over."
"How do you like them apples?"
The locations used in Good Will Hunting embody the character, charm, and spirit of Boston, with the L Street Tavern being one of the most famous examples. Like the film's success, how it came to be used in the film is a fairy tale.
We'll let L Street co-owner Susan Woods tell the story in her own words:
"I swear to God, we only owned the bar for four days when out of the blue, in walks Robin Williams with these two kids, Ben and Matt. I was at a family event and my husband calls to say, 'Oh my God! Robin Williams just came in with two young actors who are writing a screenplay. They're asking about using the bar. Do you have a camera to take photos? Get here now!'"
"Robin was amazing. He was not drinking when he came into the pub, but a few days later, the tabloid papers called us to see if we would sell them pictures of him at the pub. They also asked if he had drinks in front of him, which was so sleazy. We instantly told them where to go, which the producers thanked us for. It probably cemented their decision to use L Street in the film.
"When Robin was here, he went behind the bar, picked up some vodka bottles, and pretended to be a Russian bartender in that zany way only he could be. Robin also spent time touring the area where he donated a few computers to the local community center and visited some of the less fortunate children. He just had this ability to spread joy wherever he went."
As for the scene itself, Scott William Winters (who plays Will's would-be rival) recalls a hilarious alternative take that didn't make the final cut for fairly obvious reasons.
"When the guys come up to the restaurant window, they're totally mischievous," Winters says. "We did one blooper take where they come up and instead of the classic 'apples' line, they just mooned me."
Even today, fans from all over the world still flock to Southie's most famous tavern, some more famous than others.
"Years later, Ben Affleck returned to the bar and pulled up in a Bentley with JLo," says Woods. "It was over a holiday weekend and on a Monday afternoon, he just walked in to show JLo where they filmed the movie."
Winning the Oscar(s)
Good Will Hunting was nominated for nine Oscars that year. It won two of them: best original screenplay for Matt Damon and Ben Affleck, and best supporting actor for Robin Williams (his only Academy Award). It also made over $225 million worldwide against a budget of $10 million, but who's counting?
"It's great to work on any film and see it succeed, but I got emotional watching the Oscars, especially when Matt and Ben won because you could see they were so excited," casting director Kerry Barden tells Inverse. "I had been close to Robin before he got famous and had a chance to reconnect with him on this project. He was such a wonderful, wonderful guy. Just full of joy and life. I still get incredibly misty-eyed when I pass through the Robin Williams Tunnel."
"He was such a beautiful human being and, on that Oscars night, the world saw his talent acknowledged."