With Elemental, Director Peter Sohn Honors His Immigrant Parents' Sacrifice
Pixar once again turns a personal story into an out-of-this-world animated film.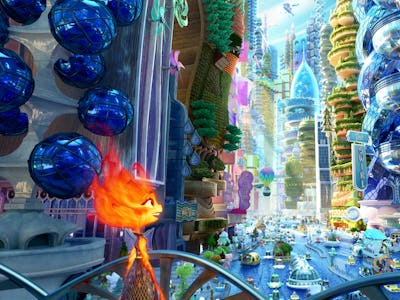 Pixar
Some of Pixar's most recent successes thrive on a unique sense of authorship not common in studio animated features. It's not a surprise that the best ones are influenced by their creators' own lives.
Luca, for example, took cues from a close childhood friendship that shaped Italian-born animator Enrico Casarosa. Turning Red derived from director Domee Shi's teenage years during the boy-band-obsessed early aughts in Toronto, Canada. Elemental, the newest Pixar film directed by Peter Sohn, seeks to do something similar with its tale of opposites attract.
After 23 years at Pixar in a variety of roles, which include helming the troubled production of The Good Dinosaur, Peter Sohn finally gets to direct his own personal narrative with the upcoming romantic tale Elemental. Set in a realm populated by anthropomorphic characters made out of water, fire, earth, and air, it follows Ember (voiced by Leah Lewis), a fire girl, and Wade (voiced by Mamoudou Athie), a water boy, as they find common ground despite their elemental differences — pun intended.
As part of a recent press event at the studio's campus, Inverse learned Sohn's three key inspirations that served as the film's thematic foundation.
An Immigrant Story
First and foremost, Sohn sought to honor his parents, who migrated from Korea to New York City in the late 1960s. "They didn't have a lot of money. They had no family. They didn't speak any English, but they managed to create a beautiful life here," Sohn said. Early on in the film, we see Ember's parents, avatars for Sohn's mom and dad, arriving in Element City through an Ellis Island-like port of entry and facing xenophobic microaggressions.
The Sohn family owned a grocery store in the Bronx where they interacted with customers from around the world, who, like them, had left their homelands to venture somewhere new in hopes of a brighter tomorrow. "I wanted to tell a story for everyone who's ever made a sacrifice or taken a risk and set in the hustle and bustle of a crazy city," added Sohn.
Since language is such a crucial part of every immigrant community's cultural identity, Sohn eventually enlisted David J. Peterson, who has created fictional languages for shows such as Game of Thrones, to devise a tongue based on the sounds of a fireplace for the fire people to occasionally speak with each other in Elemental. At the same time, he was careful not to match any of the elemental peoples too closely to a real-life nationality or ethnic group.
A Childhood Love for Chemistry
The second cornerstone was Sohn's own childhood fascination with the periodic table of elements. When he first encountered the graphic, he interpreted it as an apartment complex. In his imagination, each box represented a household, but they all lived in harmony next to each other. He wondered what the elements do in their own apartment. This curious reading later evolved into how Element City, where the water people are the dominant group, functions.
The metropolis' most efficient mode of transportation is the Wetro, a water-based subway that is not precisely welcoming to fire people like Ember. To understand the hierarchy of the elements in this town, Sohn came up with its own lore: in ancient times the water people arrived in this land first followed by the earth people, and together formed a delta. Air and fire came later. But unlike the more segregated world of Zootopia" the elements are not disconnected from each other, but in constant contact.
Culture Clashes
The final piece came from his experience marrying someone who wasn't Korean and the culture clashes that this decision caused with his family. "Growing up my grandmother's dying words were, 'Marry Korean!'" Sohn recalled.
Underneath the peculiarities of a universe where individuals are made of fluid materials, Elemental is, at its core, the story of a daughter and her immigrant parents assimilating to a new community. That sparked the notion of the unlikely love connection between fire and water that is central to the plot.
"With these three key inspirations, and our guiding light of opposites attracting, the story started to come together," Sohn said.
Elemental arrives in theaters on June 16.