The Strangest Vampire Movie of the Decade Takes a Guillotine to History
What if one of the most infamous dictators of the 20th century was actually a vampire?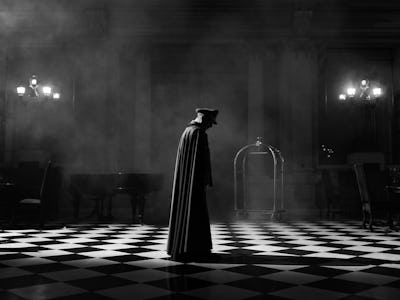 Netflix
History tells us that Augusto Pinochet wasn't a 250-year-old vampire who feasted on the blood of innocents, but El Conde disagrees. Pablo Larraín's mesmerizing new film is a strange addition to the Jackie and Spencer director's filmography: a black-and-white oddity that imagines the real-life Chilean general as a blood-sucking vampire.
In reality, the U.S.-backed dictator ruled Chile from 1973 to 1990, leaving behind a legacy of countless human rights abuses, thousands of executions and forced disappearances, and endless corruption. But in El Conde, Pinochet didn't die in 2006; he faked his death to avoid prosecution, fleeing to a remote ranch where he greedily protects his ill-gotten fortune while feeding on smoothies made of human hearts.
However, a life of isolation with only his aging butler and wife for company has turned Pinochet into a shell of his former self. Forlorn and reminiscing over his debaucherous early life serving the aristocracy in 18th-century France (El Conde imagines Pinochet as a shrewd French imperialist), he decides to reject his immortality and die. Pinochet's children converge on his home to fret over their inheritance, bringing with them Sister Carmen (Paula Luchsinger), a beautiful young nun disguised as an accountant. Sister Carmen conducts interviews with the family and Pinochet himself, unearthing various political and financial misdeeds. But the film is less a harsh interrogation of Pinochet's fascist regime and bloody legacy than an absurd gothic nightmare of life after death.
Shot by Edward Lachman in stark black-and-white, El Conde plays like your foggiest liminal dream turned into a depraved bloodbath. Narrated by a mysterious British woman, who recounts the most ghastly details of Pinochet's immortal life with a fondness that borders on perverse, El Conde supplements its rather sparse narrative with shocks of gore. We see Pinochet rip heads off prostitutes, lick the blood from guillotines, and stab his way to the top of the Chilean government. The vampire metaphor is played straight; Pinochet's reign of terror as both a politician and a creature of the night are depicted on an even footing. Regardless, El Conde feels like a strangely apolitical take on such a divisive figure.
Jaime Vadell, as the aging Pinochet, cuts a sadder figure than a sinister one, shambling through his life as if he's already beyond the grave. But Carmen ignites a new lust for life (and blood) in Pinochet, leading El Conde to spiral into even stranger depths. From there, the film embraces its B-movie stylings, descending into a hedonistic haze filled with heaving bosoms and absurd twists that finally make it clear El Conde is a satire of the most bizarre order.
No matter how you slice it, El Conde is an odd choice for Larraín to make as a follow-up to 2021's haunting Princess Diana biopic Spencer, itself a companion to his 2016 masterpiece Jackie. Both were tragic portraits of women whose proximity to great men trapped them in society's expectations. Instead of completing his trilogy about tragic famous women, as many assumed he would, Larraín turned to this damning portrait of Pinochet, released just days after the 50th anniversary of the 1973 coup that brought him to power. It's the kind of left-field choice that embodies El Conde itself, a movie full of odd choices and abrupt endings. It won't allow you the catharsis you expect in a movie built out of genre tropes. After all, the thousands who suffered at the hands of Pinochet weren't allowed that catharsis either.
El Conde is one of the strangest films to debut on Netflix, which is likely why it's dropping quietly on the service with little fanfare. But there's something delectable about the thought of Netflix viewers stumbling upon a bloody and baffling piece of political agitprop that leaves them thoroughly unsettled. You have to laugh, and maybe that last laugh is exactly what Larraín intends for Pinochet's legacy.
El Conde is streaming on Netflix now.