Dune 3 Confirmed? Here's Why a Dune Trilogy Needs to Happen
Rumors of a Dune movie trilogy are swirling in the sand. Here's why we need Dune Messiah: The Movie.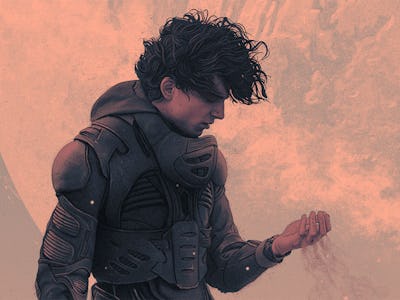 Rory Kurtz/Mondo/Warner Bros/Legendary
We may receive a portion of sales if you purchase a product through a link in this article.
When Dune: Part Two hits theaters on Nov. 3, 2023, the story told in Frank Herbert's first Dune novel will be over. But, the story of the Atreides family is much longer. While it's pretty unlikely that Denis Villeneuve will make a bunch of Dune movies after Part Two, he has made it clear he wants to make Part Three and complete a Dune trilogy of movies. Now, with rumors swirling in the sand that this desire might actually turn into reality, let's talk about why these Dune films need to become a trilogy.
In 2021, before Dune: Part One was released, Denis Villeneuve made it clear he wanted to adapt the first two Frank Herbert Dune novels into three films. In the lead-up to the first movie, he said: "I always thought there would be two movies for the first book. And I always thought Dune Messiah would be a powerful film. I always saw a trilogy."
Published in 1969, five years after the first book, Dune Messiah is the first sequel to Dune, and, at the time it was published, slightly controversial among fans. Without spoiling too much, Dune Messiah is a much shorter book than Dune, and makes a very specific point: Everything about Paul's ascendency to the throne is complicated, and the mess he's made might be worse than the status quo before the start of the first book. Messiah also doubles down on the trickiness of Paul's prescience, making his visions of the future into a kind of philosophical curse. Of all of Herbert's Dune books, Messiah is arguably the most straightforward in its themes and messages and takes the tragedy of Arrakis and the Atreides family to its inevitable conclusion. In some ways, if you don't read Messiah, you don't really get the whole point of Dune.
Although the full story of Paul, in a sense, doesn't end until the third novel, Children of Dune, Messiah is the only book, other than the first one, in which Paul is clearly the main character. In fact, if the new Dune films are designed to get us to follow Timothée Chalamet's arc as Paul, then it almost feels criminal not to give us Dune: Part Three, aka a straightforward adaptation of Dune Messiah.
So far, all the trailers for Dune: Part Two focus a lot on Paul's reluctance to become the messiah of the Fremen, and embrace what his future visions have shown him. In the latest trailer, he says that what he fears the most isn't losing power, but instead bad things happen because "I gain it." Paul also tells says to Gurney that "All my visions lead to horror."
Here's the thing. If this movie series ends with Part Two, the totality of Paul's fears, and his visions, don't really occur, at least not on screen. In Messiah, 12 years have passed since the end of the first book, and massacres have been committed in Paul's name, as his loyal Fremen have spread over the galaxy. This drastic overreach of Paul's authority will remain mostly theoretical if Messiah isn't turned into a movie. In other words, the cautionary tale aspect of Dune, in some ways, isn't fully realized until Messiah, simply because the consequences of Paul's actions are depicted on a much larger scale than in the first book.
On top of that, it's possible to read the ending of the first book, and therefore perhaps, the ending of Part Two as a kind of mixed triumph. The ending of Messiah, however, can only be read as a tragedy ... with a glimmer of hope at the very end. Bottom line: Dune ends with Paul on the throne. Dune Messiah ends with him walking into the desert, blind. Which ending sounds more appropriate for the tone of these films?
Dune Movie Trilogy Confirmed?
As of June 29, 2023, Deadline made it seem like a trilogy of Dune movies was all but confirmed, with the casual statement: "Warner Bros on Thursday released a new trailer for Dune: Part Two, Denis Villeneuve's second pic in a planned three-film saga based on Frank Herbert's classic sci-fi novel."
To be clear, Warner Bros., Legendary, and Denis Villeneuve have not confirmed whether or not a third film, based on Dune Messiah is actually in production or not. Then again, when Dune finally was released in 2021, Part Two wasn't green-lit ahead of time. It wasn't until Oct. 26, 2021, over two years after the movie finished filming in 2019, that the second part was announced. Dune: Part Two was shot entirely in 2022, from July to December. So, if Dune: Part Three is green-lit, it probably won't start filming until 2024 at the earliest, with a possible release date of 2025 or even, 2026.
Will it be worth the wait? Well, if Dune: Part Three happens, it will probably come out about five years after Dune: Part One. And considering that was the exact amount of time between Dune and Dune Messiah, in 1965 and 1969, that timing seems just about perfect.
Dune: Part Two hits theaters on Nov. 3, 2023.