David Dastmalchian Is Living His Comic Book Nerd Dreams
The Ant-Man and the Wasp: Quantumania star talks working with Christopher Nolan, his upcoming Dracula movie, and his (surprising) dream superhero role.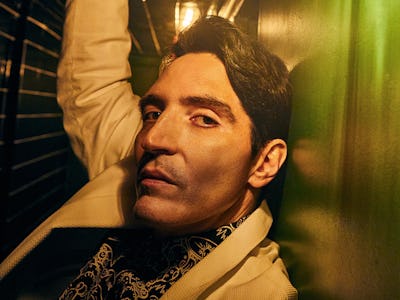 David Dastmalchian is used to making the most of a small role. His first feature-film appearance was in 2008's The Dark Knight as Thomas Schiff, one of the Joker's henchmen in the film's taut assassination scene. You remember — he's the guy captured by Gotham police and interrogated by Harvey Dent in the ambulance. With little more than a deranged giggle and a sweaty, darting glance, Dastmalchian created a career.
"Bringing Tommy Schiff to life just meant doing what I would do with any character," Dastmalchian tells Inverse. "Whether it's a character who's in every single page of a script; whether it's a character who only has one scene, one line."
Since then, Dastmalchian has turned the small supporting performance into an art. He's been the goofy tech dude in Ant-Man and Ant-Man and the Wasp. He gave depth to a punchline as Polka-Dot Man in The Suicide Squad. He was a bald baddie in Dune. He played a sentient goo guy in Ant-Man and the Wasp: Quantumania. He's worked with Denis Villeneuve, David Lynch, James Gunn, and, of course, Christopher Nolan, with whom he's reuniting in the upcoming Oppenheimer. He's run the gamut of genre films — from horror, to sci-fi, to fantasy — but Dastmalchian's first love is, fittingly, the superhero movie.
"As a lifelong comic book collector and nerd, the worlds that have been created in that space have been so exciting to me as a fan," Dastmalchian says.
Chatting in front of his vast comic book collection (which Dastmalchian says he works hard to keep current), it's clear he's not exaggerating. His office is an explosion of geeky paraphernalia, which Dastmalchian excitedly shows off to me — signed 8-by-10 glossy prints of Boris Karloff, Lon Chaney, Bela Lugosi; action figures of Batman, Joker; a little sign that says "Fear Is the Mind Killer."
"I've always been entranced by all of these things, and the fact that I do this now as a grown-up is extra, extra surreal," Dastmalchian says.
When I ask about the minutiae of the Marvel Cinematic Universe, it's clear Dastmalchian knows more about it than the average supporting star. He raves excitedly about getting to see Marvel Comics' Microverse come to life as the Quantum Realm in Quantumania and has a rich backstory in mind for Veb, a character who would otherwise have been relegated into comic relief. Not that Dastmalchian has any less affection for Veb's recurring gags like his obsession with holes — "Saying those lines was always very hard for me to get through without laughing," Dastmalchian says — but he clearly put more care into a character whose whole existence is based on a joke about ooze.
"The thing that is really great with Veb is he's clutch to the success of a mission in a place like the Quantum Realm because by ingesting his ooze, everyone is able to communicate together," Dastmalchian says enthusiastically, before musing "that's actually pretty amazing because as we know in the real world, communication breakdown is generally the first source of problems between people, large groups of people, individuals, people at work, people in society."
"'Do you like being the bad guys? Do you like being the good guys? Do you like being the small roles, the big roles?' And I love it all. I love it all."
It's the kind of thoughtful passion for the role that makes Dastmalchian more than just "that guy" you recognize in every other movie. It goes all the way back to his first role in The Dark Knight, which Dastmalchian says he "felt an intense obligation and responsibility to bring something that felt really authentic." And it's something you see in scene-stealing small roles like Kurt in the first two Ant-Man films, Piter De Vries in Dune, or in an expanded ensemble role like Polka-Dot Man in The Suicide Squad. It's no wonder he's carved himself a niche as the go-to genre character actor — a comparison Dastmalchian would no doubt be flattered about, considering his acting heroes.
"Some of my earliest acting heroes were definitely what are classified as character actors," Dastmalchian says. "People that you think of in unique, maybe more obscure, kind of embodiments of human behavior. Actors like Brad Dourif. Peter Lorre was always a big hero to me. John Cazale was a very big hero to me. And so I think about what it was that inspired me watching actors early on. And I think it was that, seeing actors propel stories from odd corners of the universe and move things when it came time to interacting with the hero or the main villain of a story."
Though Dastmalchian has stepped into the leading man role a few times — most recently in the SXSW horror hit Late Night With the Devil — he finds just as much reward in playing the "small roles."
"Taking big risks and failing and falling down and not being amazing all the time is really important," Dastmalchian says. "We're human beings. It's something I think about a lot because people say, 'Do you like being the bad guys? Do you like being the good guys? Do you like being the small roles, the big roles?' And I love it all. I love it all."
Speaking of small roles, big roles, good guys, or bad guys, I ask: Is there a superhero or supervillain that he hasn't played yet that would be his dream role — especially since he has an in with James Gunn? Comic book nerd that Dastmalchian is, he already has a few answers ready: Scarecrow (in a fitting nod to his first movie role), The Mad Hatter ("a fascinating and dark character"), Solomon Grundy (in mo-cap). But his biggest dream superhero role is the most unexpected one: Morbius.
"That was always kind of one of my dream characters to play, because that's one of my favorite comic book series of all time. I love Morbius. I love the dark horror of Marvel and DC. I think they both have such great horror corners," Dastmalchian says.
He mentions Apple Comics' Blood of Dracula as one of his favorite comics, which gives us the perfect segue to one of his most anticipated upcoming projects: The Last Voyage of the Demeter. The André Øvredal movie adapts the segment of Bram Stoker's novel in which Dracula makes his voyage to London on board a ship that arrives with its entire crew dead. It's "Ridley Scott's Alien meets Master and Commander!" Dastmalchian teases. "It's Alien on a boat in the 1800s, and it's terrifying." Dastmalchian, who plays the first mate on the doomed ship, continues, "I clawed, kicked, fought, and screamed my way into getting to be a part of the film because I knew I belonged in that story."
If there's anywhere that Dastmalchian belongs, it's in front of the screen — something he proved in his very first collaboration with Nolan. A collaboration that is coming full circle with Oppenheimer, the director's upcoming biopic about J. Robert Oppenheimer, the "father of the atomic bomb." Dastmalchian is back in supporting character mode with Oppenheimer, but he could not be more grateful to be back on set with Nolan again.
"Being cast in The Dark Knight thanks to John Papsidera and Christopher Nolan changed the course of my life forever," Dastmalchian says. And that's no exaggeration — at his lowest point, just before he was cast in the Batman movie, he was homeless and living out of his car. He's told this story before, but when he was filming that first fated scene in The Dark Knight, they were only a few blocks away from where he was sleeping in his car.
"Standing there on the set those days when [Heath Ledger's] Joker would be a few feet away from me," Dastmalchian reminisces, "and then I would leave set and I would walk around that block and be like, "I can't believe this is real."
"It makes all of us out here in Nerdville cheer."
It was 15 years ago that Dastmalchian was having that surreal case of déjà vu, but in the years since, he's been there firsthand to see the superhero genre evolve. "There's been an amazing revolution and evolution in the world of cinematic adaptations of comic books," he says. Dastmalchian is making himself part of that evolution, with his genre production company Good Fiend Films, in which he hopes to make smaller superhero films that are "wrestling with bigger, more complicated questions with more complex character arcs." But Dastmalchian says there's space for both those more philosophical comic book movies alongside the "sillier more fun capes-and-spandex adventure."
Dastmalchian has high hopes for the new era of the DC Universe under James Gunn and Peter Safran, alongside other creatively-driven superhero movies. "It makes all of us out here in Nerdville cheer," he says.
Right now, it's good to be a nerd. And it's even better to be David Dastmalchian.
Ant-Man and the Wasp: Quantumania is available on digital starting today.