NY Attorney General Orders Draftkings and Fanduel to Stop Accepting Entries
The NY AG tells the sites its actions constitute illegal gambling under state law.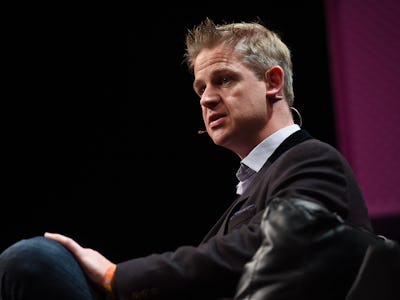 Web Summit / Flickr Creative Commons
New York State Attorney General Eric Schneiderman ordered Tuesday DraftKings and FanDuel, the two leading daily fantasy sports companies, to stop accepting bets from New York residents, stating that the online games offered by the sites constitute illegal gambling under state law.
Fantasy sports companies have maintained that their games are legally sanctioned games of skill, protected by the Internet Gambling Prohibition and Enforcement Act, a federal law passed in 2006 that includes in its text that "All winning outcomes reflect the relative knowledge and skill of the participants and are determined predominantly by accumulated statistical results of the performance of individuals" and that "No winning outcome is based on the score, point-spread, or any performance or performances of any single real-world team or any combination of such teams."
Nonetheless, Schneiderman's office sent certified letters on Tuesday to Jason Robins, Chief Executive Officer of DraftKings, Inc. and Nigel Eccles, Chief Executive Officer of FanDuel Inc., demanding the companies "cease and desist from illegally accepting wagers in New York State in connection with "Daily Fantasy Sports."
The letters base the demands on accusations that "customers are clearly placing bets on events outside of their control or influence" and that each wager made "represents a wager on a 'contest of chance' where winning or losing depends on numerous elements of chance to a 'material degree.'"
The fantasy sports companies have since responded via social media. FanDuel, with the hashtag #FantasyForAll, has posted a petition that asks its readers to "oppose any measure that would ban online fantasy sports." DraftKings asked its Twitter followers to retweet "to protect your right to play daily fantasy in NY," and linked out to a public letter page that shares contact information for NY Governor Andrew Cuomo and Mr. Schneiderman, and asks its viewers to send a form that finishes "New York has a lot bigger problems than fantasy sports. I urge you not to do anything that will restrict my ability to play daily fantasy sports."
Fantasy sites have already experienced controversy in 2015, as an investigation by the New York Times revealed that online gambling site operators have started investing in fantasy companies, with some members of DraftKing's management having formerly worked for online gambling companies or were professional gamblers. Schneiderman was also already looking into the fantasy sites following the accidental release of internal betting data by a DraftKings employee, who had won $350,000 that same September week at FanDuel, raising questions about the use of insider information.
New York isn't the only state moving against fantasy sports sites. The Boston Globe stated in October that the FBI was investigating if Boston-based DraftKings had violated federal gambling laws (FanDuel is based in New York City), and Nevada recently ruled that fantasy sports should be considered gambling, ordering fantasy sites to stop operating statewide until the companies and their staffs receive state gambling licenses.
A check of the FanDuel and DraftKings also reveal that daily fantasy services are not available in the states of Iowa, Louisiana, Montana, Arizona, or Washington.