Walking Dead Merch We Are Extremely Proud Of Owning
We found the zombie merch that's worth having -- from pen holders to Lucille.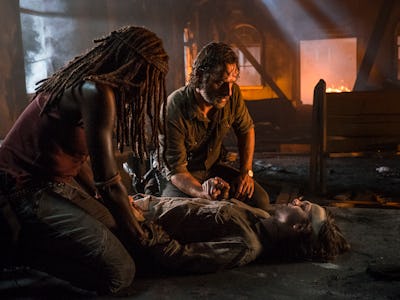 AMC
You love you some Walking Dead. And this time of year is the best time to add a little zombie merch to your home, work, or body. You can pass it off as Halloween decorations. Then, when Halloween is over, forget to put it away. No one will know you are expressing your fandom unless you tell them.
There are no terrible t-shirts here or junk you don't want. We limited ourselves to the gear, clothing, and office decor that's worth having.
When you go out into the world — where you are likely to encounter the walking dead — what do you always have with you?
Your keys!
Make sure you also have something to protect yourself with these little —— necessary — bats. They will take down zombies, keep track of your keys, and make awesome gifts (because there are three in this package.)
This way you can keep Lucille in your pocket.
If you are serious about your Walking Dead role play — or just need a great prop for a costume — this bat is amazing. Youo could fight actual zombies with this. It might even come in handy in a non-apocalyptic street fight — though you would mess it and you opponents up.
This is a serious replica, crafted to match the bat carried by Jeffery Dean Morgan.
Be careful!
This is one for your action figure display case: Daryl Dixon, armed up, with his custom bike. Bad ass and accurate, this will look amazing in your collection and only get more valuable with time.
The details are incredible on both Dion and the bike.
From McFarlane Toys.
Don't go around for a minute longer with that laptop looking all clean and brand new. Slap this vinyl sticker on it and claim it as your own. You could pu this one the car, too, if you want to scare of the undead and the thieves alike.
Everytime you get off the phone, you will scare everyone within fifty feet. Because everyone knows what happens when you are done talking. (And if they don't the illustration here will clear up their confusions real quick.)
Funny, ironic, scary, and so fitting for your phone, this case will protect your phone from damage and you from the undead. (Though it might open you up to conversation with WD fans!)
Scare up some new boxers for the Halloween season. These are perfect. A herd of zombies in your pants. No one will know they are there unless you are ready to show them. Why not give yourself a little boost of the macabre every time you change or head to the gents?
These would be great at work or tucked away somewhere in your home. See no evil, hear no evil, speak no evil from this trio of characters who are obviously evil.
A great bit of statuary for this age of hypocrisy.
Are you always losing your pen? You won't if it's always right here in this dude's chest. Work out your hostilities — every time you set your pen down, gross out your work mates, and dress up your desk all at the same time with this gruesome pen-storage system.