The Best Gaming Mouse for Big Hands
Game comfortably with this multi-functional mouse for big hands.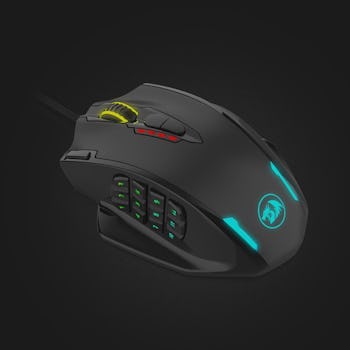 Amazon
If you're a gamer with big hands, you know the discomfort of using a too-small mouse while trying to balance hitting all the right keys at the right time on the keyboard. If this has happened to you, you may have gone out and tried a different mouse only to be left with the same palm stiffness and knuckle soreness. But it doesn't have to end there. Not all mouses are created equally and I'm here to introduce you to the best gaming mouse on the market.
The number one choice among die-hard gamers, this high tech gaming mouse is highly precise, designed to provide the utmost comfort and comes equipped with 19 programmable buttons—7 on the top and 12 on the side. Say no more to going back and forth between mouse and keyboard and the ensuing uncomfortable hand cramps. Perfect for desktop, laptop and even console compatible games, the Redragon M908 Impact features a highly customizable RBG backlight with up to 16.8 millon LED color options as well as 5 memory settings for keeping track of your preferences. Combining the memory settings and the LED backlights, you can set each button to have an easy-to-identify color for convenient use—even in the darkness of your gaming dungeon. Not only that, but the adjustable DPI levels, 1000 Hz polling rate, 30G acceleration and Pixart PMW3327 Sensor allows for a highly precision and flawlessly tailored gaming experience.
Like your mouse to have some weight to it? The Redragon M908 Impact gaming mouse comes complete with an 8-piece weight tuning set that allows you to perfectly set your ideal mouse weight depending on your chosen game. Combined with your ideal weight, the Redragon M908 Impact is erognomically designed to comfortably fit even the biggest hands for endurance gaming sessions.
When developing this professional quality gaming mouse, no corners were cut. No matter what style game you play—be it shooting, attacking, or campaigning—the Redragon M908 Impact can be set to be the best weapon in your gaming arsenal. Not only that, but unlike a lot of comparable gaming accessories, this Redragon mouse is flawlessly compatible with Windows and Mac OS alike.
At this incredible price point, you may have doubts about the quality, but Redragon took it all into account. With promised durability, this amazing mouse features TEFLON feet pads that'll never slip or stick at inopportune times as well as a 6 foot braided fiber caved with a gold-plated USB connector for added longevity. Let's face it, once you find something this good, you'll want it forever.