The New and Improved Kindle Paperwhite Is Among Prime's Day Greatest Deals
Upgrade your reading experience.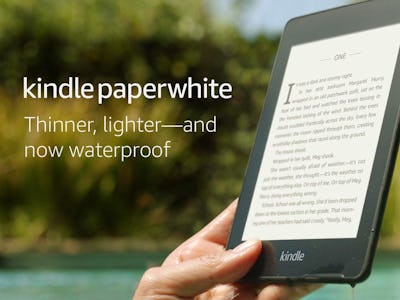 Amazon
The peak of the Kindle craze has kind of come and gone, but for those that were forever transformed the possibilities of digital reading, this one is for you. If you've owned an earlier model Kindle, you may have run into storage issues, where unlike bookshelves, you've had to "delete" a book after finishing it or you may have missed the joy of reading a paperback book worry-free poolside.
With the new and improved Kindle paperwhite, you get twice the amount of storage available on previous models and can choose between 8 gigabyte storage capacity and 32 gigabyte. Dubbed the thinnest and lightest e-reader yet, the Kindle paperwhite is perfect for traveling with its flush-front design and 300 ppi glare-free display that you can read easily even in the sun. The built-in adjustable light makes it ideal for reading anywhere, inside and out. Love to read a lot? The Kindle paperwhite refuses to be another device cluttering your bedside table with nightly charging routines. Instead, a single battery charge can last you weeks, rather than the traditional understanding of hours.
Now that it's fully waterproof, you even have the luxury of reading stress-free on the pool, lake or ocean's edge. If you have an Audible subscription, or you enjoy to follow along to books on tape, the Kindle paperwhite has added functionality to pair with your Bluetooth headphones or speakers for a truly enriched experience.
Act now before Amazon Prime Day is over. Get an 8 GB Kindle paperwhite for 35% off at $85 or the 32 GB version for $110. With the option to try Kindle Unlimited for free for 3 months, this deal could not get any better.