These Ridiculously Solid, Noise-Canceling Gaming Headphones Are on Sale for $50
Good headphones don't have to cost your entire paycheck.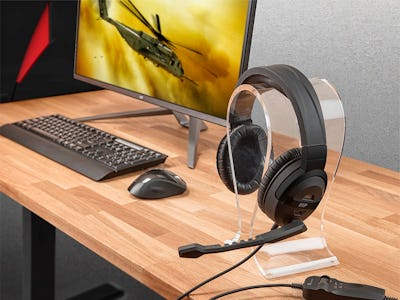 Monoprice
If you frequently game in a house or apartment with other people or thin walls, chances are you wear headphones while you're doing it. How many times have you settled in for a long weekend of gaming, wearing your usual headphones, only to find yourself with a faint, but increasing headache? How many times have you settled in for a solid gaming session only to find your mother loudly talking on the phone or the kid next door playing drums for the first time in months? What if these problems were solved and what if it was an easy as buying a pair of $50 headphones?
For a limited time, Monoprice is offering their $80 headphones for only $48.95—nearly 40% off. Designed to offer the best gaming experience possible, these headphones have 53mm drivers that have been specially tuned for gaming and feature oversized memory foam earcups for superior noise isolation and supreme comfort for all your gaming endeavors.
Active Noice Cancellation is designed to reduce up to 90% of background noise that you are able to zone out from your immediate world and concentrate on playing your game. The included unidirectional microphone works by capturing the sound of your voice—without being too loud or magnifying your every breath—while reducing unwanted background notice. The flexible mic allows you to position it to your desired clarity while also being able to pull it away from your face if you decide not to use it. You can also mute your mic should anyone enter the room.
With multiple digital sound processing modes you are have full audio immersion in your chosen game. Should a player sneak up behind you, you will actually be able to hear those footsteps for a full 3D experience. Unlike many competing headphones, these Monoprice gaming headphones have easy-to-read and adjust controls built-in.
At this price, there's truly nothing better on the market. For less than $50, you could own best in class headphones at a fraction of what the competition would charge. Buy assured because Monoprice will replace any damaged product within 1 year thanks to their 1-year replacement warranty, but if you don't like your new headphones, all Monprice products are covered by a 30-day money back guarantee.