The Academy Awards Just Made Some Really Dumb Changes
"Outstanding achievement in popular film" is a bad category.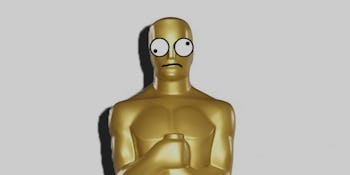 Academy Awards
Watching a televised award show is hell. If you live on the East Coast, chances are the three-hour-plus ceremony won't end until the wee hours of the night, and there's bound to be some anger when something you love gets snubbed. (And even if you're on the West coast it's still way too long and mostly very boring.) Well, the Academy of Motion Picture Arts and Sciences wants to fix all that for the Oscars, but these new changes all seem pretty terrible.
The Academy announced the news on Wednesday, in preparation for the upcoming 91st Academy Awards on February 24, 2019. In an email sent to all the members of the Academy, according to The Hollywood Reporter, the organization laid out three major changes.
First, in an effort to "producing an entertaining show in three hours, delivering a more accessible Oscars for our viewers worldwide," some of the 24 awards will be presented during commercial breaks, and the edited acceptance speeches will air later in the broadcast.
This is a bit of a bummer for anybody nominated in a category that's not especially "sexy" to TV audiences (lookin' at you, Best Documentary Short), but the Oscars are so, so long that chances are the average viewer won't mind the abbreviated acceptance speech if it means a sub-three-hour show. It also means that any gaffes or mix-ups (which are usually the best part of the show) could get edited out.
The Academy did not specify which categories will be presented during commercial breaks.
The second change is much more aggravating. "We will create a new category for outstanding achievement in popular film," the email states. "Eligibility requirements and other key details will be forthcoming."
What purpose does this new category serve? In theory, it's a way for the Academy to recognize popular movies, like Marvel and Star Wars films, therefore giving the casual moviegoer who didn't see Phantom Thread or Three Billboards Outside of Ebbing, Missouri a reason to tune into the Oscars. Ratings for the Oscars, you see, have been truly awful in recent years.
But, in practice, this is just another sloppy way that the Oscars has failed to grapple with the idea that "popular" and "good" don't have to be opposites — a conflict that probably reached its peak in 2009 when the Academy didn't nominate The Dark Knight for best picture. That was such a bad look for the Academy that they expanded the number of Best Picture nominees in an effort to give themselves space to nominate popular movies in the future. Still, there aren't many blockbusters that get nominated for the most prestigious awards, and fewer still that actually win.
That hasn't been enough to save ratings, so the Academy is trying this. Rather than actually consider popular movies in top categories when they deserve it, the Oscars will instead thrust them into this nebulous popular category. It's similar to the Best Animated Feature category. No need to nominate an animated movie in another, more prestigious category, right?
That's not to say that Jurassic World: Fallen Kingdom should get a Best Picture nod while a near-universally beloved, much, much smaller movie like Eighth Grade gets the shaft, but there are ways to recognize movies like Black Panther for being astounding cinematic achievements without relegating them to the popular kids table.
Also, it's unclear what the criteria for "popular achievement" is going to be. Is it just which movie made the most money? If that's the case, why bother giving out an award? Will quality not be a factor when it comes to rewarding popularity? Will there be green slime at the next Oscars?
The Academy's third change is minor in comparison. The 2020 Oscars will be on Sunday, February 9, 2020, instead of on February 23.
The 91st Academy Awards will air on February 24, 2019.