Here's What We Know About 'American Horror Story: Apocalypse' So Far
by Catie Keck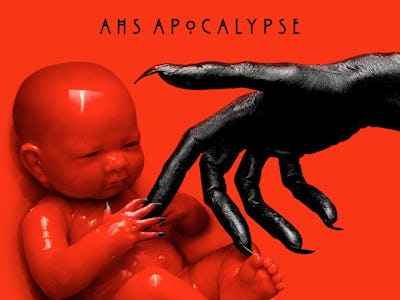 FX
After weeks of buzz following the announcement that Ryan Murphy and Brad Falchuk's anthology series American Horror Story would be returning for an eighth season, FX has finally revealed that the new theme will be Apocalypse. And if its early teasers are any indication, this one's gonna get real weird.
The network confirmed the theme Friday across social media with images of the show's official Season 8 poster. The haunting visual teases a disquieting hand stretching its taloned fingers over what appears to be a possibly demonic baby. The announcement followed what The Hollywood Reporter called a "late-night stunt" at this week's San Diego Comic-Con, footage of which was shared by the account @ahsleaks on Twitter.
It was revealed earlier this year that the new iteration of the series would also be a crossover of two of the show's most beloved themes: Murder House and Coven.
Murphy himself delivered the biggest scoop on Season 8 in June when he tweeted that the "crossover season won't be happening next year…because it's happening THIS YEAR," adding, "WITCHES RULE THIS SEPTEMBER." Specific details, however, remain mostly under wraps ahead of the show's season premiere in September.
What we do know is that the series will be set 18 months in the future, according to The Hollywood Reporter in April. We also know that the series will bring back some of its central recurring cast for the new season, including Sarah Paulson, Evan Peters, Billy Eichner, Cheyenne Jackson, Adina Porter, and Leslie Grossman.
Murphy called the new season "very high concept" in an interview with Entertainment Weekly earlier this year. He also teased that there's a "big hook to it" that occurs in Episode 5, so fans can anticipate a massive twist part way through Season 8.
The Wrap pointed in April to a Reddit fan theory that the show would be centered around nuclear war, though more recent details appear to complicate that theory. It's still possible, however, that the series will again take on a political bent considering the trajectory and overall tone of last year's Cult, which saw the show lean in heavily to the election of Donald Trump.
American Horror Story: Apocalypse will premiere September 12 on FX.