Kanye West and Former Marvel CEO David Maisel Have Been Hanging Out
What are these two up to?
by Catie Keck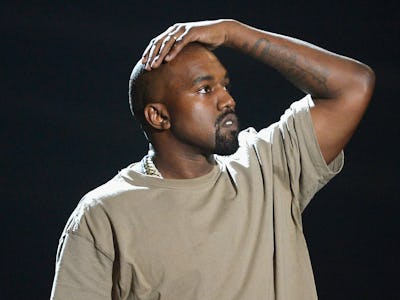 Kanye West
Kanye West and former Marvel Entertainment CEO David Maisel have reportedly been spending time together, causing something of a stir this week after pictures of the two surfaced on Twitter.
The Fader pointed Wednesday to a photo of West and Maisel, the founding chairman of Marvel Studios, that was surfaced on Twitter by user colinags. TeamKanyeDaily, the seemingly omniscient fan website for all things West-related, responded that Maisel had been seen with Kanye on more than two occasions.
The tweet surfaced the same day as a New York Times feature on Mythos Studios, a joint venture between Maisel and West's manager Scooter Braun. The company has acquired a 50 percent stake in Aspen Comics and is developing adaptations of comics Soulfire and Fathom.
Mythos Studios "aspires to make its own hit comic-book movie franchises in live-action and animated formats," the Times reported, but is also interested in original material and "pursuing projects in the public domain."
Do any of those said projects include West? That appears yet to be seen. "If any of the talent we work with wants to be a part of the projects we're doing, we welcome them to join us on this journey," Braun said. "I've already had conversations with certain talent that are very excited about being a part of this."
Marvel Comics paid homage to West's The Life of Pablo in 2016 with its hip-hop variant cover for "Mighty Captain Marvel #1." So while a West crossover into the comics realm wouldn't be too new, it doesn't make news that he and Maisel are friendly any less exciting.