Adult Swim Made a Comedy About Ballet, Fisting, and Abusive Parents
'Mother, May I Dance with Mary Jane's Fist' is based on Artemis Pebdani and Mary Elizabeth Ellis' play of the same name.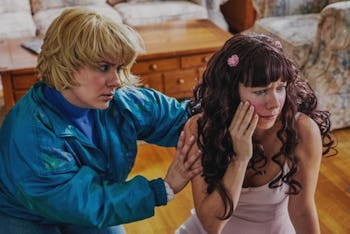 Adult Swim
All comedy is, notably, subjective; sub-genres range far and wide and it's rare to find someone with your exact sense of humor. It seems unlikely, though, that many people will find humor in Artemis Pebdani and Mary Elizabeth Ellis' (It's Always Sunny in Philidelphia) upcoming Adult Swim special, Mother, May I Dance with Mary Jane's Fist: A Lifetone Original Movie For Adult Swim. Riffing on female-focused, Lifetime-style dramatic films that usually place women in abusive and complicated situations, Mother, May I is a 30-minute film based on a play Pebdani and Ellis wrote for the Upright Citizens Brigade in Los Angeles.
"LifeTime is 'television for women' and is all about abusive relationships and eating disorders," Ellis wrote in a Reddit AMA on Friday. "It is both offensive, that those are the subject matters considered television for women', while also being accurate that those are issues that a large portion of women deal with. The trope of Lifetime is that they dramatize these issues in a classically-melodramatic way… and so do we [sic]."
Ellis and Pebdani's comments during the AMA hint at an understanding that the world needs commentary regarding stories exclusively about women who are abused and victimized. And that's great; that's just not the picture they're painting in Mother, May I.
Rather than participating in any sort of cultural commentary, Mother, May I pulls from a well of long-buried absurdist internet humor, the kind that thrived in the mid-2000s and owed itself to the "I'm so random" culture that gave birth to pre-Youtuber stars such as Liam Kyle Sullivan's alter-ego, Kelly ("Shoes," "Let Me Borrow That Top," etc.). It's the kind of humor that results in eye rolling and uncomfortable laughter in 2018, a decade after this style of comedy was truly popular.
Here's the film's official synopsis:
Aspiring ballerina Mary Jane Stevens (Mary Elizabeth Ellis) moves to a new town with her emotionally abusive mother (Artemis Pebdani) in hopes of escaping her physically abusive father (Jimmi Simpson). But the abusive abuse doesn't stop there. She begins taking dance classes with the sensually abusive Delice Svensson (Artemis Pebdani) and finds herself DANCING FOR HER LIFE! Will she fall victim to life's thrusting fists, or will the abusee become the abuser?
In the movie, Ellis' supposedly teenaged Mary Jane is manipulated and abused by every adult in her life only to… come out the other end totally fine and thriving? Granted, that's totally how most of the Lifetime-style movies play out. But the absurdism of "showing" a teenage girl getting emotionally manipulated and sexually abused by her ballet teacher and smacked around by her deeply troubled parents just to point out how ridiculous Lifetime movies are is, well, absurd. We already know those movies are ridiculous.
Mother, May I Dance with Mary Jane's Fist premieres on Adult Swim at Midnight Eastern.