Zachary Levi Is Your New 'Shazam!'
Earth's Mightiest Mortal comes to the big screen.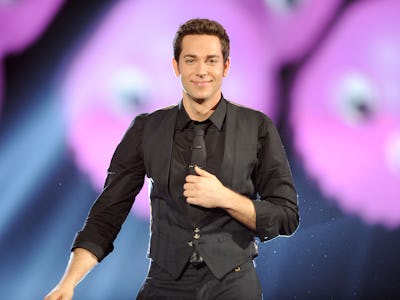 Getty Images / Mark Davis
Move over, Ben Affleck. There's a new superhero in town, and he's way less emo than Batman. His name is Shazam! (exclamation point is definitely included), and he is also known as Earth's Mightiest Mortal. And this newest member of the DC Extended Universe will be played by Zachary Levi, who announced his casting Saturday on his Instagram.
"Honored and greatly humbled to be a part of the #dcuniverse by bringing the original Captain Marvel to life," Levi writes on his Instagram. "I am beside myself with gratitude, not only for this opportunity, but also the incredible outpouring of love and support from so many of you out there in the world."
This isn't Levi's first rodeo in a comic books film. He also starred as Fandral in Marvel's Thor: The Dark World and the new Thor: Ragnarok, which premieres in theaters next week. Levi's previous acting credits include Alias Grace, a period drama based on the book of the same name by Margaret Atwood, and comedic work on Curb Your Enthusiasm.
So who exactly is our newest caped hero? For starters, Shazam! is based on the DC character Captain Marvel. Shazam!'s name was changed to avoid a lawsuit from Marvel Comics, who licensed the character to DC. We know, it's confusing. i09 has a great explainer on the drama. Shazam is the acronym of these divine figures: Solomon, Hercules, Atlas, Zeus, Achilles, and Mercury. Way easier than remembering the order of operations in middle-school algebra.
His powers include the ability to fly, harness the powers of gods, and control lighting, similar to Force lightning. He also has superhuman strength, of course — something Levi alluded to in his post. "Now if you'll excuse me, I'll be in the gym for the rest of forever," he wrote. The Hollywood Reporter notes that John Cena was also considered for the role, so clearly Shazam! is not the runt of the litter. Filming will begin February 2018 in Toronto.
If you liked this article, check out this video where the stars from Professor Marston and the Wonder Woman talk about how psychology helped created Wonder Woman.