The Real Hero of 'The Handmaid's Tale' Finale Isn't Who You Think
The power of Ofglen #2 in the finale.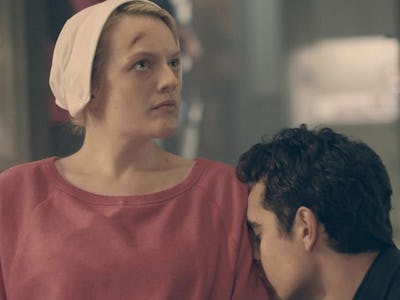 Hulu
To say "this is insane" about the world of Gilead in The Handmaid's Tale is to state the obvious. And yet, when one character says it in the Season 1 finale of the Hulu series, it's one of the show's most powerful moments — all because of who says it.
Margaret Atwood's The Handmaid's Tale is a story about survival and quiet resistance. Her heroine Offred is not a revolutionary but an ordinary woman who has been thrust into a world in which her very existence is policed. She rebels in small ways, like initiating a forbidden sexual relationship — but otherwise, she keeps her head down.
But throughout the first season, the show has departed from the novel in that regard, as Elisabeth Moss's incarnation of Offred has been more of a firebrand. She's more defiant to Serena Joy (Yvonne Strahovski) and Aunt Lydia (Ann Dowd) than her book counterpart, and she takes more risks, like returning to the secret speakeasy. While this change is understandable in the dramatic leap from the page to the screen, it loses some of the impact that the book's more subtle, quiet resistance and gradual change leaves on the reader.
Oddly enough, where the show captures the book's true spirit is through the minor character of Ofglen #2, played by Tattiawna Jones.
When Offred's friend Ofglen — first played by Alexis Bledel — is carted off by the brutal government for the crime of being a lesbian, or a "gender traitor," she's replaced by a "new" Ofglen. In the fifth episode, Offred tries to befriend Ofglen #2, but she snaps at Offred and shoots down her attempts at resistance. "Don't mess this up for me," she says.
Ofglen #2 explains that her old life involved drug addiction, homelessness, and prostitution. In spite of the subjugation and creepy rape ceremonies, her new life is better, because now she has a nice home and reliable access to food.
Because Gilead provides her with what she needs, she's content to adhere to its brutal rules and norms … up until the finale.
In the finale, the Handmaids attend a "savaging," which is a mandatory ritual where they gather to punish or execute a perceived traitor. It's a way for them to let out their pent-up anger in a controlled space, as their violence is monitored by armed guards. Aunt Lydia presides over the proceedings.
But the savaging doesn't go as planned, because Aunt Lydia orders the Handmaids to stone one of their own to death: the troubled Janine. Offred is not the first to defy the order, nor are any of her more vocal friends. Surprisingly, it's Ofglen #2 — who is supposedly content with this society — who puts her foot down. "Guys, this is insane," she says. "I'm not going to kill Janine." A guard hits her with his gun, but her stand allows the other Handmaids to comply.
Resistance and change come from defiant people like Moira, but it also can't happen without formerly compliant people changing their minds. Ofglen #2 illustrates this in a nutshell. As much as she's a background character, she delivers the story's message as strongly as Offred and Moira do.
Early in the show, the first Ofglen tries to entice Offred to join the resistance, but Offred says, "I'm not that kind of person." Ofglen says, "No one is until the have to be." In the quiet, underrated character arc of the second Ofglen, The Handmaid's Tale shows what it takes to become "that kind of person," which is the story's most resonant message.
The Handmaid's Tale has been renewed for a second season on Hulu, but there is no word yet on an air date.*