New 'Kong' TV Spots Reveal Monster Ensemble for 'Skull Island'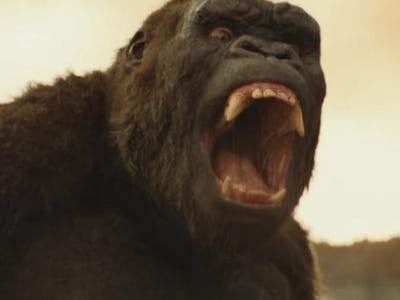 Universal
It looks like Tom Hiddleston, Brie Larson, and the rest of the explorer crew their characters bring to Skull Island will have to deal with more than just a giant monster ape named Kong. Instead, Skull Island will be about multiple monsters.
Four new TV spots for the upcoming Kong: Skull Island give us more than a few looks at King Kong in all his glory, but it also highlights the fact that he's not alone. There's spiders, dinosaurs, octopuses, and more.
It's telling that director Jordan Vogt-Roberts, Legendary Pictures, and Universal are trying to sell the movie in ways beyond just focusing on Kong. Skull Island is supposed to carry on the bigger monster cinematic universe begun in the 2014 Godzilla. That movie featured a character named Ishiro Serizawa, played by Ken Watanabe, who was a representative of a secret scientific organization called Monarch that tracks monsters across the globe. You can even see the Monarch logo in one of the clips below.
Godzilla took place in the present day, while Kong: Skull Island is set in the 1970s, so the multiple monsters this time around will give us some background on the types of creepy crawlies and behemoth beasts that inhabit the far reaches of Earth. Could we maybe even get a peak at Godzilla in Skull Island?
Kong: Skull Island is set to hit theaters on March 10, 2017.