How Chance The Rapper's 'Coloring Book' Just Made History
Chance the Rapper's 'Coloring Book' makes chart history by going against the grain.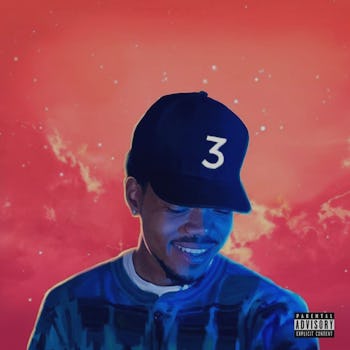 Chance the Rapper has never been one to go by the rules or follow a blueprint set by anyone but himself. The rapper has been vocal about remaining independent, as opposed to signing to a major label deal. "I have complete control over my music, the same that I did when I was in high school," he told Hot 97 when asked about signing. "I make what I wanna make, when I wanna make it, who I wanna make it with. And, in the end, I still owe everything that I create…The understanding of giving up that piece of the piece dot anybody, whether they're a huge label or a indie label , or it's just a distribution deal or it's just publishing deal, giving up that piece is difficult for me." (He even shoots out a reminder, or a warning, on Coloring Book track, "No Problems," about labels standing in the way of his art).
Chance released his latest album (Coloring Book) exclusively on Apple Music, and solely available for streaming (not purchase), making it the first streaming-exclusive project to debut in the top-10 ranking of the Billboard 200 chart, according to Billboard. It debuted at No. 8 on May 13 with 38,000 equivalent album units and more than 57.3 million streams (in its first week). "Nearly all of those units were generated by streams of the albums tracks via Apple Music, equating to 57.3 million streams. (Each streaming equivalent album unit is equal to 1,500 streams from an album.)," states Billboard. The album will remain exclusive to Apple Music until May 27.
Kanye West's The Life of Pablo fell short of this feat because a small portion of 'Ye's album came from albums sales, and by small, we mean 0.07 percent.
Chance took a risk by not following the preferred or set plan of making the album available to purchase even after some time of being available for streaming, as Drake and Beyoncé did for their albums, Views and Lemonade, respectively.
Chances move to do so shows the future of streaming and it's connection with chart success, where streaming will become as profitable as sales when or if considering chart debut and moves as a measure of success. What we're seeing is the charts, or ways of measuring success in music, bending to the moves of the artist, not the other way around. Sales may soon become irrelevant depending on how we view an album, and when we consider one a "classic."