Justin Timberlake and Macklemore Have Ruined Dancing Forever, Probably
A short history of the new wave of bad dancing videos.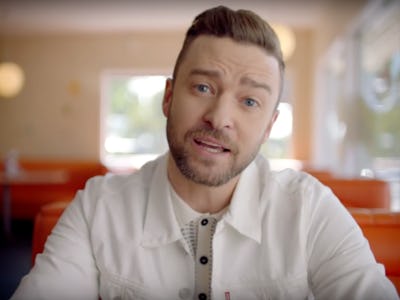 Justin Timberlake's 'Can't Stop the Feeling' music video
They say there's no wrong way to dance, but that may not be entirely true if we're going off this week's music video debuts. Dancing is supposed to be fun, but Justin Timberlake and Macklemore don't make it fun to watch. We know it's not easy to show people dancing, because usually it looks a little awkward, but when it veers too creepy or too polished, our eyebrows raise.
Justin Timberlake, who is supposed to be a good at dancing — remember — delivers a very crisp video for the Trolls' theme song, "Can't Stop the Feeling," which features folks dancing around the city at a diner, outside a donut shop, in a laundromat, and in a grocery store while Timberlake sort of joins in to shop, not to dance.
It's a lot like Pharrell's video for "Happy," which came out in 2014 and has generated 838 million views so far.
And here's JT:
Timberlake's video — feels a little forced and not of this time. There's nothing wrong with dancing in the streets, but do you really dance that way? And in '70s-inspired attire?
There seems to be a few creepy shots, as well, that may be normal but don't feel like it, like this Justin Timberlake stare.
But, "Can't Stop the Feeling" is not as creepy as Macklemore and Ryan Lewis's video for ""Dance Off," which currently has been watched a little over 250,000 times.
Jason Keonig and Lewis directed the video that features Macklemore walking through various scenes (party, diner, gym, a Mall of America-type of massage center) right as people feel the need to dance battle. Just when you think it's a normal dance battle (like at a wedding), you remember this is Macklemore.
A few scenes include two dads getting ready to battle until one gets hit with a coffee pot by the waitress (who, duh, wants to battle, too) and a massage therapist who at one minute is rubbing a customer, and the next is doing a weird, throat-slashing gesture:
Also, if you ever thought someone could make Idris Elba anything but sexy, Macklemore ruins that by having him rip off Michael Jackson's "Thriller." Elba cryptically narrates the video, dressed in a black-and-white, Cruella De Vil-inspired fur coat. There's also no shots of him shirtless or even dancing, so there's that.
Let's do better. And if we're going to go creepy, let's go all the way out of respect for the legendary Michael.