Why Seeing Rihanna's 'ANTI' Tour Is The Best Sex You'll Ever Have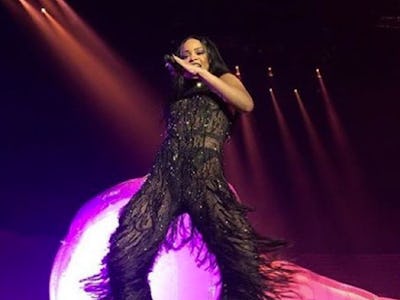 A man in front of me screams while she vogues with dancers, encrusted in glitter bodysuits: "RIRI AIN'T PLAYING!" Myself? I'm in head-to-toe velvet, a backless catsuit from a sex shop that's fit for a queen.
The queen's name, of course, is Rihanna. She's the only person I've ever found myself in awe of; when I see her in person, I am not speechless. Instead, I am screaming. I've jokingly threatened a friend's life so that I could be her plus one to the ANTI world tour's final night in Los Angeles. Now, I can only think of one thing, hearing Rihanna sing the remixed Calvin Harris club banger about finding love in a hopeless place, watching her vogue, staring at a plastic tube suspended above the audience, wondering when she'll step inside it, to get on top of everything.
Sex with Rihanna is amazing.
This proclamation is a lyric that comes from "Sex with Me," a bonus on the double-platinum ANTI album: "Sex with me is amazing, with her it'd feel alright," she sings. I've listened to it a million times, and I know this is gospel. I've watched the tour videos, the ones where she gets in this plastic tube and dances above the audience to "Sex with Me," talking about her superior sex. Of course, no one is perfect. But we know that sex doesn't get any hotter than this, the full, confident type. Sex doesn't get any better than this kind, the kind that is in sync with you. So her "ANTI" world tour is the closest we can come to knowing this—the best, her best, our best.
In spite of all the sex, you can't fetishize Rihanna as an object. You can try, but you will play yourself. Mentioning spite, even, feels wrong. Her performance is sex (and violence, love, and loss), and all of those things become her power. Here's Rihanna stalking the stage, emerging from a dark, hooded anti-hero cape as she sings about killing in broad daylight on 'Man Down.' There's Rihanna dripping in gold, making the repetitive song 'Desperado' feel new with a performance laced in drama. Rihanna runs the show.
Rihanna has a lot of roles to play, like any superstar. She's a jilted lover and a "savage" on the song "Needed Me," playing it out before us in stirrups and white boots. She's a self-described "dominatrix" on "Cockiness" and "S&M," songs that she skips for this performance, but that are ever-present in the leather-and-lace-up costume design of the tour. And, of course, she is the holder of the perennial "Umbrella" and the girl who puts in "Work," two different sides of the same coin. One shields you from the downpour, the other demands you turn a dry desert into a Garden of Eden, simply by committing to sex and love at the same time.
Of course, this is where Drake comes in. When Rihanna's in a bejeweled bodysuit, Drake is not far behind, waiting to put in his own "Work." When he takes the stage, the crowd truly does go wild. There are tears, screams, panties thrown. Not a dry desert in the house. But didn't Rihanna tell us that she was a savage? She lets Drake be her intermission, performing his own singles as she ramps up her act behind the curtain.
In the songs that follow, there's a rainbow blow-up arrangement behind her. There are the dancers, the vogueing, a live band, and a foam party that rains down from the ceiling, engulfing her drummer almost entirely. It's sensory overload, and by the end, I am exhausted. She never got into the plastic tube, I think, wondering if I'd missed it. We all leave to a mix of her "Kiss It Better" guitar riff and what I'm told is Purple Rain, but I can't tell anymore. It doesn't matter.
The strap on my catsuit is broken, but it's worth it. It doesn't get any better than this. And when it does, it will be because I learned it from a queen.