Tim Heidecker's New Album 'In Glendale' Will Be A Sincere Love Letter to 1970s Pop
The 'Tim and Eric' and 'Tom Goes to Mayor' star waxes sincere with his new solo album, out through Jagjaguwar.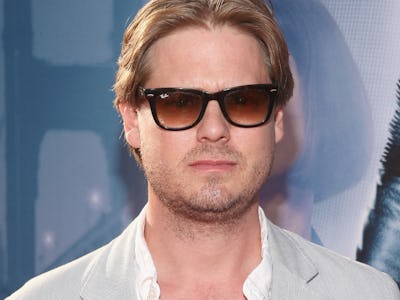 Jesse Grant/Getty Images for Disney
Tim Heidecker's comedy — in or outside his work with partner Eric Wareheim — frequently deconstructs or questions what a "joke" is, or might be. So has plenty of the music he's put out, either on his own or with his duo Heidecker & Wood. The latter has released several albums doing very musically accomplished, but often inherently parodic takes on various rock and pop styles, with a focus on vocal-harmony-driven, Laurel Canyon-esque '70s guitar pop/rock.
On Heidecker's forthcoming solo album, In Glendale, he will push further in the direction of sincerity than ever before. In a practical sense, with a rollout of two singles with music videos, he seems to be promoting the record like a normal indie rock release. The press release pushes the music as the focus, rather than any percievable gimmick, calling the album Heidecker's "first earnest collection of songwriting under his full name… exuberant bar rock, morning after parlor ballads and tragicomic folk novelties."
But many of the great singer-songwriters of the era with which Heidecker is clearly enamoured — from Harry Nilsson to Warren Zevon — incorporated plenty of dark humor into their lyrics. With a recent leak, a miniature Soundcloud upload called "A Note From Donald J. Trump's Pilot," Heidecker explores the intersection of his referential, pitch-black humor with Randy Newman's non-soundtrack albums. Like many of Newman's greatest songs, it's a first person character sketch from an unreliable narrator:
"*"For when we take off for Cleveland
And clear the tri-state sprawl,
I will find a field and I will take her down
Screaming justice for you all."
On In Glendale, we can expect plenty of idiosyncratic narrative songs along these lines; just take a look at the tracklist of the album, featuring numbers like "I Saw Nicolas Cage" and "Cleaning Up the Dog Shit." But Heidecker himself has clarified that this album will work along different lines from Heidecker & Wood's releases and certainly from project like his Cainthology, a compilation of prospective campaign songs for Herman Cain's 2012 presidential bid. Heidecker recently told The FADER:
"I think I'd gotten better at songwriting and production, and, this particular collection of songs, I didn't feel like I needed a collaborator for and I didn't really need a gimmick or a character to hide behind. These were unironic songs. They weren't meant to be bad, or stupid."
From what we've heard, In Glendale sounds like it will be a great and worthwhile summer listen, with the off-the-cuff, melodic charm of the willfully sloppy mid-'70s records of Harry Nilsson and the taut, strum-along arrangements of Jackson Browne. The title track is a humorously banal tribute to a domestic California lifestyle, which over its duration — where Heidecker debates the merits of most of the states in the Union — turns into something more than the sum of its parts, both musically and lyrically. It adds a tight, full-bodied horn section, backing vocalists, and an unnecessary amount of guitars for the correct among of La La-land jangle. As for the video, it's charmingly straightforward, in-the-studio footage:
In Glendale will be nothing earth-shaking — just a fun, and perhaps surprisingly adept collection from an extremely talented and versatile performer and writer. It's guaranteed boon for people who already like Tim Heidecker, and for fans of 70s singer-songwriters — maybe even The Eagles — it will likely push all the right buttons.
The second single is a surprisingly lush piano ballad with a hint of Paul McCartney's gently catchy just-post-Beatles solo work, with some thicker, jazzier piano chords borrowed from Todd Rundgren. About working from home hungover. In the video — again, more conceptually on-the-nose than Heidecker's own directorial work — Heidecker strides around a wrecking apartment in a bathrobe that recalls the cover of Nilsson's Nilsson Schmilsson album:
The album cover itself couldn't be more perfect, with its font straight off a Carly Simon LP:
In Glendale will be out via Rado Records (Foxygen's Jonathan Rado's imprint under Jagjaguwar) on May 20. Heidecker and his ten-piece band will also be touring (fittingly) the West Coast briefly, promoting the album.