Why 'The People VS. O.J. Simpson' Was This Year's Greatest Love Story
Here's five relationships that made a show about a murder trial about something else entirely.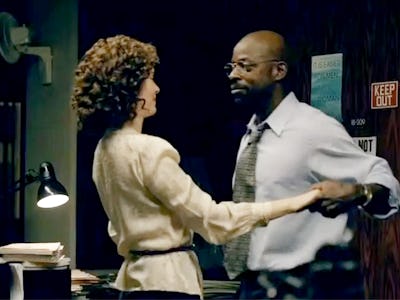 This year's best show about relationships started with a man murdering his ex-wife and her lover. The People vs. O.J. Simpson is a true-crime series that existed without mystery surrounding the case itself: we already knew the verdict, the details of the case, and the ripple effect that the trial had on the world in which it took place. What are a show's writers to do when there's nothing left to be desired in the subject matter?
They create mystery in the show's relationships, of course.
One could argue that The People vs. O.J. Simpson is a show about culture at large: race, fame, the American justice system and all the ways it fails victims of domestic violence and police brutality. Someone could list subjects that the show covered masterfully forever, they wouldn't be wrong. All of these things can be true, but they don't negate what this show accomplished in the realm of telling interpersonal stories.
This show told a smooth six love stories in one ten-episode season. This feat was Love Actually, Mixology, 'Mad Men, and Grey's Anatomy status. It was a page torn out of our herculean hero Shonda Rhimes's guidebook, but without her patented flair for good cheesiness. 'The People vs. O.J. Simpson' was—not one—but a complete set of six of the greatest love stories ever told, and if you can't believe that, then let us count the ways.
Johnnie Cochran and his wife, Sylvia Dale
The audience saw Cochran's wife suffer his ruthlessness repeatedly: his unwillingness to focus on anything but the case, his refusal to deal with the reality of his responsibility for committing domestic violence, the list goes on. At his major moment of crisis — when he thought he wouldn't win the trial — we saw Sylvia tell Johnnie that his role wasn't to serve O.J., but to serve God and the people by bringing the issues surrounding the case to light. Their love story was one based in support, and expertly told through scenes that took place in their home: the kitchen, the bedroom, the bed itself. It's clear that their home is the hearth of the series, and that the writers wanted us to see the ugliness that never leaves even the most seemingly lavish domestic setups.
Kris Jenner and Robert Kardashian
Can you hear David Schwimmer uttering, "….Juice?" under his breath, wimpering like a sweet puppy? No? That's probably because you're busy thinking about Kris Jenner's undeniably powerful bark. That's not a diss: her position as a matriarch and a loyal enforcer of familial loyalty reigns supreme in this series. When Kardashian crumbles, Jenner rebuilds. It's a love story about the ties that bind, regardless of how tangled they've become.
Robert Shapiro and Johnnie Cochran
Is this the greatest bromance ever told? No. Please say no. The term 'bromance,' is, of course, annoying as hell, and it's a term that Robert Shapiro, the king of all things corny, probably would've jumped at a chance to use in conversation. Cochran — the king of cool — struggled throughout the entire series to deal with this legendary hothead and his filled-in eyebrows. But when they clashed, they pushed each other to points of excellence. When they competed, they did so with such passive aggressive moves, you would've thought they were high school kids refusing to speak after a breakup at prom. They despised one another, but they just couldn't quit coming back. That is love born out of a mutual fascination and disgust, no matter how twisted and disgusting it could be.
Marcia Clark and her family
The moments in which we saw Marcia Clark break down and experience true, unadulterated pleasure were few and far between. When they did occur, though, they were between her and Darden, or between her and some pieces of paper. The papers that brought her joy out of possibility were, of course, trial-related. But the most elating papers of all —the ones that made her happy for her only relief — were the papers that gave her full custody of her child. This was the purest love on the show, because it was self-love and familial love—and it was all in one five-second span. Vine-sized love, I guess. Ew.
James Darden and Marcia Clark
The chemistry between Marcia Clark and James Darden as written and performed on this show — was unlike anything I've seen on TV in years. It wasn't a "will they? won't they?" as much as it was a "they will, but we don't know what." We know that 'something' happened between them, but like any relationship, we will never know exactly what happened during or after the trial, when it was just the two of them, drinking, dancing, arguing, commiserating.
Their love story was told on post-it notes (he loved the hair), in apologies (she should've listened to him about Fuhrman), and in the moments where they weren't together at all (Darden calls a radio station to call Clark a 'babe.') When you watch the show, you think that platonic love with unfulfilled potential might be the greatest love of all: it ebbs and flows without any major waves. No major crimes of passion. Just an everlasting search for evidence, solving nothing, but committed to being fair and true, all the same.