With Samantha Bee's 'Full Frontal,' TBS Feels Like a 'Daily Show' Reunion
The network may have missed the boat on acclaimed, streamable comedy. It's trying to catch up.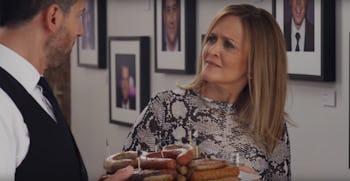 TBS has been "Very Funny" for over a decade now, or so they say. They have been reliable purveyors of comedy reruns, multi-cam sitcoms, late-night talk shows, and infinitely rewatchable movies. But, unless you're analyzing "Is Tyler Perry Problematic?" think pieces or a huge Jordana Spiro fan, TBS hasn't been a huge part of the discussion surrounding TV. It's just been kinda there, and, in the world of Peak TV, simply being consistent isn't enough.
To this end, Turner hired veteran television network executive Kevin Reilly in late 2014, with the idea to make TBS and TNT more critically relevant. As Variety wrote when Reilly was hired:
"TNT and TBS have historically been programmed as broad-appeal networks, the cable equivalent of a broadcast net. But there's a feeling within Time Warner that TNT in particular has mostly missed out on the boom in high-end, critically praised drama programming, the kind of shows that are commanding big dollars from SVOD [subscription video on demand] players."
TNT's goals aren't totally apparent yet, but for TBS, Reilly, who brought acclaimed shows like Brooklyn Nine-Nine and The Mindy Project to Fox, has already had a clear impact on the sort of comedies TBS is producing. And many of the shows have one weird thing in common.
TBS, in searching for the sort critically-acclaimed humor they can sell to streaming services and win awards for, has put all of its chips on veterans of another channel's program: Comedy Central's The Daily Show. TBS has no fewer than four new series produced by former Daily Show correspondants: Steve Carell's Angie Tribeca, Wyatt Cenac's People of Earth, Samantha Bee's Full Frontal With Samantha Bee, and finally, Bee and her husband Jason Jones are producing *The Detour*, in which Jones also stars.
So why is TBS using The Daily Show as a farm team? There are two major reasons: The Daily Show has become a sure sign of comic success, and it's also become a decent predictor of success afterward.
In 2013, Variety asked "Has The Daily Show Bumped SNL as TV's Premiere Comedy Launchpad?" (Although this hasn't been a massive improvement in some respects.) For decades, Saturday Night Live served as the best place for young comics — especially New York-based — to make names for themselves, as well as late-night talk show appearances. But in the mid-2000s, at the height of its cultural relevance, The Daily Show became the best place to see comedy being done. The former correspondents TBS has picked up were among the best, although they haven't broken out yet (Sam Bee was always a personal favorite). So TBS may just be betting on good comedy in the same way that The Daily Show did.
The Daily Show has also had several correspondent alumni strike gold, and TBS may well be chasing that. Carell himself is arguably the biggest star to emerge from the Comedy Central program, to the point where it's a mere footnote in his career after The Office and his films. Angie Tribeca, on its own, wouldn't necessarily indicate a Jon Stewart-descended form of comedy.
But TBS is specifically trying to cash in on other post-TDS successes with Full Frontal With Samantha Bee. The show's other biggest success stories, Stephen Colbert and John Oliver, both scored big after doing their own comedy news broadcasts. Bee's new show will be similar, although it won't have guests. TBS having Bee produce a sitcom with her husband makes sense, too, especially if they're expecting a John Oliver-like breakout.
Wyatt Cenac presents an interesting case, as, in my opinion, he's one of the strongest Daily Show correspondents of his time, and not one who's had a huge amount of success post-TDS. Recently, Cenac — one of the few black correspondents — earned notoriety for being the only insider voice critical of Jon Stewart during an argument about how Stewart should portray then-presidential contender Herman Cain in 2011. The Daily Show has indeed had great success with many of its cast going onto greater things, but, Kristen Schaal aside, they've largely been white men. Cenac has deserved the chance to do more.
The question now is whether TBS will support these shows, and whether they'll find the success the network is looking for. It's a gamble to go from mass appeal to quality niches, as Syfy is currently demonstrating. But The Daily Show has nursed the talent, and TBS is poised to take advantage.