Your home could feel so much cozier & more expensive if you tried these tricks decorators swear by
We only recommend products we love and that we think you will, too. We may receive a portion of sales from products purchased from this article, which was written by our Commerce team.
by Christina X. Wood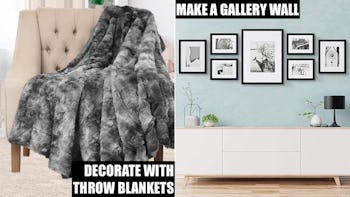 I am in the middle of redecorating my living space (on a budget), and the decisions, color options, and blank walls are overwhelming. How do I fill that vast wall with art and still have money left over for rugs and a coffee table? How do I give the room a feeling of coziness without overwhelming it with clutter? How can I decorate without spending too much money or ending up with an effect that looks cheap?
These are the skills interior designers bring to this type of project. They are experts who have learned, through experience, what products look good, how to maximize a decorating dollar, and how to turn a room from furnished but uninviting to a beautiful and welcoming space that reflects the personality of the people living there. We asked professional decorators for their help and they gave it. And it turns out that, without spending much money, your home could feel so much cozier and more expensive if you tried these tricks decorators swear by.
1. Painting your wall(s) in a sophisticated shade
"One of the easiest ways to make your home appear expensive under a budget is painting," says Nishtha Sadana, architect, interior decorator, and home decor writer at NISH. That's very easy to do with this already-mixed paint and primer. Just choose a color and, when it arrives, start painting. In short order, your place will be transformed. "Painting the walls in a subtle yet sophisticated color will take you a long way," she says.
2. Refreshing your space with just 1 or 2 pieces of art
Got a new space or looking to energize the space you are already in? "It's not necessary to purchase new artwork for your home every time," says Sadana. "Just refreshing a couple of old artworks or even shopping vintage can uplift your space and bring an elegant factor." This doesn't have to be expensive. "This floral canvas wall art, for example," says Sadana. "Is a piece to have an eye on."
3. Creating a gallery wall with a matching set of frames
If you're not in the market for new art, as Sadana suggests, it is so easy to use your own photographs or photos cut from, say, a remaindered art book to create a wall gallery for very little money. All you need is gallery frames — like this set of frames in a variety of sizes and a choice of four colors — and a little creativity. This is inexpensive and turns you into the artist, and allows you to showcase flowers, wildlife, or art that is of interest to you.
4. Using a hanging kit for that gallery wall
If you keep this complete picture hanging kit on hand, your art makeover will be done right — even if you get inspired in the middle of the night. It has all the wire you'll need as well as picture hooks for frames of all sizes, a level, nails in assorted sizes, ring hooks, and sawtooth backs. Don't let your moment of inspiration get thwarted by a trip to the hardware store.
5. Rejuvenating your home by incorporating color & life with plants
"Adding indoor plants immediately adds a statement of sophistication and style," says Sadana. If you don't have the time or skill for live ones, fake ones work just as well. And this four-pack of artificial succulent plants in pots is an easy way to get started. "Just a couple of indoor plants on the tabletop and in empty corners will make your home feel refreshing and rejuvenating," she says.
6. Bringing a fresh vibe with an easy-to-care-for air plant
Air plants are the survivors of the plant kingdom. They need very little care because they take all their water and nutrition from the air. You can hang them, put them in a bowl, and watch as they bloom and make your home feel alive and inviting. This hard-leaf air plant is another plant option to choose from, and it requires only the occasional spritz with water. It'll then deliver greenery and big pink flowers for years.
7. Using peel & stick wallpaper to easily create an accent wall
"Using wallpapers to highlight a particular wall or to create an accent can immediately make the home feel more expensive and cozy," says Sadana. This peel-and-stick wallpaper in white and silver is a great option. It's easy to apply since you just peel and stick it to the wall — it even has cutting lines on the back — and quickly creates an elegant focal point. "This definitely depends upon the interior design style, color palette, and the overall vibe of your room," she says. "But this wallpaper is something to watch out for!"
8. Hanging a lighting fixture to enhance your glam vibe
"Upgrading old lighting fixtures with something new can bring a vibrant, timeless, and sophisticated vibe," says Sadana. "Choose a finish like brushed brass or copper to achieve an elegant and 'glam' look," she continues. "You can even choose naturally woven materials that imbibe a fresh vibe indoors." This woven cage pendant light is a great way to bring natural materials and a modern look into your home, while improving the lighting. It comes in three colors and pairs beautifully with an Edison bulb.
9. Using throw blankets to layer texture and color
"Cozy doesn't have to be expensive," says Los Angeles-based interior designer and founder of MirrorCoop, John Linden. "You can make your home feel cozy on a budget. One way is to add some cozy throws or blankets." This faux fur throw, in a choice of eight colors, will make your home feel layered with warm texture while evoking a cavelike or Game of Thrones world. "This will not only add some extra warmth, but also extra texture and color to your space."
10. Using different styles of throw for different seasons
This lightweight tasseled throw with loads of neat design elements is another way to add coziness to your space without weighing it down. It also plays well with florals and other textures. Ideal for spring and summer, it comes in beige, pearl gray, and sage green.
11. Adding thoughtful, personal touches to make your home yours
"One of the best ways to make your home feel cozier," says Linden. "Is to add some personal touches. This can range from family photos to artwork you love. By adding these personal touches, you will make your space feel like your own cozy oasis."
12. Using candles to create a warm & inviting atmosphere
"Candles are also a great way to make your home feel cozier," says Linden. And this set of three smokeless candles with cotton wicks is a great option since each one is colorful — even when they aren't lit. They come in 14 color choices and the set of three makes a terrific grouping. "[Candles] add a warm and inviting ambiance to any space," he says.
13. Elevating your candle choice with some chic stands
If you think of candles as messy (but want to add them to your decor), just put them on this set of three iron plate candle holders and that melting wax becomes part of the look. While these plates protect your furniture and prevent difficult cleanup jobs, they also give your candles a feeling of permanence and elevate the look. It makes it easy to move them around, too. There are six colors to choose from.
14. Using large-format books as decorative elements
"Give your living room a high-end, designer look by stacking one or two books on your coffee table," suggests Kelly Marohl, owner and designer at The Greenspring Home. "We love this gorgeous design book from Architectural Digest." Not only will the photos of the interiors of celebrity homes — including those of Barack and Michelle Obama, David Bowie, Truman Capote, David Hockney, and Michael Korsand — inspire and educate you as you decorate your own interior, but also "its neutral color will blend in with any decor style," says Marohl.
15. Adding a study in exotic destinations to your coffee table
You don't have to spend a tiny fortune to litter your home with beautiful books, though. This book of exotic destinations wasn't recommended by a decorator, but it'll still look beautiful on your coffee table or bedside table. It's also affordable. The photos of 22 sunny, snowy, or wildly colorful destinations in 11 countries are all captured by a photographer focused on showcasing global splendor.
16. Using natural elements to create warm beauty in your space
"Bring warm, welcoming tones into your living room with this wooden bowl," suggests Marohl. It's a functional piece of natural beauty that you can use as a fruit, salad or serving bowl. "But it's the perfect size to display on a coffee table! Fill it with accent decor such as glass beads or decorative moss balls for a totally refined look."
17. Incorporating decorative moss to bring the forest indoors
As previously mentioned, it's so simple to fill a decorative bowl with natural moss balls and evoke a walk through a shady forest while bringing a breath of nature indoors. They are made from preserved moss and require no care at all. Just use your imagination to create hanging decor, a decorative display, or a jar full of greenery.
18. Using a big, round mirror to add coziness
"Hang a round mirror above your sofa to cozy up the space," says Marohl. "Make sure you choose something sizable that's 30 inches or more, so it feels as grand as it looks." This big gold circle mirror is a perfect choice. Large enough to serve as a vanity mirror, it looks just as impressive in a hall or over your couch. "Priced at under $100, it is both high quality and budget friendly," she says.
19. Or, using these small mirrors together for only $20
If you want, you can create a similar effect by grouping smaller mirrors — and even though this affordable collection of seven round wall mirrors wasn't decorator-recommended, it's still perfect for this. They range in size from 4 inches in diameter to 10 inches and come with double-sided hanging tape so you can have them up and on the wall in minutes. Just get creative with the grouping and you can turn a blank wall into a beautiful and functional display with little cost or effort.
20. Pairing quality pillow inserts with inexpensive covers
By "chopping" the pillow, you can create a softer, more welcoming look on your couch. Just give a big pillow a little karate chop in the middle of the top and fluff up the front. Achieve this look even more easily, offers Rebekah Correll, founder and designer at Transparent Interiors, "by purchasing a high quality down pillow insert and pairing it with an inexpensive cover." These synthetic down inserts are a great choice because they have the softness and density you need and will last for a long time. They come in 54 sizes so you can get creative with your pillowscape.
21. Decorate your new throw pillows with these faux-leather pillow covers
You can follow Correll's lead and choose an inexpensive-but-lush pillow cover to make your couch look inviting as well as high-end. This pair of brown faux leather pillow covers makes this easy. Just put the inserts in them, zip them closed, do your karate chop, and your couch is updated. They come in five sizes.
22. Adding color & comfort with these textured pillow covers
This pair of soft, affordable corduroy pillow covers lets you add a pop of color as well as some serious coziness to your couch. They come in 23 vibrant or neutral colors so you can coordinate them with your design scheme. And the seven size options let you mix up the shapes to create a casual comfort on the couch.
23. Customizing inexpensive curtains to make them feel high-end
"Custom window treatments really add a finishing touch to a space," says Correll. "But they don't have to be crazy pricey." She suggests that you "purchase inexpensive curtains and make them look custom with a few tricks." These room darkening curtains in 30 colors and four sizes are a great place to start. Then add some substantial hardware and extend the rods past the window, hang the curtains high and weigh down the bottoms so they hang straight, and they will look much more expensive. You can even hang curtains that are too long so the fabric pools on the floor for an elegant feel. "You can also add trim to the edges to create a custom designer look," says Correll.
24. Putting thoughtful lighting in your entryway
"The entryway is the first room you enter when you come into the house," says Aaron Lebowski, certified interior designer at Juliei Salone. "So choosing the right lighting — and a welcome mat or sign — is always a good idea. This dimmable, LED, flush mount ceiling light allows you to choose how bright you want your entryway, giving you the control." You can change the color temperature using the remote, too, so you can set it as a dim nightlight or a bright task light, depending on your activity.
25. Using smart bulbs to create easy-to-control custom lighting
You could also just switch the lightbulbs out in the light fixture you already have in order to create easy, custom lighting in your entryway — or anywhere in your house. These two smart bulbs work with Amazon's Alexa, Google Home, or their own app so you can create custom lighting scenes that you can call up with a few words or a tap on your phone screen. You can also create schedules that happen automatically so your house seems to anticipate your needs.
26. Adding a nice entry mat to make a good first impression
When looking to upgrade your house, don't forget the entry. This is the first impression guests (or you) will have of your home. In addition to welcoming lighting, put down a nice entry mat. "This entryway mat is really pretty and gives your home an elegant stylish look," says Lebowski. "I like the surface designs on it that look like stones." An entry mat also helps keep your house clean since it gives people a place to wipe their shoes.
27. Experimenting with different entry mats for different seasons
You don't have to stop with a traditional coir or textured mat. You can go big by layering this buffalo plaid rug under your doormat or using it, alone, as a big welcome rug. It's a great, cozy and welcoming visual at your entry and it's soft on feet and shoes. It's plenty durable, though, since it's a mix of polyester and cotton.
28. Placing some lush, faux-fur rugs for strategic coziness
This warm and cozy faux sheepskin rug is a favorite of Lebowski's. It's ideal for creating cozy softness in front of the fireplace, next to the bed, in a child's room, or near the couch. Layer them on other rugs or set them on a bare bedroom floor so your feet touch soft fluff when you get up in the morning. They come in 18 colors and 11 sizes and shapes.
29. Adding a different type of rug with vibrant color & texture
If you're looking for something different, you can warm your space by adding — or layering — this patterned area rug where people will walk barefoot so that your home feels comfortable. Or use it to create visual warmth in the room. This soft, easy-to-care-for Turkish rug with a striking geometric pattern creates a luxe feel in the room. It comes in three colors and is available in so many sizes that you can use it at an entry or as a focal point in the room.
30. Draping an ultra-fluffy throw blanket over the couch
"This fuzzy faux fur throw will make your home look very warm and elegant," says Lebowski. Drape it over the couch or an armchair to give the room a soft, inviting look and to provide real comfort and warmth when you are enjoying the space. "It comes in seven colors and is made from lightweight polyester microfiber so you know it's warm and soft," he says.
31. Using a salt lamp and diffuser for the ultimate relaxing vibe
"Salt lamps are well known for their therapeutic benefits," says Marco Bizzley, a certified interior designer and consultant at HouseGrail. "Combine this with an essential-oil diffuser and you get a two-for-one wellness device." This elegant pink salt diffuser atomizes essential oils into the air to create pleasing scents with purported healing qualities. At the same time, a separate chamber holds Himalayan salt crystals that ionize and purify the air. "The warm glow from the salts will create a relaxing atmosphere in your home and it is economically priced," Bizzley says.
32. Or, incorporating a traditional salt lamp glow
You could also set a salt lamp on the bedside table or a side table to create a gorgeous ambient light that also imbues the room with the natural, earthy feel of Himalayan salt. This stately pink salt lamp bowl is filled with big salt crystals and sits on a wooden base. Just plug it in, turn it on, and enjoy the warm glow.
33. Tapping floating shelves to create storage & function without furniture
"One design idea we implement a lot is the use of floating shelves and floating nightstands," says Emilio Guarino, developer at Probuk Studio. "They look really clean because they appear to hover and can be built to be very strong." This set of two wooden shelves is a favorite of Guarino's, and an affordable way to implement this trick. They come in five finishes and are made from solid pine and are nearly two inches thick. They easily create useful storage with clean, minimalist lines.
34. Using cube shelves for eye-catching, decorative storage
Another recommendation of Guarino, you can mount these cube wall mount shelves in a bathroom, hallway, or small wall in the living room to turn a bit of blank wall into a place for decorative storage. Set a candle, plant, small statue, a book, or even — in the bathroom or bedroom — bottles of lotion or perfume to turn your belongings into wall art. They come in five colors and are easy to install.
35. Utilizing a floating nightstand to create a clean look in the bedroom
Instead of adding more furniture to the room, mount this floating nightstand to the wall to provide a place to keep a few books, a glass of water, and a phone charger without adding a furniture footprint. It not only looks clean and minimalist but it also makes it easy to clean the room since the floors are uncluttered. It comes in two colors.
36. Incorporating natural elements for a warm & welcoming atmosphere
Lily Wili, designer, founder, and CEO of EverWallpaper, recommends that you "add natural elements such as plants, wood, and stone" to your design plan. "This can help to create a sense of nature indoors," she says. And this piece of wood chain link is a great objet d'art for just that. Set it on a shelf or in a bowl as a small decorative item and the warm wood and familiar shape do the rest.
37. Homing plants in a stone planter to bring more nature inside
This stone planter takes Wili's idea a step further by pairing living plants — or moss balls or air plants (see above) — with stone. This stone planter comes in four colors and is the perfect container for succulents or a variety of greenery. It's light so it's easy to bring to the sink for watering and has a removable drain plug so you can use it for plants that require draining.
38. Creating texture & color easily with peel & stick wallpaper
According to Wili, "adding texture to your walls with wallpaper or paint and using lovely warm colors such as red, orange, and yellow can help to create a perfect cozy feeling." And this peel-and-stick wallpaper in a wide range of bright, muted, and bold colors is an easy, mess-free way to get there. Just peel and stick it to a piece of furniture, small wall, or anything that could stand a refresh to bring color and an easy-to-clean vinyl surface to your space. It's removable, too, so you can undo it before you move.
39. Using a colorful door arch for an easy accent wall
If you can't decorate the entire wall with peel-and-stick paper, this wall arch decal can still bring a pop of color to the room. It comes in three muted colors that are easy to apply and give your room a bit of texture and visual interest, as well as the slight illusion of a passageway that leads into more space. It's easy to apply — just peel and stick — and doesn't require the mess, skill, or tools that painting does.
40. Using symmetry in design to elevate your home
"If you're on a budget," offers Wili, "but want your home to look a little more high-end, one idea is to use symmetry in your design. This can be done by using matching furniture, art, and accessories throughout the home. Another trick is to use a mix and match of high-quality materials with lower-end products."
41. Utilizing a statement piece like this vase to add luxury
Another trick for making your home look like you brought in a high-end designer and spared no expense is to use a beautiful but simple piece like this white ceramic vase with a single flower, branch, or pampas grass in it. "Using statement pieces can add an air of luxury and sophistication to a space," she says. This porcelain piece in matte white punches well above its price point in terms of visual style and has a modern, geometric look that works in a lot of interiors.
42. Incorporating pampas grass for a natural look that requires no care
Pampas grass is a great way to bring the look of cut flowers without maintenance. "You can trim it to the length you like and insert it into the vase and place it in a window which has direct sunlight," explains Wili. It will fluff up as it soaks in the sun and become light, airy, and beautiful. They bring a bit of nature into your space and, since they are dried, don't require water or ongoing care.