You'll be shocked at how clever & useful these 45 cheap things on Amazon are
Little game-changers with very little prices.
by Christina X. Wood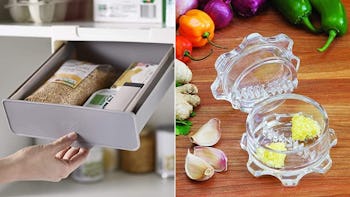 If you, like me, have a tendency to overthink things, you might be staring at the rickety lighting in your kitchen and assuming that fixing it is either prohibitively expensive (or something you will never be able to talk your landlord into). You might see an overflowing closet as a complicated physics problem that needs a slide ruler and a storage unit to solve. You also might sigh and wish your doorbell worked but decide that's a problem to be solved by a more tech-savvy, future you.
The thing is, though, these problems — and many like them — can all be solved as easily as ordering lunch. Sure, you pay a few dollars. But it's something you just do, without too much overthinking, when there is a menu to break it all down for you. OK then. I wrote that menu. It's here. And I'm pretty sure you'll be shocked at how clever and useful these 45 cheap things on Amazon are.
We only recommend products we love and that we think you will, too. We may receive a portion of sales from products purchased from this article, which was written by our Commerce team.