SlayStation: How Queer and Trans Gamers Demolished the Rules of Drag
Since its inaugural event in December 2021, SlayStation has packed out some of London's most esteemed mid-sized queer venues. Now, it's leveling up.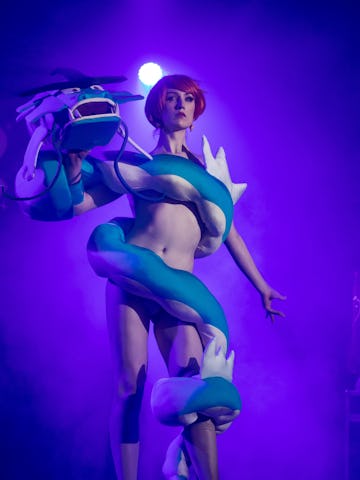 Frankie Richardson
Did you know Slenderman does stand-up? Ever seen Solid Snake's notoriously thicc booty rendered in the flesh? Have you ever watched a grotesquely seductive Wario lip-sync to the Broadway banger "Be Italian" before eating an entire bulb of raw garlic?
No, Super Smash Bros. hasn't gone off the rails. This is SlayStation, London's premiere (and only) video game drag event.
Every month, performers and audiences unite to bring video game characters to life in provocative, unusual, and occasionally unseemly ways. The theme may change with each show — from fantasy to shooters to individual game series — but some things don't: every SlayStation event is empowering, inclusive, and extremely good fun.
Leveling up
Since its inaugural event in December 2021, SlayStation has packed out some of London's most esteemed mid-sized queer venues. Now it's leveling up. Co-hosted by drag king Loose Willis and featuring RuPaul's Drag Race queens Kim Chi and Dakota Schiffer, the Master Ball was a one-off Pokémon extravaganza that took place on Jan. 21 at the Clapham Grand, one of the city's biggest queer venues.
But the show was a risk for SlayStation's young host and creator Velvet Caveat, a trans woman for whom video games were central to exploring her identity. To be the very best drag show, like no show ever was, takes a lot of hard work — and a lot of money.
"Normally, when you see a show of this scale, it's from a big company. Lots of workers, lots of contacts, lots of money behind it," says Velvet, 24, speaking in advance of the show. "I've had to self-fund this, and rely on my idea and ambition."
"Games always made me feel in control."
At 6-foot-9 in heels, Velvet is a commanding presence at every SlayStation event, whether she's decking enemies as Cammy or decked out in denim as Crash Bandicoot. To stage a show of this scale, Velvet took out a bank loan and spent her transition fund.
"I always wanted to play as female characters," says Velvet. "When I played Smash Bros., I'd always play as Peach. That or I'd play as a character who just wasn't very gendered, like Yoshi. I think I was always aware of my identity growing up. Games always made me feel in control."
Velvet had sought to establish herself as a performer in London's queer nightlife scene, but with so few opportunities for trans women, it became clear she'd have to make them for herself. She founded SlayStation to unite her love of performance and games, and establish a safe space for queer and trans video game fans. The show is a way to empower those who get fewer opportunities to seize the stage — including drag kings and things, and trans and first-time performers — and to accommodate those alienated by the London scene's dominant form of drag.
"A lot of drag and queer events are catered to Drag Race fans and centered around cis experiences," Velvet says. "Drag can make trans people uncomfortable. Drag Race has a rocky relationship with its trans contestants, and a lot of drag is misogynistic. I think that's one of the reasons SlayStation has resonated. What we do isn't about taking the piss or gender stereotypes. It's about taking existing content and making it queer."
"It's about where you're trying to escape to or from."
Much of that content is ripe for re-examination. Castlevania, for example, with its rakish men, silken hair, and familial scandals, is gagging for a drag makeover. So when Loose Willis took to the stage to reimagine Dracula and Alucard's father-twink lineage (wig reveal and all) to the sound of Psy's "DADDY," it made delicious, gender-bending sense. What is a man? A miserable little pile of secrets indeed.
Likewise, Bayonetta — a towering, pistol-toting, hyper-femme witch — is practically a drag character already. "A lot of trans women and cis gay men really loved my Bayonetta," says Velvet. "For a lot of queer women that come to the show, a lot of the Resident Evil stuff we've done has resonated, like when [drag king] Zack of All Tradezzz did Leon. A lot of queer women find their queerness by going into something more masculine, just as a lot of queer men find their queerness through the opposite, something more feminine. It's about where you're trying to escape to or from."
A lot of this escapism occurs online, where queer players connect in Twitch chats and forums, free to explore their identity at their own pace alongside like-minded people.
"I didn't have a lot of friends growing up. I spent a lot of time online," says Velvet. "I made my first trans friend through Steam. That was my proximity to identity and queerness."
SlayStation feels like the physical manifestation of those online spheres — a safe space in which fans can celebrate and work out their identities via video games. Every SlayStation show features an audience costume competition with prizes. Past fans have turned up (and turned out) as everyone from Pyramid Head to Cuphead's King Dice.
"Gaming has always been about playing, being rewarded, and having agency over choices, so I always wanted that to be part of the show," says Velvet. "Seeing people gender-bend these characters is really fun."
Curtains Up
But how do you gender-bend an Umbreon? Leave that to the Master Ball attendees. As the show begins, the Clapham Grand looks like London's very own Safari Zone — among the 500-strong audience are two hammer-smashing Tinkatons, a gorgeous gingham-clad Combee, and many more Pokémon mingling in anticipation of the lights going down.
When they do, co-hosts Velvet and Loose set the tone as infamous gender-benders Jessie and James, before Kim Chi kicks us off with a disco Ditto and a tearaway that reveals a perfectly gormless Pikachu beneath. Dakota then reprises her Galarian Elesa look from RuPaul's Drag Race UK, and drag queen Miss Terri Boxx presents a Misty complete with Poké Ball pasties and nipple (and ass) tassels.
"There's so much joy every time someone comes on stage," says SlayStation regular Samira Tristani during the interval. "My friend and I went to a Klub Kids' Drag Fest UK show last summer and it wasn't nearly as fun as SlayStation. There wasn't this intensity among the audience."
When Velvet and Loose return as adult Misty and post-anime Ash ("It's not easy being a child star"), the latter leads the crowd in an epic rendition of the Pokémon theme song.
The biggest pop of the night comes when meme icon Squirtle puts on their sunglasses. But in the end, bug types win out, with Dakota and Kim Chi selecting a high-fashion Frosmoth as runner-up and a bejeweled Venonat/Venomoth as the winner.
To close, SlayStation's queen mother snakes back on stage in a show-stopping Gyarados outfit. Flanked by Magikarp backing dancers, Velvet lip-syncs to Lady Gaga's "Rain On Me" — her arm-mounted Atrocious Pokémon handles Ariana Grande's parts — to bring the Master Ball to a rousing climax.
@eevee.heartless as the leader of the Squirtle Squad in the costume competition.

Frankie Richardson
The SlayStation performers onstage with the finalists of the costume competition.

Frankie Richardson
Francis Peterson has been to almost every SlayStation show so far. "The atmosphere is always super friendly," he tells Inverse. "Being trans, it's nice that the show is trans-led because you know you're not going to have to deal with people being transphobic."
Indeed, the opposite is true. Following each act, Velvet and Loose briefly interview each performer, giving the audience a glimpse at the stars beneath their sequined armor. When Velvet and Dakota are allowed the time and space to stand on stage and do nothing but bask in deafening applause for simply being alive and being trans, it feels like SlayStation has reached 100 percent completion of its mission statement.
A few days later, Velvet is still overwhelmed. "I felt like I had something to prove," she says. "I wanted to show people that SlayStation is important, that it's special, that it can be on the same level as huge production companies." She made a loss putting such a slick show together, but she'll claw it back.
Besides, you can't put a price on this kind of empowerment. "The response has been amazing. This is where SlayStation should be. The point was always to put us on the map."