The Most Overlooked Sci-Fi Blockbuster of 2023 Just Quietly Dropped on Amazon
The Wandering Earth was a major hit in 2019. Why did its sequel barely make any noise?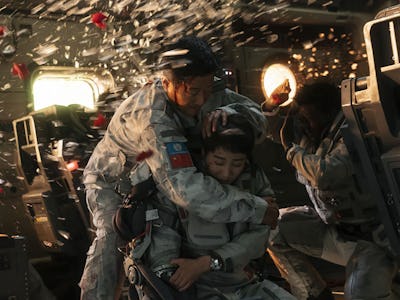 Well Go USA
When The Wandering Earth hit theaters in 2019, it was a minor phenomenon. It went on to gross $694 million during its original theatrical release, becoming (at the time) the second highest-grossing non-English film of all time and one of the biggest science-fiction films of all time. Last week, the highly anticipated follow-up, The Wandering Earth II, made its streaming debut on Prime Video to barely any noise.
The U.S. streaming premiere of The Wandering Earth II might be surprising given the box office-minded trend pieces that accompanied the original Chinese blockbuster's U.S. release, first theatrically and then streaming exclusively on Netflix. How could the sequel to a visual effects-heavy space adventure come and go with such little fanfare?
In recent interviews, series director Frant Gwo inadvertently suggested some reasons for the recent prequel's diminished crossover footprint. Speaking to China Film Insider, Gwo suggested that the first movie's success was unusual since there are no other big-budget Chinese sci-fi movies like The Wandering Earth, which makes it harder for the filmmakers to tap into an "international perspective" like Hollywood sci-fi movies do. Gwo also stressed that they originally made The Wandering Earth with a Chinese audience in mind, so it makes sense that 89.7 percent of the original movie's box office returns come from mainland China. The Wandering Earth II still grossed $600 million, but its Lunar New Year-pegged theatrical release was overshadowed by a number of factors, including stiff competition from the costume drama/conspiracy thriller/black comedy Full River Red.
Gwo's comments about the "international perspective" also inadvertently suggest one reason why The Wandering Earth II might not be as popular as the previous movie. Without a Western media-focused publicity campaign, American moviegoers still might not know what to expect from a big-budget Chinese science-fiction movie and may balk at their preference for sentimental domestic drama, as well as their dramatically thin and symbolically heavy-handed nationalistic sentiments.
Despite its failure to crossover with Western viewers, The Wandering Earth II provides a welcome extension to the first movie's mythology. It's not as fresh or urgent as its predecessor, but Gwo and his impressive production team still deliver a polished and mostly compelling ticking-clock thriller.
The Wandering Earth II takes place after the events of both The Wandering Earth and Cixin Liu's source novel, which follow a group of heroic Chinese astronauts and scientists as they team up with their international counterparts to prevent the Earth from crashing into the Sun. This time, another group of mainland space heroes, which still includes Chinese megastar Wu Jing, embed and ignite massive rocket engines around the Earth to save the planet from further solar-related shenanigans.
The Wandering Earth II also features a series of momentum-stalling flashbacks and a major supplementary story about a malevolent HAL-9000-style computer that boils down to the relationship between a computer specialist (venerable Hong Kong megastar Andy Lau) and his dead daughter, whom Lau's character brings back to life as an experimental AI program. The two movies are otherwise similar, even if The Wandering Earth now feels like a more self-conscious retread of the original movie's plot and tropes.
Still, the fact that AI plays such a relatively beefed-up role in The Wandering Earth suggests that this movie's creators struggled to think of ways to extend their original movie's save-the-Earth hook. The story of The Wandering Earth II isn't really based on Liu's writing, possibly because, as Gwo told Beijing Review, he and his team spent a lot of time consulting with scientific experts and "market research." Gwo adds that this process of research-based revisions will be the model for their next sequel's script.
That all being said, The Wandering Earth II might simply be a victim of bad timing. The Wandering Earth was relatively novel at the time of its release, just like China's biggest box office release of 2019, Ne Zha, an animated mythological fantasy that reportedly grossed $722 million globally. Unlike The Wandering Earth, Ne Zha has gone on to inspire a handful of high-end trend-chasers, like the unrelated animated fantasy New Gods: Nezha Reborn (2021) and its sequel from this year, New Gods: Yang Jian.
Chinese audiences already knew what to expect from both The Wandering Earth movies, based partly on the breakthrough success of Liu's novel. But maybe further Western success may not be far behind: Liu's Hugo Award-winning novel The Three-Body Problem is now being developed as a Netflix series here in America by Game of Thrones showrunners David Benioff and D.B. Weiss. Netflix's upcoming series will follow a Chinese adaptation of Liu's novel, which debuted on the Chinese Tencent streamer in January. American audiences are still catching up, both with Chinese science-fiction and the Wandering Earth movies, and it's only a matter of time.
The Wandering Earth II is streaming now on Amazon Prime Video.