Reviewers are obsessed with these cheap, beautiful home upgrades because they're SO easy to do
"I love how fast and easy it was."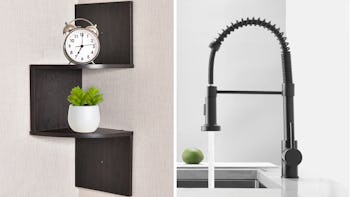 When you've been living in your home for a bit and find yourself obsessing over how much you don't like the floor in the bathroom, the dingy cupboards in the kitchen, or the inadequate space in your closet, you might be ready to throw a bit of money — or at least some savings goals — at fixing it. How would you feel, though, if I told you there was a super cheap fix for that?
These cheap fixes are so good, they serve as permanent solutions — not merely stopgaps till you can afford something more expensive. And, they are fixes that won't even require that you get out your overalls and become Captain DIY. Yes. I am telling you that you can have the dwelling you are dreaming about and keep your time and money, too. That's why reviewers are obsessed with these cheap, beautiful home upgrades. Because they are so easy to do.
We only recommend products we love and that we think you will, too. We may receive a portion of sales from products purchased from this article, which was written by our Commerce team.