Of All the Organization Products on Amazon, These Have the Best Reviews
Reviewer-tested and approved.
by Allison Bolt and Sara Brown-Rigoli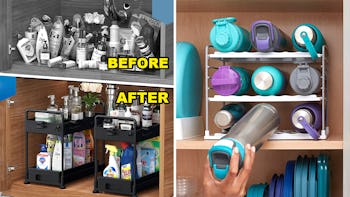 Amazon
We may receive a portion of sales if you purchase a product through a link in this article.
There are so many plastic bins and stackable situations with dividers out there it can be a task just to know which organizational products are actually going to tidy up your home. So, instead of tossing a bunch of drawer dividers that didn't quite fit or closet solutions that somehow made things messier — turn to all of these organization products on Amazon that actually work, and have the reviews to prove it.
The accolades for these items are so stellar, so you can proceed with confidence that they'll tidy up even the messiest of homes.