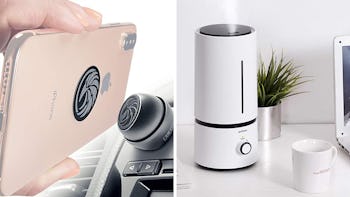 Shopping
50 Hidden gems on Amazon that seem expensive but are actually cheap as hell
We only recommend products we love and that we think you will, too. We may receive a portion of sales from products purchased from this article, which was written by our Commerce team.
I love it when someone walks into my home for the first time and admires one of my many bargain finds, clearly thinking that I spent a fortune on it. I shouldn't tell them, of course, that I didn't. The smart play is to let them think I dropped big bucks while keeping my discoveries to myself. But I can't help it. I always spill. Half the fun of shopping, I think, is finding a bargain. And half the fun of finding a bargain is sharing it with someone who will also enjoy owning it.
I am not talking about the kind of bargain that's a cheap knock-off or counterfeit. I like things that are authentically awesome. These are products that were designed to be effective at what they do, and high-quality, but also completely affordable for those of us who don't own three sports cars and a summer home. There are more of them out there than you would imagine, too. In fact, here are 50 hidden gems on Amazon that seem expensive but are actually cheap as hell. I'm sure you will find something that will make your visitors think you spent a fortune. Tell them you found a bargain... or let them believe what they like. That's up to you.