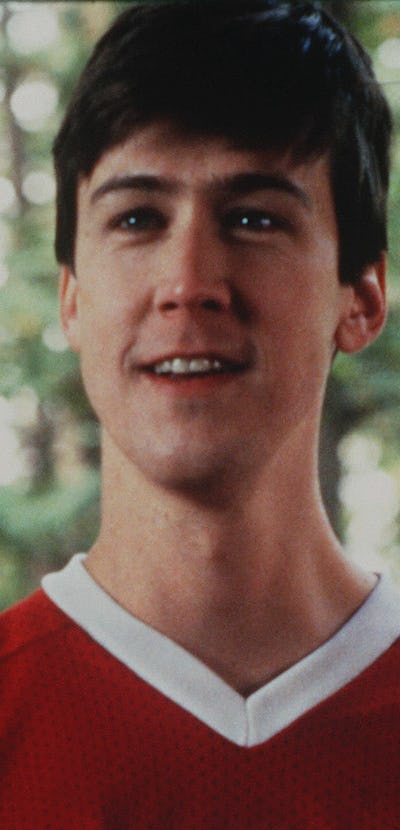 "This is the part where Cameron goes berserk."
(Cameron Screams)
36 years later, the true meaning of 'Ferris Bueller' is still hiding in plain sight
Ferris Bueller's Day Off is the definitive Chicago movie.
While almost every John Hughes film is set in Chicago, this is the only one where America's third-largest city is interwoven into the very fabric of the story. It features a Cubs day game at Wrigley Field, a questionable weekday parade in Daley Plaza, moments of introspection at the Art Institute of Chicago and the observation deck of the Willis (then Sears) Tower, and countless other B-roll montages of well-known landmarks.
So why then, in the most Chicago-est of all John Hughes films, does Cameron, played by Alan Ruck, wear that iconic Gordie Howe Detroit Red Wings hockey jersey, a uniform that belonged to the hometown Blackhawks' longest-reigning rival since the 1920s?
Famously written in just a few days in anticipation of an impending writer's strike, the plot to Ferris Bueller's Day Off is incredibly simple. Beloved high school senior Ferris Bueller (Matthew Broderick) plays hooky for a day to take in the numerous sights and sounds the Windy City has to offer. He ropes in his cool-girl counterpart Sloane Peterson (Mia Sara) and his despairingly neurotic best friend Cameron Frye. Ferris's only objectives are to not get caught, have a good time, and keep Cameron from having a nervous breakdown.
When Cameron isn't saying it out loud, the Detroit Red Wings jersey he wears is constantly reminding us that he doesn't want to be here. He sticks out like a sore thumb among a city full of Chicago Blackhawks loyalists. The Red Wings and Blackhawks were both part of the original six teams that still exist in the National Hockey League, with a bitter rivalry dating back to the 1920s. Seeing someone wearing a Red Wings jersey in downtown Chicago would be a triggering sight to a Blackhawks fan, and instantly identifies Cameron as an outsider to the local community.
Which, in a sense, he is. When we first meet Cameron, he is literally isolated by himself in a house in the middle of the wilderness. There are no other houses in sight. His parents aren't home. He's buried under the covers suffering from a multitude of psychosomatic issues, and it takes some major convincing from Ferris to get Cameron to leave the house. The first time we see him in that bright red hockey jersey he's behind the wheel of his car trying to psyche himself up to join his friends, a battle he appears to be losing.
In a 2017 interview with Mel Magazine, actor Alan Ruck said the choice to wear an opposing team's jersey was explained in a deleted scene. The scene revealed that Cameron's grandfather, who he had a glowing relationship with, used to take him to Red Wings games in Detroit when he was a kid. This relationship with his grandfather would have served to contrast his oft-spoken feelings about his father, however, these differences did not need to be explained. The audience doesn't need a measuring stick to understand exactly how Cameron feels about his dad. Cameron lets us know just how scared he is of a man we never even see, and this fear is manifested in the 1961 Ferrari 250 GT California Spider he unenthusiastically borrows without permission from his father's garage.
The car and the jersey are linked in an extremely interdependent way. The impossibly loud shade of red they both possess dominates the focus point of each frame. They are a constant reminder of Cameron's anxiety and his father's oppressive presence that looms over the entire movie.
There's also a lesser-known temporal connection between the jersey and car. When Ferris Bueller premiered in 1986, the Chicago Blackhawks hadn't won the Stanley Cup since 1961, the same model year of the Ferrari. The team they won against? The Detroit Red Wings, captained by Mr. Hockey himself, Gordie Howe, the same player whose nameplate is on the back of Cameron's jersey.
The car is a complete embodiment of Ferris, Sloane, and Cameron's true adversary. There are red herring antagonists throughout the film in the form of Ferris' high school dean of students Ed Rooney (Jeffrey Jones) and sister Jeanie (Jennifer Grey), but these characters are largely self-sabotaged and have no bearing on the outcome of the story. The big bad does not even appear in the movie, he simply exists as a phantom that haunts every decision Cameron makes.
Which makes Cameron the hero of the story.
The movie may have Ferris' name in the title, but Cameron is the only character with a transformational arc. Ferris and Sloane are the same people at the end of the film that they were at the beginning. No lessons are learned and no consequences are faced. The character growth is shouldered completely on Cameron. He's the reluctant hero tasked with conquering his fear and becoming a fully realized version of himself.
Cameron completes his journey in the final act by stripping off his red-winged security blanket and slaying the mechanical extension of his dad by (accidentally) kicking it out of a window. The final showdown between Cameron and his father is left to our imagination, but the fallout isn't the end of his story anyways. It's the realization that Cameron no longer has to run away from this dreaded confrontation that brings him peace, which is all he ever really wanted to begin with.