Clever things under $35 on Amazon that have near-perfect reviews
Winning items at winning prices.
by Christina X. Wood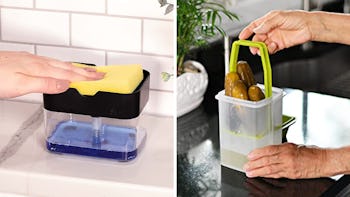 It's so easy to learn how to do anything, however small, these days. Just search the internet for "How to cold brew tea" or "the best way to keep your car clean" and you get instant, detailed directions on how to accomplish it. When I'm spending money to accomplish something, though, I don't want the first thing that rises to the top of a search. I want the thing that real people have tried and liked so much that they were inspired to take the time to write a glowing review about it.
I know it's human nature to complain. A product has to be amazing to get people to show up and pen praise about it when they don't have to. So I always poke around in the Amazon reviews when I'm searching for a tool — even if it's only a $10 meat thermometer — looking for the thing that elicits this sort of excitement from people who already own it. If I buy something, however small, I want to like it as well as people like these clever things under $35 on Amazon that have near-perfect reviews. I might be spending only $10 but it's my $10, and there's no point spending it on something I don't really like.
We only recommend products we love and that we think you will, too. We may receive a portion of sales from products purchased from this article, which was written by our Commerce team.