28 cheap things that'll make you feel a hell of a lot better
We only recommend products we love and that we think you will, too. We may receive a portion of sales from products purchased from this article, which was written by our Commerce team.
by Christina X. Wood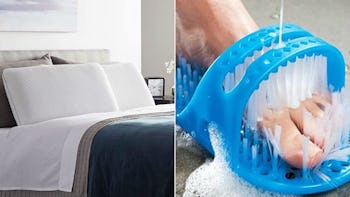 What happened to everything? It seemed like it life was going great. And — even if it wasn't going that great — it seemed like greatness was within reach. It was right around the next corner. Or maybe the corner after that one. But it was there, somewhere.
Then, everything went off the rails. Everyone is suddenly stressed out and broke. Sleeplessness seems inevitable. Worrying is common. And hunkering down at home — while fretting over every cough, ache, and pain — seems to be a global pastime.
Although things are pretty terrible right now, there are lots of things you can do to dial down the stress, have fun with less money, sleep better, and feel better. At least, a little better. It's just a matter of taking a deep breath, addressing each stress point, and moving forward with a good plan.
You've got this! You just need to provision up. Here are some cheap things on Amazon that can help make you feel a hell of a lot better.
1. The Water Bottle That Reminds You To Stay Hydrated
With hourly motivational messages printed along the body, this water bottle serves as a constant reminder to take sips throughout the day. It's able to hold up to a full gallon of water, and the wide mouth makes it easy to fill with ice cubes. BPA-free as well as durable, many reviewers even wrote about how the large handle makes it "easy to carry."
2. The Must-Have Weighted Blanket Made With 100% Cotton
If ever there was a time to try a weighted blanket, this is it. These were once so expensive that you needed a trust fund to acquire one. Not anymore, though. This gorgeous cotton sensory blanket is affordable. Get under it and let the comforting hug of its weight stop the relentless hyper-vigilance. It comes in a selection of sizes, colors, and weights. The general wisdom is that you should get a blanket that weighs about 10% of your body weight.
3. A 3-Pack Of Jockey Boxer Briefs That Are Really Comfortable
Laundry is a drag, especially if you have to go to a shared laundry room to do it. There's an easy solution, though. Buy a few three-packs of clean underwear. That way, you can go longer between runs to the machine.
These jockey boxer briefs are comfortable and form-fitting. Each three-pack contains basic cool colors. And the price is right. Plus, each pair is made with antimicrobial microfiber that stays in place. If your work-at-home wardrobe consists of a pair of boxers and a T-shirt, maybe put a few more packs in your cart.
4. This Adults-Only Card Game Where You Make Your Own Memes
This party game is wildly popular precisely because it's not appropriate for children. The memes are raunchy, crude, NSFW, and like that. But laughter is the best medicine, and this game delivers. You compete to create the funniest memes by matching the caption cards to the photo cards. It's easy, fun, and something to do with any small crowd that has a sense of humor and cocktail access.
5. This Memory Foam Pillow That Ends Sleeplessness
Do any of your sleep remedies and headache solutions consider the pillow you rest your head on every night? If not, you might be overlooking the cause. The wrong pillow holds your head at an angle that's wrong for your neck. Or it makes you too hot, which causes you to toss and turn. Lots of people who now sleep better are crediting this cooling memory foam pillow as their solution. It's hypoallergenic, ventilated, and customizable.
6. The Wheel That Delivers A Six Pack While You Watch TV
Put your phone down and get this bad boy out instead. Roll on it when you're watching Netflix. Roll on it when you want to go to the gym (but just can't). You'll soon be rocking a six-pack. Just slide the bar through the wheel, stick your butt in the air, and roll back and forth. It's a super challenging workout that targets not only your six-pack but also your the oblique and transverse abs. It even works your shoulders, arms, and back. Start with a few reps and work your way up to beach bod (if that's what you want).
7. This Unique Pillow That Helps Align Your Spine
This doesn't look like a bed pillow — it looks like the stuffed animal version of your dog's favorite bone. But go ahead and put it in your bed, rest your head on it, and sleep. While you snooze, it'll straighten your spine and correct discomfort by giving your neck and head exactly the right amount of support. You can also grab it off the bed and use it as a lumbar pillow.
"It's definitely helped with pain in my neck, wrote one reviewer. "The fabric is soft and comfortable and it's small enough to bring just about anywhere if I'm traveling."
8. These Packets That Add Electrolytes To Plain Water
Not only do these electrolyte packets help you stay hydrated, but they also contain 11 essential vitamins and minerals, including vitamin C, B3, B12, and more. One packet alone can provide the same amount of hydration as up to three bottles of water, and they're great for camping or hiking since they take up hardly any space. The best part? Many reviewers raved about the taste, with one writing that it's "fantastic."
9. A Nourishing Lotion That Soothes Your Over-Washed Hands
Are your hands suffering as a result of your new hand-washing routine? You need a moisturizer that you can apply frequently that'll lock moisture in to start healing it all. This inexpensive daily moisturizer is clean and light enough to apply to your face. But it's priced so you can always have it handy for wherever else you get dry. It's enriched with oats, which is nourishing to skin.
For many people, this lotion is a staple. "Best. Lotion. Ever," says one reviewer. "For those that are sensitive to smells and don't like a thick, greasy lotion, this is for you! Thin consistency, absorbs very quickly, zero stickiness or greasiness left on the skin, and moisturizes beautifully."
10. This Diffuser That Adds Steam And Relaxing Scents To Your Air
Dry air isn't ideal for your sinuses. So if you're sick or worried about getting sick, adding humidity to your immediate atmosphere is a great salve. This diffuser is not only lovely, but it'll also deliver a shot of essential oils along with that blast of mist. Add eucalyptus if you're feeling poorly, lavender to help you sleep, citrus to brighten your mood, and more. It's tiny enough for your bedside table and perfect for your office sanctuary.
11. This Calming Oil That Turns Your Personal Space Into A Retreat
Add a few drops of this calming blend of aromas to your diffuser, hot bath, yoga mat, or liquid candles — and then create an aromatherapy experience right where you sit. This relaxing scent will help you sleep, calm down, sink into your chair, or just create a soothing atmosphere in your work space. This is a delicious blend with hints of peppermint, ginger, and more that are meant to help ease your mind.
12. The Party Game About Making Hard (But Funny) Decisions
If you're planning a game night but have a crowd that's either too competitive or competition-averse, this collaborative discussion game is the way to go. It's more likely to start a friendly, laughter-filled conversation than an argument. You just open the box and start wondering which hilarious decisions you and your friends and family would make if "you had to" do this or that. Just keep in mind that it's meant for people who are 17 years old and over.
13. This Tool That Turns Any Vegetable Into Fancy Noodles
Are you getting tired of your standard stay-at-home fare? Maybe you're thinking it's time you paid more attention to cooking shows than restaurant reviews? This little spiralizer is a fun way to mix things up. It's simple, small, and easy to clean. The device also takes any vegetable and turns it into a spiral you can toss into salads, pastas, and pizzas. It will also slice things very thin, which makes for nice salads. Plus, it's easier than chopping.
14. These Insoles That Make Any Shoes Feel Like Slippers
Putting on shoes is the necessary compromise we all make in order to go outside. If you've been inside enjoying the blissful comfort of slippers, you probably resist that compromise. If you aren't ready to embrace public slippers, these inexpensive wool insoles will turn whatever shoes you do wear out into the world into clandestine slippers. No one will know you're walking on plush fleece. They'll assume the inside of your shoes are hard and unfriendly (like everyone else's). They will be wrong. You are enjoying a soft, Ugg-like interior in every pair of shoes.
15. These Mini Steamers That Turn Every Shower Into A Spa
Every time you step into the shower, you could be enjoying an energizing, relaxing, or healing spa-like experience. All you have to do is drop one of these shower-steamer pucks somewhere in your shower to release that aromatherapy treatment. It will infuse the scent of eucalyptus, peppermint and more into the steam — filling your daily shower with stress relief, relaxation, energy, and decongestant. Your shower is necessary to your day. Why not turn those ten minutes of grooming into a daily dose of self care and mood improvement?
16. This Padded Neck Stretcher That Helps Fix Your WFH Ills
Working from home? If you're anything like me, that means you are probably sitting in front of a laptop, hunched over while pecking at a keyboard. That's probably an ergonomic mishap that you need to fix. Just put your neck on this chiropractic pillow and work out the kinks. It stretches, de-stresses, and uncompresses your neck. Fifteen minutes a day of this will undo a lot of bad decisions.
"The minute I laid my head in it," says one reviewer. "I could feel the stress in my neck, head and shoulders lessen. I laid on the floor and it was hard for me to keep my eyes open! It's extremely relaxing and very comfortable!"
17. This Sloth's Guide To Mindfulness That'll Help You Calm Down
The media is a relentless assault on your anger center. The economy is giving us all panic attacks. Even our immune systems have become a source of relentless worry. It's not possible to live in a constant state of fight-or-flight and also be productive and fun to be around. Take a minute for yourself and learn to calm the fear and adrenaline. The Sloth's Guide To Mindfulness is a terrific first step to finding a calm, aware you. The sloth has figured it out. Slow down. Let the other animals run around for a few minutes while you take a breath and find your center.
Hand it to your roommates or spouse when they're showing signs of cracking and encourage them to sit down and read, just for a few minutes.
18. A Pair Of Joggers That Will Become Your Dress Sweats
If you work at home, you quickly learn to appreciate the value — and the wild variations in quality — of sweats. Some of them look too casual. Some of them aren't as comfortable as they should be. Then, you find the rare pair that's a delight to pull on because it looks casual but presentable. Then, it becomes the pair you wear so often you're gonna need a second pair.
This pair of Champion reverse weave joggers falls into the latter category. They're high in cotton, so they're breathable. They're also sized right so you feel good in them. Plus, they're nice and thick. For all these reasons, they have a bit of a cult following: "Champion knocked this out of the park. The best fleece joggers of all time." wrote one reviewer,
19. The Shower Slipper That Takes Care Of Your Feet
Callouses? Foot pain? Stress? Stick your toes in this foot scrubber and turn on the shower. It will use tons of bristles to clean your feet while giving you a pleasurable, de-stressing foot massage. And you don't have to contort your body to get there. Just step in here and scrub away.
It's just what the doctor ordered when your feet are tired, your brain is frazzled, and you are longing for a foot massage or pedicure. Just spend a few minutes with your feet in here every time you take a shower and your feet will be clean, soft, and relaxed.
20. This Air Sanitizer That Plugs Right Into Your Outlet
How clean is the air where you live? Is there mold? Bacteria? Airborne germs? Pet dander? They could all be floating around and triggering your allergies. This easy-to-install air sanitizer uses negative ion technology to bind to dust, dander, and allergens and make them heavy. They fall to the floor where they get vacuumed up instead of getting in your eyes and lungs. It's an easy way to calm your mind and protect your health from the invisible pathogens in the air. Just plug it in and let it do its job.
21. A Contoured Sleeping Mask Lined With Memory Foam
No matter whether you're trying to get some shut-eye on a plane or on the couch, this sleep mask can help. Not only do the contoured eye cups block out all light, but they're also filled with soft memory foam that won't put any uncomfortable pressure on your face. Choose from four colors: black, blue, purple, or red.
22. This Anti-Stress Bath Salt Made With Minerals And Essential Oils
If you're stressed out, don't fret. Just take fifteen minutes out of your day and soak in this essential-oil-infused bath salt that's designed to pull the stress out of your back and neck so you can let go of some of it. These mineral-rich bath salts are perfect for calming your mind, soaking your muscles, and letting go of the stress of the day. You can also choose a container that's mean to sooth joints and muscles.
23. The Silicone Popper That Makes Perfect Popcorn In Minutes
Spending a lot of time in front of Netflix lately? What's a movie without popcorn? Not the same, that's what. And there is no reason to go without. Because this unique silicone bowl makes it so easy to make that you can do it during the opening credits. Just stock up on popcorn kernels, pour some in here when the popcorn craving hits, add then add some oil (or not). Then, put it in the microwave. A couple of minutes later, you'll have perfect popcorn.
24. The Tool That Chills Your Favorite Beverage Fast
If you're like me, an essential part of your daily routine is iced coffee. But that takes so much planning and forethought that more often than not, I end up with watered down, lukewarm coffee. That is not the same thing. The HyperChiller can solve this, fast — and it can help you, too. Just make your favorite brew, put it in this frozen container, and — in less than a minute — it'll chill. This will save you a fortune if you are still getting your iced brew from a cafe. This could also save the day if a friend stops by and you want to offer her a chilled white wine (but none of yours is in the fridge because there's beer in there).
25. The Escape Room That You Can Play At Home
Who doesn't love an escape room? But the price — for a party of four or six — is a bit steep. So most people save it for a special occasion. With this game, though, you can set up an escape room at home for a less than $30.
In this 90-minute escape room game, you'll have to escape from the mad scientist werewolf, Doc Gnaw. It will require that you solve 19 puzzles, unlock four combination locks, and get out of there before the timer goes off. It has three paths so you can play the game three times.
Want clues? Connect to your Amazon Echo and get Alexa in the game.
26. This VR Headset That Lets You Go Anywhere Right Now
Bored? Want to go somewhere fun? You and everyone else. But a trip to an exotic locale is difficult to pull off in the best of times. It requires money, time, and probably a new wardrobe.
But with a VR headset, you can tour a museum in San Francisco, explore lava tubes in Hawaii, visit Yosemite, wander around Tokyo, or take a tour of New York any time you like. You can even go to Mars, float in space, or go underwater and swim with sharks. You don't have to save money, build a space ship, learn to scuba dive, or even get up off the couch.
It's fun. Just download one of the many VR apps out there, insert your smart phone into the headset, and go.
27. A Knee Pillow That's Probably Better Than What You're Using
If you're a side sleeper, you probably jam a pillow between your legs so your back and hips don't hurt when you wake up. If you ask me, this memory foam knee pillow is better. It fits between your legs so that turning over in the night doesn't turn into a whole production that wakes you up. It's also the right size and shape to align your spine. Sleeping is hard enough when you're stressed out. Don't let something as easy to fix as this get in the way of your eight hours.
"The first night I used this pillow, it was like a miracle," wrote one reviewer. "The only time I woke up was to turn over to my other side with my pillow still between my knees. This is my third night of using the knee pillow and probably the best 3 nights of sleep I have ever had."
28. This Fitness Tracker That's Ultra-Affordable
You don't need to spend hundreds of dollars to get a quality fitness tracker — this one only costs $29. It'll record your steps, distance traveled, and even keep track of your sleeping habits. There are also 14 different exercise modes to choose from to help it more accurately track how many calories you've burned, and the rechargeable battery lasts for up to a full week.