65 cheap gifts skyrocketing in popularity on Amazon that are cool as hell
It's your turn to win gift-giver of the year.
by Christina X. Wood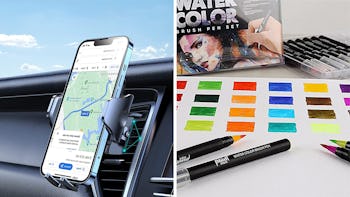 We may receive a portion of sales if you purchase a product through a link in this article.
For many people, gift shopping is done at the last minute (or, if you learned a lesson from last year's midnight shopping adventure, a few days or weeks in advance). Either way, even if shopping isn't your strong suit, it's very possible to be a bearer of the perfect gifts — no matter the occasion. Who doesn't want that unwrapping moment when the present you chose goes down as memorable and fun?
The challenge here is to bring a bit of creativity and, perhaps, some research to the task. I did the research for you — and so did the Amazon customers who left reviews. Together, we unearthed these 65 cheap gifts that are skyrocketing in popularity on Amazon and are cool as hell.
So, relax. You've got this. Just be ready to hit the buy button when you see the solution.
This article was originally published on